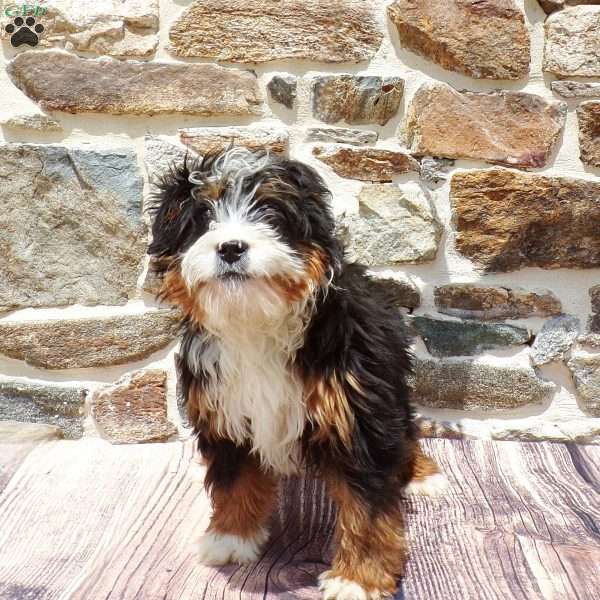 Breeder:
Berry Patch Puppies, LLC
Come and meet Oscar. He surely is no grouch. He is the sweetest little man. Call today to make arrangements to take this little guy home.
Breeder offers a 2-year Genetic Health Guarantee




Breeder offers a 5-year Genetic Health Guarantee * ask breeder for details




All puppies are microchipped
Gender: Male

Sire: Oreo
Dam: Daisy
DOB: January 1st, 2023
Age: 21 Weeks
Available: Available Now
Microchipped
Registered
ACA Registered
Vet Checked
Vaccinated
Dewormed
Family Raised
Socialized
Kid-Friendly
Health Guarantee
Extended Health Guarantee
Aaron: I have many happy childhood memories of the farm I grew up on and the dogs we romped and played with. My dad milked cows, farmed the land, and raised puppies. One beautiful spring day when I was 14, I went and picked out a puppy that I paid for myself, with hard-earned money. I was thrilled to have a dog of my very own and she was my friend through good or ill. Many years later, here I am. Married to my precious wife Linda and am a happy daddy of 3 little boys. It's a full circle of family, country, and doggy joy.
Linda: Being a Mom of 3 little boys keeps me ever so busy, but I enjoy spending time outdoors with Aaron and the dogs. I am known to give my favorites the royalty of sleeping by the stove in my kitchen. If I'm busy rocking the baby, I may not get to meet you when you come. But I'll thank you in advance – It's an honor to have you come to visit! Thank you!
Daniel: Hello 🙂 I am 5 years old. My favorite dog is Bethany. She is like me, growing ever so fast. 
Leroy: Hi there! 🙂 I am a busy little boy, 2 years old and always eager to hold the wee baby puppies. 
Michael: I am 1 year old. Heidi has left for her forever home, so now I have found Annalou as my favorite. She patiently enjoys all my love.