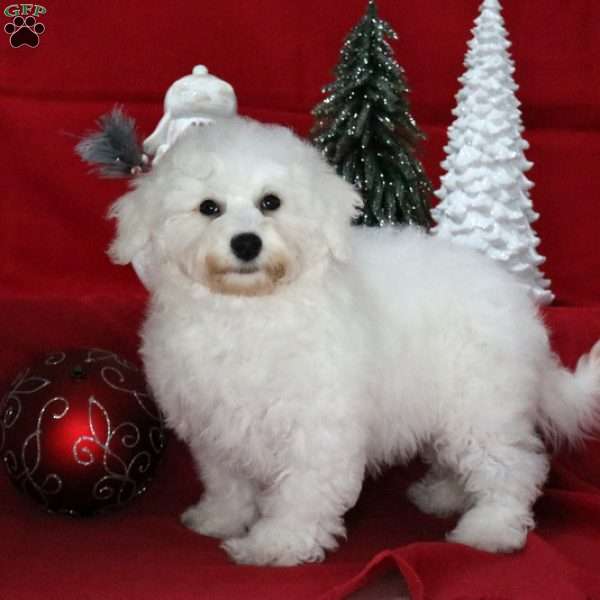 Breeder:
Stephen Stoltzfoos
Meet Everett, a snuggly Bichon Frise puppy who is just as cute as can be! This friendly little guy is well socialized and sure to be a great addition to any family. He is vet checked and up to date on shots and wormer. Everett can be registered with the AKC, plus comes with a health guarantee provided by the breeder. To learn more about this perky pup, please contact the breeder today!
Gender: Male

Sire: Alegro
Dam: Ziva
DOB: August 16th, 2022
Age: 16 Weeks
Available: Available Now
AKC Registered
Vet Checked
Vaccinated
Dewormed
Socialized
Health Guarantee
Stephen Stoltzfoos is a Dog Breeder who specializes in low or non-shedding designer mixed breeds and has been breeding since 1997. He especially prefers to work with the adorable and friendly Yorkie-chon breed, a cross of the Yorkshire Terrier and the Bichon Frise. When he works with purebreds, mostly Yorkies and Maltese, he registers his puppies with the American Canine Association and has been recognized by them for his reputable breeding practices. Mr Stoltzfoos has experienced that when crossing the Bichon, Poodle, Maltese, and Yorkies in different combinations, the lowered shedding and overall good temperament, towards people and other pets, is the end result.
Mr Stoltzfoos has been recognized for his quality breeding practices by achieving the rank of ACA 5 Star Breeder
Mr Stoltzfoos has genetic testing done on the eyes of many of his breeding males and females. To search if the sire or dam of the puppy you are interested in is certified click here.
Puppy Video
See your future pup!