The Beagle Has Landed! Miss P Wins Best Of Show At Westminster Dog Show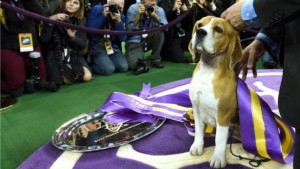 Snoopy would certainly be proud and doing his happy dance to the end of the block.
Miss P, a 4-year-old 15-inch beagle became only the second beagle ever to win Best of Show at the 2015 Westminster Kennel Club Show at Madison Square Garden.  Interestingly, she's the grandniece of Uno, who was the first beagle to win at Westminster back in 2008.
In an impressive field of competition, Miss P was not exactly the crowd favorite.  That designation belonged to an Old English Sheepdog named Swagger, who easily elicited rounds of applause.  In fact, every time judge David Merriam put his attention on Swagger, the crowd cheered and even chanted his name…like it was a football game or something.  There were several other dogs favored ahead of Miss P that wowed the Westminster crowd, as well, including a Portuguese Water Dog named Matisse and Charlie, the Skye Terrier.
In the end, though, it's Merriam's last quote that sums up why it's really nice to see a dog like Miss P – an underdog, if you will – come up and win such a high profile competition.  Merriam said that as he was watching the beagle during the show he could see both "the beagle in the ring and the beagle in the field," in reference to the work she was born to do…outside of making the rounds through dog shows.   Perhaps this shows an appreciation of the dog as a dog…and not as a trophy.
Where as Uno famously charmed everyone when he howled upon being judged in 2008, Miss P was ever the regal beagle and stood proud, prim and proper.   Congratulations, Miss P…you're retiring into motherhood as a champion, the winner of the 2015 Westminster Kennel Club Show!
Judge Merriam, by the way, is a retired California trial judge who just has to be loving his "retirement" doing work like this:)