Bretagne: The Last of the 9/11 Rescue Dogs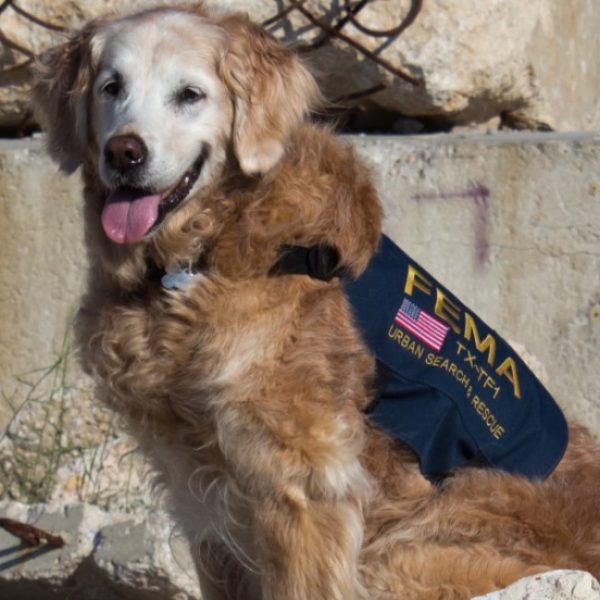 Bretagne, pronounced Brittany, was the last of the 9/11 rescue dogs. She lived happily in Texas with her family. On June 6, 2016, Bretagne succumbed to old age and was euthanized. She was given a hero's farewell with full honors.
Before she was deployed to Ground Zero in September 2001, she was trained by her owner, Denise Corliss, in finding human remains and still-living victims. Both Bretagne and Corliss worked tirelessly during their 12-hour shifts to find people trapped under the rubble, only to find one survivor.
Bretagne was best known in and away from disaster areas for being a source of comfort and reassurance. Many 9/11 rescuers and firefighters would come to see Bretagne and Corliss after a long shift and begin telling Corliss their stories. From there, Bretagne became a source of solace for many survivors and rescuers at Ground Zero and around the country. She later worked to help find survivors in the aftermath of Hurricane Katrina, Rita, and other disasters.
Once she retired in 2009, she began her life as a therapy dog and volunteered at a local elementary school. There, she would spend afternoons listening to first graders read – not a bad way for the Golden Retriever to spend her golden years. With Bretagne, some students that were nervous reading aloud would become more comfortable. Other than that, her life consisted of relaxing, having plenty of naps, and even more great food.
There are many dogs that have saved human lives, and for rescue dogs, it's their job. If you have decided to adopt a former rescue dog, there are many things you will want to consider. They are endlessly patient and lovable. They will be happy and eager to be with you but may need attention.
If they were injured during the job, this may require more vet visits. If they have endured trauma, they may need more patience. If you are willing to give your pup plenty of love and patience, you will be pleasantly and endlessly surprised. Just be sure to give yourself plenty of patience as well.