7 Calming Dog Bed Features to Help Your Dog Relax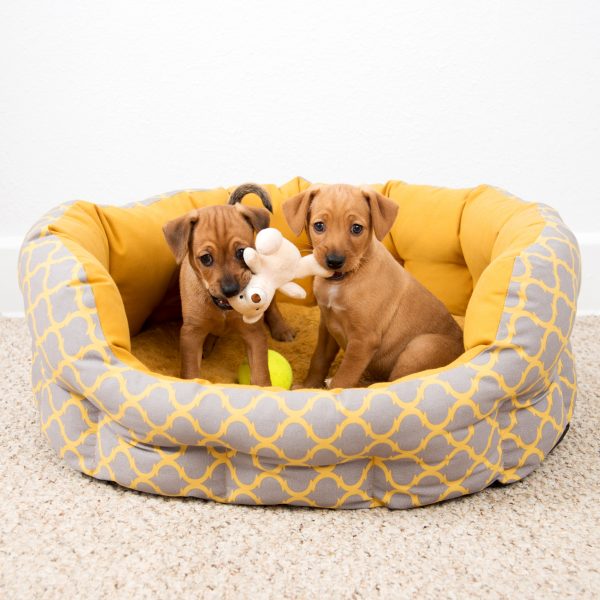 A dog bed can be a great place for your dog to curl up and relax or take a nap. Just as there are a ton of features available to help make your bed more comfortable, the same is becoming true for your dog. Getting a dog bed with some calming features can help calm your dog when they are stressed, not feeling well, or just in need of a break. Here are some calming dog bed features to help your dog relax to consider the next time your dog needs a new bed:
1. Outer Ring or "Cuddle"-Style Bed
Donut beds or bagel beds are often on the lists of the best calming dog beds for a reason. They feature a raised outer ring that surrounds and encases your dog while they curl up in the middle.
This helps your dog feel secure and it also gives them a place to rest their head or paws. Soft, "cuddle"-style beds that surround your dog as they sink into them or cave beds that allow your dog to hide do something similar.
2. Plush Materials
Plush materials like sherpa and faux fur are comfortable, soft, and warm. Not only does this help keep your dog comfortable when they are lying down, but it can also help calm them as well by offering that comforting experience.
3. Warming or Cooling Pad Inserts
Dogs can get stressed and uncomfortable when they are too hot or too cold. A dog bed that allows you to insert a warming or cooling pad depending on your needs can help you keep your dog comfortable throughout the winter and summer. By keeping them at a comfortable temperature, you can help keep them calm and stress-free.
4. Easy to Clean Material or Removable Washable Cover
Dog beds can get grimy and smelly over time. Although your dog may not mind as long as it smells familiar, an unclean bed can attract pests and can also cause skin issues and irritation for your dog. A dog bed with a removable washable cover or an easy to clean material can help you keep your dog's bed relatively clean so it can continue to be their safe, comfortable space.
5. Memory Foam Base
A dog bed with a memory foam base can be a great option for some dogs that deal with anxiety, have joint problems, or are older. This material is not only comfortable for a dog, but it also tends to offer good joint support, which can help ease aches and pains.
6. Non-Skid Bottom
Nothing will get the adrenaline flowing more than an unexpected trip, fall, or slide across the floor. Although your dog might think it's fun during playtime, they might not feel the same when they're trying to get into their dog bed to relax.
A non-skid bottom can be a great calming dog bed feature simply because it helps keep the bed in place when your dog is getting in and out of it and prevents these adrenaline-spiking moments.
7. Waterproofing
Spilled water, drool, accidents, and more can all result in a wet, dirty, or temporarily unusable dog bed. A waterproof material, waterproof bottom, or some sort of moisture protection can go a long way in keeping moisture and water damage issues away from your dog's bed. Plus, it helps keep the bed available and more comfortable for your dog.
These are just a few calming dog bed features to help your dog relax. Some features may be more relaxing to your dog than others, but whatever helps them calm down, feel safe, and relax can be a good investment when it comes to choosing a dog bed.