9 Great Christmas Gifts for Dogs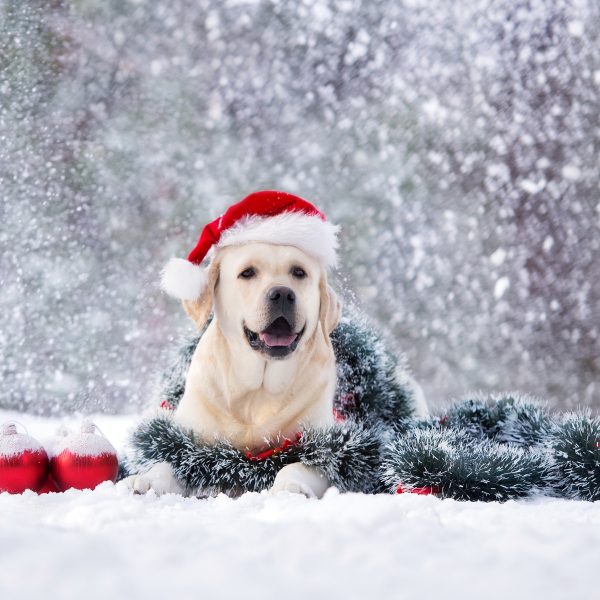 As the holidays creep closer, you may have all of your Christmas shopping done and be sitting back to relax or you may be rushing to pick up those last few gifts. Wherever you are in your Christmas shopping, don't forget to pick up a gift or two for your precious pooch. Here are a few Christmas gifts for dogs to help you get started:
1. Puzzle Food Bowl
Make every mealtime a lot more fun and mentally stimulating for your dog by putting their kibble in a puzzle food bowl. Hidden compartments store the food and your dog has to figure out how to open them in order to continue eating.
This is a great option for dogs that tend to eat too quickly. The puzzle will keep them entertained while also making them slow down a little bit. If your dog is a perfect picture of manners during mealtime, you can always use the puzzle food bowl* (Amazon Affiliate Link) to hide a few treats to an interactive reward.
2. Treat Puzzles
Treat puzzles are another great option to provide a mentally stimulating challenge for your pup outside of mealtimes. They're very popular, which means there are plenty of options to choose from.
Treat puzzles* (Amazon Affiliate Link) can range from complex to simple and everywhere in between, so you can get one that fits your dog's level of patience, size, and dexterity. Plus, they even make treat puzzles where you can adjust the difficulty yourself before giving it to your dog. This allows you and your dog to get several different uses and experiences from the puzzle.
3. New Dog Bed
After a year, or several years, of use, your dog's bed is likely a little scruffy, a little worn, and perhaps a little flat. A new dog bed could be the perfect Christmas gift for your dog. Because dog beds are such a popular and necessary product, there are a ton of options to choose from.
You can go with a dog bed that is plush and cushioned with memory foam, something super fluffy, or something fancy. You can even go with a self-warming dog bed* (Amazon Affiliate Link) that absorbs reflects your dog's own body heat back to them to keep them warm and cozy.
4. Gingerbread Dog Treats
Gingerbread is a classic Christmas treat and it can be a tasty treat for your dog too. With healthy, homemade, and all-natural gingerbread dog treats, your dog can join in and get a taste of the holiday season too. Plus, they're grain-free, which makes them a good fit for dogs who may have more sensitive digestive systems.
5. Homemade Dog Treats
Making DIY dog treats can be a great experience for you and your furry friend. This is because they can be all-natural and healthy for your pup and simple and inexpensive for you. Here is a quick recipe that your pup will love:
Ingredients
1 large banana
½ cup of peanut butter
1 ½ cups of uncooked oatmeal
Directions
Preheat your oven to 350 degrees. Blend the banana and peanut butter in a blender until smooth. Then, grind the oats into a powder using a coffee grinder, or other appliance you prefer. Mix ingredients together and then roll out the batter flat.
Use a cookie cutter to make the cookies and then gently place them on a baking sheet covered in parchment paper. Place the sheet in the oven for 15 to 20 minutes. After that, remix any leftover batter and cut new cookies from the dough. Repeat the process until you've used up all the batter.
6. Orbee Ball
For chewers and ball chasers alike, the Orbee Ball* (Amazon Affiliate Link) is the perfect gift. It's a tough, durable ball shaped like a planet. It has grooves to outline land masses that can help clean your dog's teeth as they chew and it's mint-flavored for a burst of fresh breath too.
It's bouncy, it floats in water, it's fun to chew on, and it can easily become your dog's new favorite toy. This toy is known to stand up to aggressive chewing and playing for a toy that lasts.
7. Spa Day
Your dog will love being pampered as much as you do. If they are comfortable at the groomer, schedule a day where they can get a wash and trim. They will feel like a million bucks walking out and you will have a happy dog that will shed and smell less.
If they aren't thrilled with the idea of going to the groomers, you may want to try a spa day at home. Gently trim nails, brush their teeth, and give them a bath. They will be more comfortable and ready for a nap.
8. Paw Balm
The extreme weather of snow or heat can be painful for your dog's paws. During the summer and winter, you will want to get small dog booties for your walks and hikes and you should invest or make your own paw balm to keep their feet comfortable and moisturized.
9. Christmas-Themed Toy
Your dog probably won't care whether their new toy is shaped like a bone or something related to Christmas. But, if you want to get your dog a Christmas-themed present, a Christmas-themed dog toy* (Amazon Affiliate Link) can be a great gift. A plush toy snowman or reindeer can become a great play-friend and a chewable Christmas tree or candy cane-shaped toy can bring your dog a lot of joy.
It can be hard to find the perfect present for your furry best friend. With this list of Christmas gifts for dogs, you're bound to find something to inspire you.
*Greenfield Puppies is a participant in the Amazon Services LLC Associates Program, an affiliate advertising program designed to provide a means for sites to earn advertising fees by advertising and linking to amazon.com. Greenfield Puppies may earn a commission for purchases made through Amazon affiliate links on our site.