Colorado Dog-Friendly Travel Guide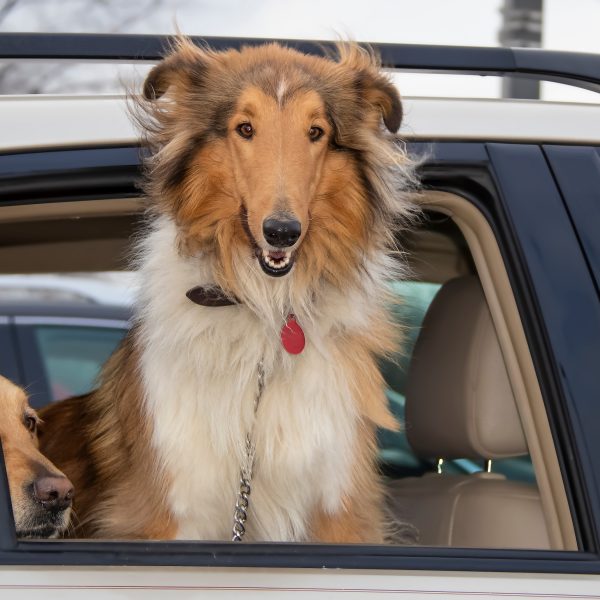 Traveling with your dog can be stressful, but it can also be a fantastic adventure full of fun and incredible memories. Besides, leaving your best furry friend at home tends to be a frustrating and anxious time for both of you. Although you can't guarantee everywhere you go during your travels will be pet-friendly, you can plan ahead to make sure there are some dog-friendly staples on your trip itinerary. If you're planning to visit "The Centennial State", use this Colorado dog-friendly travel guide to start your research and plan a trip both you and your pup can enjoy together.
6 Dog-Friendly Activities in Colorado
Sleeping away from home and trying local flavors can be an adventure all on its own, but why stop there? Why not add some dog-friendly attractions to your trip to add even more excellent experiences? Check out some of these dog-friendly activities in Colorado to see if any are the perfect fit for you and your pooch:
1. Colorado Jeep Tours
Canon City is relatively close to several larger areas, like Colorado Springs and Denver. If you find yourself within its radius, make some time to check out Colorado Jeep Tours. These tours travel to Red Canyon Park, the Gold Belt Scenic Byway, and the Royal Gorge Bridge and Park.
They're a great way to see gorgeous sights in Colorado and they're dog-friendly! You'll need to make advanced reservations, but your dog is welcome to join you in the Jeep. If your dog is small enough to be carried and held on the ride, they ride for free. If they're larger than that, you'll need to pay the child rate for them, but they'll be able to enjoy the ride with you.
2. Telluride Gondola
The Telluride Gondola is located in Telluride, Colorado and is a fantastic way to take in a scenic view as you travel from Telluride to Mountain Village. Not only does the Welcome Center feature several dog-friendly activities, but there are also dog-friendly cabins available for riding the Gondola!
Your dog has to stay leashed at all times, but they are welcome to join you – just look for the dog-friendly sticker on the cabin window. The ride takes about 13 minutes and gives you a chance to relax in comfort while you and your pup enjoy gorgeous mountain and valley views.
3. Leadville Colorado & Southern Railroad
If your travels take you near Leadville and you like trains, carve out some time to check out the Leadville Colorado & Southern Railroad. Trains run from the end of May to the beginning of October.
Your dog is welcome is welcome to join you as long as they are leashed, well-behaved, and comfortable. You and your furry best friend can relax, enjoy the beautiful scenery, take walked throughout the train, and even visit the "gift shop car" to get a drink from the water bowls set up there.
4. Glendale Farm Open Space Dog Park
You don't get much more dog-friendly than an off-leash dog park! If you find yourself near Castle Rock and you want to give your dog a chance to run off-leash, the Glendale Farm Open Space Dog Park should be a stop on your list.
This fully-fenced dog park features 17 acres where your dog can run off-leash and there is even a small agility course! Plus, once your dog is done running, you can put the leash back on and then go for a short 1.6-mile hike on the Glendale Farm Trail.
5. Royal Arch Trail
If you and your dog have some hiking experience under your belt and find yourself near Boulder, the Royal Arch Trail could be the perfect activity for you. This trail is 3.2 miles long, tends to average about 4 hours, and gets you close to the vertical face of the Flatirons.
Your dog is welcome to join you as long as they are leashed. The last bit of the trail can be difficult as it is a rocky vertical hike, so you may want to skip this attraction if your dog isn't an avid hiker or won't be up to the task.
6. McCullough Gulch Trail
Should your travels take you near Breckenridge, you and your dog can explore the McCullough Gulch Trail. This trail is a round-trip of 6.2 miles if you do the whole thing. Because the route type is out and back, you can go as far as you feel like going before turning around to come back.
The beginning is mostly flat with slight elevation where you'll pass the lower falls. About 1.6 miles in, you'll reach the Upper Blue Reservoir and be treated to views of the nearby waterfalls.
From here, you can turn around and go back to your car or continue another 1.2 miles or so above the timberline. The trail sees moderate traffic and your dog is welcome to join you as long as they are leashed.
3 Dog-Friendly Hotels in Colorado
After a long day of exploration and adventure, you and your dog will need a place to relax and rest for the night. Not all hotels are friendly to pets, but these dog-friendly hotels are a good place to start your research:
1. The Lodge at Breckenridge
If you're planning to stay overnight in Breckenridge, consider staying at The Lodge at Breckenridge. This is a picturesque lodge and spa with incredible mountain views. And, it's dog-friendly – they even have a dog "working" on-site!
His name is Dagen and he is the Director of Pet Relations. Two dogs of any size are welcome to stay with you. There is a pet fee, which is an additional $30 per night.
2. Quality Inn & Suites Silverthorne
Another hotel option to consider is the Quality Inn & Suites Summit County. Located in Silverthorne, this Quality Inn & Suites is dog-friendly, offers great views, and has several amenities to ensure a comfortable stay. You are welcome to bring along two dogs of any size to stay with you. There is an additional pet fee, which is $20 per night and per dog.
3. Best Western Plus Boulder Inn
Should you need to stay overnight in Boulder, take a look at the Best Western Plus Boulder Inn. Two dogs of any size are welcome to join you for your stay. And, there is no additional pet fee! You'll get great views while staying in a prominent location close to shopping, food, and just about anything else you may need.
3 Dog-Friendly Restaurants in Colorado
As you and your dog travel, you'll need to get to some food. Sure, you can bring your own, stop at gas stations, and grab fast food. But, why skip out on the local flavor if you don't have to? If your travels bring you near one of these dog-friendly restaurants when you need a bite to eat, be sure to check them out:
1. Pub Dog Colorado
If you are in Colorado Springs around mealtimes, make sure you stop at Pub Dog Colorado. This restaurant allows you to eat inside the restaurant with your dog, instead of only on an outdoor patio.
There are two dining areas, one for people without dogs and one that is dog-friendly. Not only can your dog hang out inside with you, but there is also a special doggie menu featuring delicacies like pupsicles, bacon, soup, dog bones, carrots, and more. At this restaurant, you and your dog can both enjoy a delicious meal together.
2. The Rock Inn Mountain Tavern
Located in Estes Park is The Rock Inn Mountain Tavern. This inn boasts a rustic and western style with a restaurant that serves some delicious comfort food.
From Buffalo burgers and pan-seared trout to pizza, steak, hot wings, and more, there is something on this menu for every taste. Plus, they have covered patio seating where your dog is welcome to hang out with you.
3. Forest Room 5
Forest Room 5 is a dining experience located in Denver. This restaurant serves up American cuisine from crispy calamari to Colorado beef filet to smokey mac 'n' cheese and more.
With a varied menu, there is bound to be an option for everyone. In addition to the gorgeous indoor decor, they also have a beautiful patio with seating where dogs are welcome.
With a dog-friendly travel guide on your side, you and your dog can travel confidently and know that wherever you go will welcome you both with open arms. Here's to safe travels, happy trails, and wagging tails!