3 DIY Dog House Design Ideas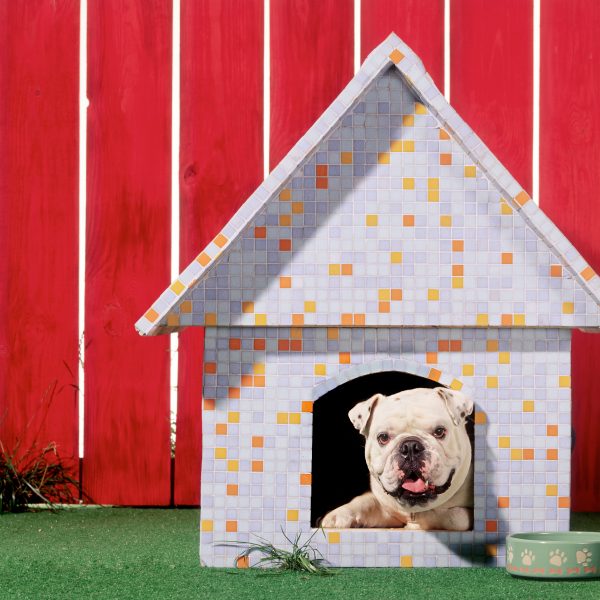 Dogs who spend time outdoors benefit from having a little house to shelter them from the elements. In addition to being cute, a dog house can protect your dog's health and well-being, which is where DIY dog house design ideas come in handy.
In the summer, pups tend to get overheated and it's harder for them to cool down than it is for humans because they don't sweat. With the sun beating down and no shade, a hot day can spell danger to any dog. In winter, a dog house gives your pooch shelter from the cold wind when they demand to be let outside and then decide they don't want to come in.
You don't have to shell out big bucks at a pet store to provide your pooch with an outdoor oasis of his own. Even for the construction neophyte, building a dog house is not too challenging. Plus, if you're an artist or have a unique sense of style, think about how much fun it would be to design a tiny building just for your pup!
You don't have to go it alone when it comes to planning your doggie shelter. There are tons of free resources available on the web. Here are three DIY dog house design ideas to get you started:
1. Basic Gabled-Roof Dog House
This classic dog house design kind of looks like a birdhouse, but hopefully it won't invite a bird infestation. This A-Frame design is made for small to medium-sized dogs up to 50 pounds. When starting to build a dog house, it's important to have the right tools on hand.
Thankfully, these classic dog house design instructions provide a list of all the tools and materials you'll need and include some great tips. For example, using pressure-treated wood for the base where your dog cannot chew on it because of potentially harmful chemicals. Dogs are known for trying to eat things they shouldn't, so designing your dog house with that in mind helps keep them safe – and their dog house intact.
2. Crooked Dog House
If you and your dog have an offbeat sense of humor and you like the thought of making the neighbors look twice, you can try this cartoon-style crooked dog house. These step-by-step crooked dog house instructions lay out your full materials list, cut list, and include illustrations and written instructions for each step.
With this plan, you'll have a lopsided, but structurally sound, place for your dog to hang out that looks like it's straight out of your favorite cartoons. Plus, it's a perfect fit for large dogs. If you're attempting to build it for a giant dog breed, however, make sure you check the dimensions first to ensure it will be a good fit.
3. Dog House with a Porch
This dog house features the classic A-Frame design with an added bonus – a porch. This design is made for a medium-sized dog. If built according to the dog house design instructions, you'll end up with a dog house interior that is 37" high, 30" wide, and 33" deep. The doorway will be 15" high and 11" wide. Make sure this is big enough for your dog before you start building.
This dog house design also includes insulated walls, floor, and roof, so it will be great in the cold to provide warmth or in hot weather when your pup is seeking some shade. In addition, your pooch will have his very own stylish and functional porch. On top of that, the roof is removable, which makes cleaning it a cinch! Another very awesome feature is its removable roof, which makes cleaning it a cinch.
Bonus: Custom Dog House
A DIY dog house can be a lot of fun. It's a fantastic way to give your dog a place to relax while he's outside and can be a great functional decoration for your yard. If you need something sturdier, with more space, and added function, but without the stress of construction, a pre-built or custom-built dog house can be a great solution.
Horizon Structures offers pre-built and custom-built dog houses and kennels to fit your needs. They provide the perfect solution for your working dogs, show dogs, and pets to safely spend time outside. There are a ton of options to choose from with insulated dog houses that include various sizes of runs to give your dog a secure space to let loose.
Building a dog house can be a fun project for you and one that your dog can enjoy when it's finished. The opportunities for DIY dog house design ideas are endless, so don't be afraid to get creative and put your own unique spin on the classics; whether you're building your own or working with someone to build something custom.