How to Throw a Dog Birthday Party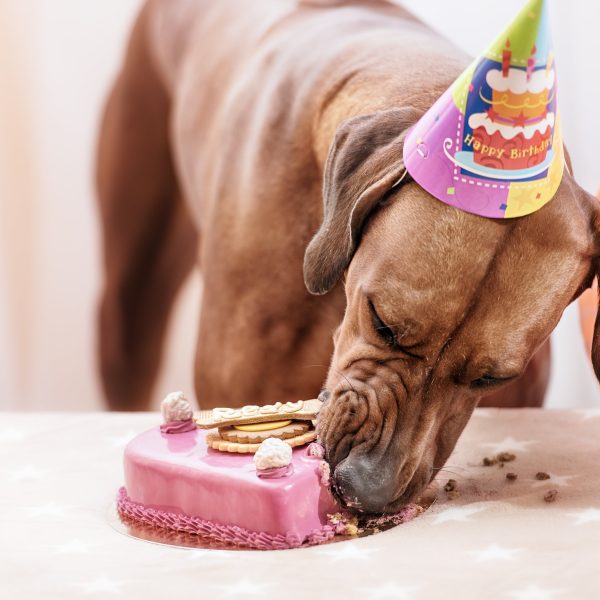 Dogs are the best of us. They shower us with love, unconditionally. What better way to show them the same amount of love than by celebrating your dog's birthday? Here's how to throw a dog birthday party:
1. Keep it Calm
Dogs can be overwhelmed easily by new situations. However, your dog will be more than happy to see people they know show up on their birthday. Keeping things calm will help your dog enjoy themselves.
Making sure your dog is well exercised is a great way to calm a hyper dog. Exercise them well the day of their party and they should be a bit more relaxed and calm. Offer them a quiet place to rest if they seem overstimulated.
In the morning and evening, try to keep it low-key. Share breakfast or just sit, relax, and spend time with your dog with those that live in the home. It will be a calming way to start your pooch's special day. From there, you can have an afternoon or evening celebration, if you'd like, and invite others who know and love your dog as much as you do.
2. Decorate with Dog-Themed Decor
Find decorative party decor with things like dog bones. If you're crafty, make a banner wishing your dog a happy birthday! If not, there are plenty of decorative banners available online.
Have a sign or smaller chalkboard that shows the food and drink menu, or schedule of events. That way, guests know what to expect. You can also decorate with dog-safe confetti for some extra flair!
3. Have a Dog-Friendly Birthday Cake
Most pupcakes are actually human-friendly too! Since most dog-friendly cakes are made with bananas and peanut butter, this is a delicious addition to any party. Search for a dog-friendly cake recipe online if you want to bake one yourself, or order a pupcake from a local bakery in your city or town.
If you think cake is too much, offer your dog extra treats on their birthday, or some other special treat! Nearly every dog is happy with some extra peanut butter along with their favorite treats.
4. Don't Forget the Ice Cream!
While human ice cream is rough on your dog's digestive system, there are dog-friendly alternatives!
By blending peanut butter with low-fat yogurt you can whip up a delicious treat for your pup! Freeze overnight and then top with mashed bananas for a fun treat your dog will enjoy.
Another alternative to ice cream for dogs is to freeze chicken, beef, or vegetable broth to make a pupsicle if you think your dog would enjoy that more.
5. Dress Up Your Pet
Don't go too over the top, but it can be fun to have your dog dress up a bit to celebrate. If they tolerate costumes, they can wear something fun, like a cowboy costume. Otherwise, opt for a colorful bandana, or a fun birthday hat. Is there anything cuter than a dog in a birthday hat?!
6. Invite Both Human and Dog Friends
This is your dog's birthday, so invite their friends, both dog and human alike! Invite neighbors your dog loves, friends from the dog park, or family dog members.
Have dog-friendly treats for the four-legged crowd, such as baby carrots and bananas with peanut butter. If those aren't what you are looking for, there are plenty of other dog treat recipes if you're up to baking something new. Make sure dogs have easy access to water, as well.
If you're having a barbecue for the humans, be sure the dogs can't get to the human food. This is one of the summer barbecue safety tips for dogs.
These are just a few ways to throw a dog birthday party. Have fun with it and don't take it too seriously. Just make sure your dog feels loved and appreciated!