4 Dog-Friendly Halloween Treats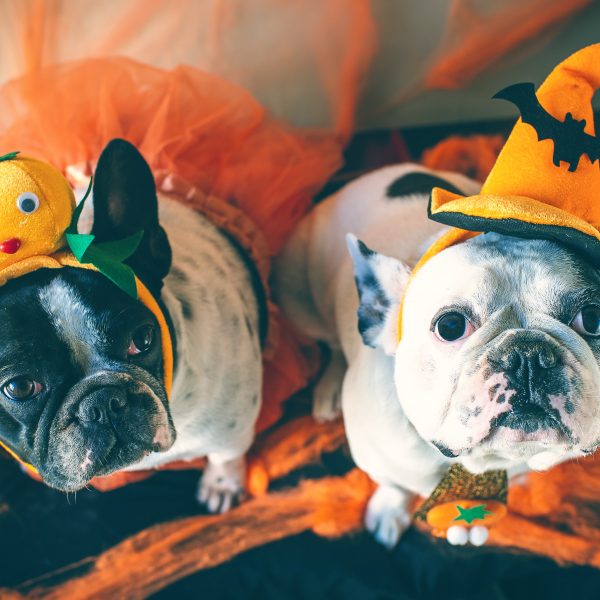 If you know the dogs in your neighborhood as well as you know your neighbors, why not have goodies for them too this Halloween! After all, pups like treats just as much as costumed kids!
It's fun to make your own doggie treats, but it's probably best to hand out prepackaged, store-bought treats to four-legged trick-or-treaters who stop by your door. This ensures that your neighbors are aware of what's in the treats so they can avoid any potential allergy crises.
While we're on the topic of allergies, chocolate is one of the foods that is toxic to dogs. So, around Halloween, be especially careful to store human treats out of reach. Especially if your pup is the inquisitive type that enjoys ripping into things.
There are loads of great Halloween-themed dog treats you can buy to put some festive cheer in a dog's night. Here are just a few dog-friendly Halloween treats to get you started:
"Happy Halloween" Dog Bones
A quick Google search for "Happy Halloween dog bones" will give you a ton of options. You can order these "Happy Halloween" bones fresh from a variety of bakeries and puppy gift shops.
Pampered Paw Gifts and Bing's Barkin' Bakery are a few notable ones, all with online stores. Most of these start a wheat flour base, and are flavored with yogurt, carob, vanilla, or ginger. They are also individually wrapped in cellophane for handy trick-or-treatability.
Treats From a Creative Genius on Etsy
Etsy is a veritable fountain of creativity. You're bound to find a plethora of creative treats or toys from makers on this platform. These hilarious "Eyes cream cone" dog treats are sure to have the neighborhood dogs howling in amusement.
These googly-eyed edible treats are individually wrapped, with ingredients listed in the product description. If you want to give puppy parents the ingredient list, you can simply print it out and stick it to the back of the treats.
The Option for Health-Conscious Dog Parents
These cute, toothbrush-shaped Greenies dental treats will please the most health-conscious dog moms and dads. They are easily digestible, so they won't give pups that sick-from-Halloween treats feeling. They also help clean teeth and freshen breath!
Though these treats are individually wrapped, they don't come decked out in Halloween packaging. So, you have the opportunity to get creative and decorate the package yourself! Use ribbon, tissue paper, cellophane and anything else you have in your craft tub.
If You're Having a Dog-Friendly Halloween Shindig
This wonderful box of truffles (made with peanut butter and carob, NOT chocolate) will add a bit of whimsy and sparkle to any Halloween get-together. They come in a little box that is wrapped in crinkly paper – just like truffles for humans!
These little boxes of truffles make the perfect party gift. Attendees can hand out little treats from their box to their pup over the course of an evening. Your dog will thank you for providing such creative Halloween treats for his friends.
People and their dogs will be tickled no matter what kinds of dog treats you give out on Halloween. Just don't forget: make them do a trick first! (The dogs, not their owners.)