10 Fun Dog-Friendly Summer Activities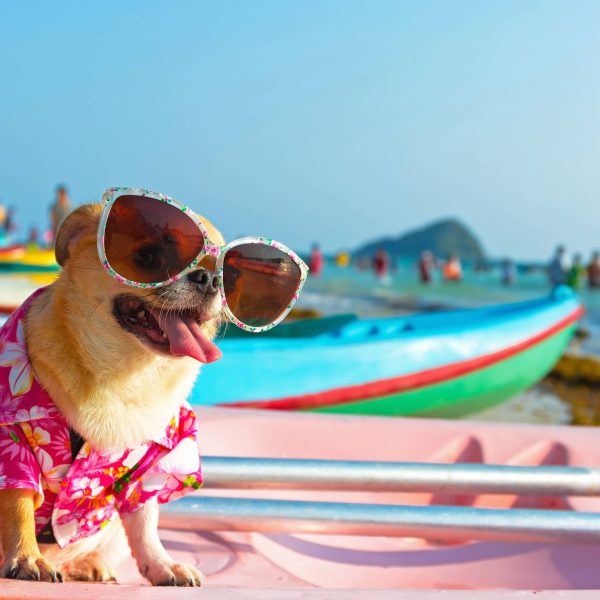 Summer can be a great time to spend with your pup! But, maybe you're wondering how to safely spend time outdoors without overheating your dog. Here are some fun dog-friendly summer activities for you and your dog to do together:
1. Make Frozen Dog Treats
A great way to pamper your dog while also helping your dog stay cool is to make frozen dog treats! An easy way to do this is to fill a food stuffed toy, such as a Kong, with your food of choice and freeze it.
You could also try dog-friendly frozen fruit, such as watermelon or some of the other best fruits and veggies for dogs, as a tasty treat for your pup. Another delicious option is to freeze sodium-free chicken broth into ice cubes and let your dog enjoy some ice-cold chicken broth. If you want to get really adventurous, you can try some dog-friendly soft serve ice cream, "pupsicles", or other dog treat recipes.
2. Work on Their Scent Skills
Encouraging your dog to use their sniffer is really important. Dogs explore the world around them and learn about their surroundings by using their nose. Play some fun scent games to encourage them to strengthen their skills.
You can make this activity as challenging as you want or as easy as you'd like. This is a great low-energy activity for your dog to do in the heat or inside if it's simply too hot to be outside. This also makes it one of the great activities for senior dogs!
3. Build a Backyard Agility Course
Putting your dog to the agility test is a fun way to spend some time this summer. You can build your own obstacle course in your backyard to teach agility or just for fun.
You can find agility training kits to buy at your local pet supply store, or online, or you can build a simple one with some PVC pipe and wood. Be sure to keep the obstacles low to the ground for safety. Let your dog go at their own pace and enjoy the challenge!
4. Find Some Water!
Letting your dog play in the water is a great way to help them cool down and get some exercise! Take your dog to a river, a beach, or a lake and let them swim and play in the water. You can either play with your dog in the water or you can toss them toys for them to retrieve.
Be sure to always supervise your dog, follow safety tips for swimming with your dog, and make sure they are happy and safe. Since not all dogs are natural swimmers, help your dog learn how to swim and provide a life jacket to help them learn confidently.
5. Throw a Dog Party
Try your hand at throwing a puppy party for your dog and their friends! If there are some dogs in the neighborhood that your dog is friendly with, invite them over to let the dogs play and a chance for you to socialize with the owners. Just make sure to follow some basic guidelines and tips for safe puppy play sessions.
Provide plenty of toys for all the dogs, and provide plenty of food for the owners! Make sure that you keep unsafe items like onion slices, chicken bones, and other harmful food items away from your dogs. This is a great way to build relationships with people in your neighborhood, let your dogs play, and maybe make a new friend out of them.
6. Have a Photo Shoot
Summer is the perfect time to have a photo shoot with your pup! Pick a familiar location so your dog feels comfortable and at ease. Make sure you have plenty of treats and toys to keep their attention, which is vital as you figure out how to take your dog's photos.
Avoid taking photos during midday when harsh shadows are the most prominent. Use the burst mode on your camera so you have a variety of shots to choose from. If you have a friend or family member who's available, enlist their help! They can help with your pup, like shaking toys so they look in a certain direction. Or, they can take photos of you and your dog together. You can even practice some Christmas card dog photo ideas to figure out what you want to do for the holidays.
Try not to be too stressed out about it. Just have fun with your dog and take lots of photos. You are sure to get a few shots of your dog in their element! Not only are photos a great way to interact with your dog and share with your friends, but pictures are also one of the ways to include your dog in your wedding or other big events if it makes sense.
7. Visit a Dog Park
Dogs typically enjoy spending time running around with other dogs, and dog parks are a great place to let them play. It's important for your dog to have a positive experience, so keep these dog park etiquette tips in mind while you're there. If you haven't been there before, be sure to scout out the park first before you let your dog off leash. This way, you can watch the interactions of dogs as well as their owners.
If you prefer your dog to have familiar playmates, reach out to fellow dog owners you know and schedule a trip to the dog park together. That way, your dog will have playmates they are used to and can feel more comfortable as they experience the newness of a dog park.
8. Do Some Art!
Let your dog unleash their creative side by doing some paw art. All you'll need is large sheets of paper and non-toxic washable paints. Simply dip your dog's paws in some paint, and let them walk across the paper.
If they need encouragement or direction, offer treats as they walk on the paper. This activity is best done outside for easy cleanup and finished by giving your pup a nice outdoor bath!
9. Go on a Boat Ride
Taking a boat ride is a fun way to spend some time in the summer months. Be sure to have a life jacket for your pup before heading out onto the water. Even if your dog is a strong swimmer, things can go wrong, so a life jacket will keep them safe and secure. Life jackets are one of the most important boat safety tips for dogs.
You can take your dog out on a motorboat, kayak, or canoe. Whether taking your dog on a boat or taking your dog paddling, make sure your dog is calm and acclimated to the water and the boat before heading out. And of course, enjoy the sun and water together!
10. Have a Picnic!
While more dining establishments are allowing dogs to join their owners for a meal, it can still be hard to find an accommodating place. If you can't find a spot, consider a picnic! Pack up your favorite foods, or even pick up your favorite meal at a restaurant, and find a spot at a local park.
Be sure to bring dog-friendly snacks for your companion, too! Exercise your dog with a fun playtime or a long walk so they sit and are more relaxed while you enjoy your meal and time together.
There are plenty of ways to spoil your dog this summer while also staying cool and having fun. These are just a few fun dog-friendly summer activities that you and your pup can enjoy during the dog days of summer. Stay safe and enjoy the summer!