10 Top Dog Training Books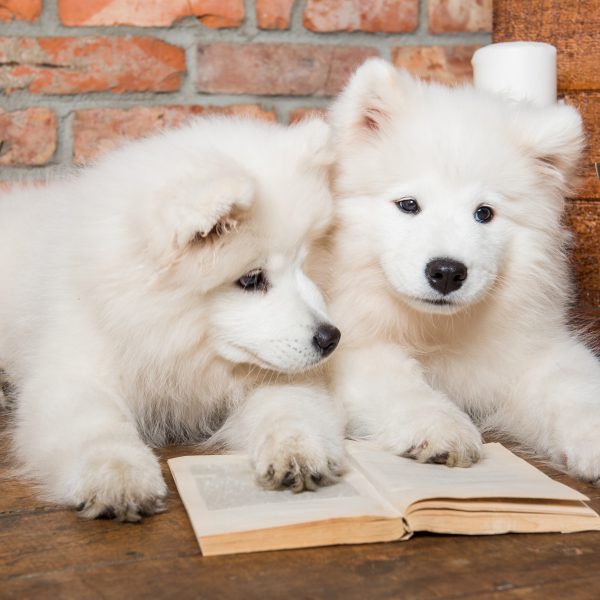 When you decide to add a dog to your family, there is a lot to do. You need to do research, make preparations, and get the supplies you need to provide the care they need. Training is just one of the many things you'll need to handle. Puppy training classes, enlisting the help of a professional trainer on an individual level, watching videos, reading books, and more can all help you get the information you need to successfully approach training your new puppy. If books are your thing, here are a few classic top dog training books to add to your reading list:
1. The Other End of the Leash: Why We Do What We Do Around Dogs by Patricia B. McConnell
This classic dog training book switches the perspective on training from focusing solely on canine behavior to focusing on our behavior. What we do and how we behave around our dogs in general and during training has an effect on how our dogs behave.
In The Other End of the Leash* (Amazon Affiliate Link), you can learn more about how human and dog behavior relates. Plus, you can pick up some tips on how to interact with your dog in and out of training to help bring out the best in them.
2. The Power of Positive Dog Training by Pat Miller
Another one of the classic dog training books is The Power of Positive Dog Training* (Amazon Affiliate Link). Dogs respond best to training that is consistent and focused on positive training methods.
This book provides tips on observing and understanding dog body language as well as how you can react to it appropriately. In addition to tips for using positive dog training, you'll also get some tips on how to introduce advanced training concepts and how to successfully phase out using treats and clickers.
3. Before and After Getting Your Puppy: The Positive Approach to Raising a Happy, Healthy, and Well-Behaved Dog by Dr. Ian Dunbar
Dr. Ian Dunbar is known for revolutionizing puppy training in the 1970s and marked the necessary move towards a positive approach to dog training. Before and After Getting Your Puppy* (Amazon Affiliate Link) combines two of Dunbar's popular training manuals into one valuable dog training book.
You can look forward to clear steps, a structured plan, easy-to-follow training milestones for your puppy, helpful photos, and more. You'll get a crash course in what you should know about raising a puppy before you bring them home as well as house training tips, socialization tips, chew-toy training tips, and other necessary tips and approaches for helping your puppy grow into a happy, healthy, well-socialized, and well-behaved dog.
4. Zak George's Dog Training Revolution: The Complete Guide to Raising the Perfect Pet with Love by Zak George
In Dog Training Revolution* (Amazon Affiliate Link), Zak George provides tips for personalizing and tailoring your training approach to your dog's energy level, ability to focus, and other unique traits. When applied correctly, this type of tailored training can result in your dog picking up on training more quickly while also approaching training with a much happier mindset.
You might have heard of Zak George through his YouTube videos or work as a personality on Animal Planet. In this book, he'll provide information on choosing the right dog for you and basic training tips including house training, handling behavioral issues, and more. Plus, you can see the advice and the tips you read in action by watching the corresponding videos on his YouTube channel.
5. The Art of Raising a Puppy by The Monks of New Skete
The Monks of New Skete have been authorities on dog behavior, the dog/human bond, and dog training for over 30 years. This group has experience in training a variety of dog breeds, but are known for their work breeding, raising, and training German Shepherds.
In The Art of Raising of a Puppy* (Amazon Affiliate Link), you will get a ton of useful information about adopting dogs, raising dogs in various environments, canine health, canine behavioral therapy, crate training, play, and more. Plenty of photographs accompany the useful tips and advice distilled from decades of raising dogs.
6. How to Be Your Dog's Best Friend: The Classic Training Manual for Dog Owners by The Monks of New Skete
How to Be Your Dog's Best Friend* (Amazon Affiliate Link) is the other classic bestseller from The Monks of New Skete. This updated edition includes everything from the classic that is still relevant, includes a ton of updated information, and covers just about everything you need to know about caring for your dog and living with them. You'll also get a bunch of great advice about choosing the right dog for you as well as care advice for your dog throughout every stage of their life.
7. On Talking Terms With Dogs: Calming Signals by Turid Rugaas
Turid Rugaas is a Norwegian dog behaviorist and trainer. She is an expert in canine social interaction and coined the term "calming signals" in reference to the dog body language used to communicate to both other dogs and humans.
In On Talking Terms With Dogs* (Amazon Affiliate Link), you can learn more about what these signals are, how to recognize them, and how to use them in order to communicate with your dog. Knowing these calming signals can help you understand your dog better and will help you with training and handling behaviors as well.
8. Positive Perspectives: Love Your Dog, Train Your Dog by Pat B. Miller
Positive Perspectives* (Amazon Affiliate Link) is a collection of columns Pat B. Miller penned for the Whole Dog Journal. This series has been compiled into this complete guide that covers raising a puppy, dog training, basic health, problem-solving, and more.
This book will provide useful tips and advice on how to handle day-to-day living with your dog. From preventing problems before they start to positive training methods, vaccination schedules, and more, Positive Perspectives has information about it.
9. Bones Would Rain from the Sky: Deepening Our Relationships with Dogs by Suzanne Clothier
Bones Would Rain from the Sky* (Amazon Affiliate Link) is a classic dog training book that is perfect for any owner that wants to build a deep, close bond with their dog. You'll learn more about how our dogs see the world and how to connect with them more closely. Plus, you'll also get tips on how to use this information to handle behavioral issues, change habits, and more.
10. Training the Best Dog Ever: A 5-Week Program Using the Power of Positive Reinforcement by Dawn Sylvia-Stasiewicz and Larry Kay
Dawn Sylvia-Stasiwicz is a dog trainer that has trained presidential dogs and the dogs of high-profile politicians among others. She champions "no-fail" techniques and uses a program of positive reinforcement that works on puppies as well as adult dogs.
In Training the Best Dog Ever* (Amazon Affiliate Link), you'll receive step-by-step instructions with accompanying photos for a five-week training program you can use for your dog. It's broken down into 10 to 20-minute practice sessions a day and covers training, socialization, and everything between.
Not only does this program cover some of the basic commands every dog should know, but it also covers avoiding and correcting typical behavioral issues as well as more complex things like water safety. Plus, you'll get tips on crate training, house training, and socialization like handling visits to the vet or being comfortable around strangers.
Dog training books can give you valuable information to help you get ready for bringing a puppy into your life. But, knowing what you need to do is not the same thing as actually doing it. Even if you've read up on dog training, don't be hesitant to enroll in puppy training classes. These classes can help you implement the knowledge you've gained effectively. Plus, they can offer great opportunities for socialization.
*Greenfield Puppies is a participant in the Amazon Services LLC Associates Program, an affiliate advertising program designed to provide a means for sites to earn advertising fees by advertising and linking to amazon.com. Greenfield Puppies may earn a commission for purchases made through Amazon affiliate links on our site.