26 Dog Treat Recipes Your Dog Will Love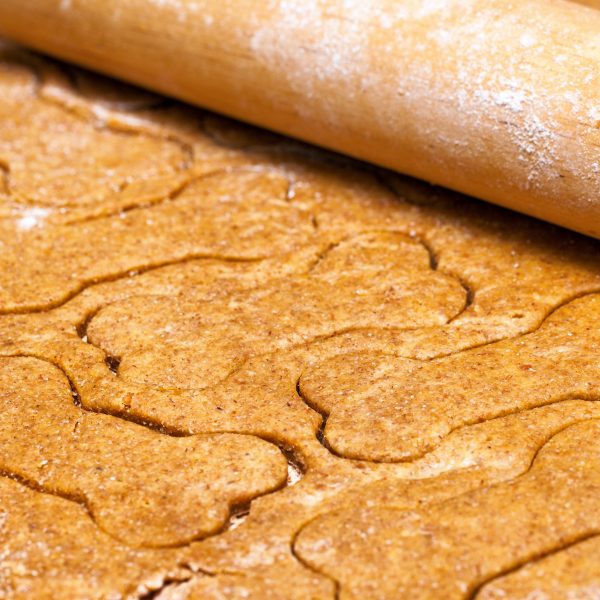 Treats are a great way to reward your pup and spoil them a little. They're also useful for training or celebrating and bonding with them. But, you don't want to do overdo it as too many treats or too much of the wrong things can lead to unhealthy outcomes for your precious pooch. Thankfully, there are plenty of treats you can make at home that will please any puppy palate and plenty of healthier alternatives your dog will still enjoy. Here are some dog treat recipes your dog will love:
DIY Dog Treat Recipes
Making your own dog treats at home can be a fun and easy way to make some great treats for your pup. Plus, it can be a great way to incorporate some of the best fruits and veggies for dogs into your dog's diet in a fun and rewarding way. Here are some general DIY dog treat recipes to play around with:
1. Apple Cheddar Dog Biscuits
If your dog has an appreciation for style, these Apple Cheddar Dog Biscuits may be the perfect fit for them. If they are particularly attached to those bone-shaped treats, they may also be into these. These apple-cheddar biscuits are from Martha Stewart and they're delectable for doggies. They're also simple and fun to decorate. Here's how to make them:
Ingredients
2 Cups of Barley Flour
½ Cup of Old-Fashioned Oatmeal
⅓ Cup of Shredded Cheddar Cheese
¼ Cup of Grated Parmesan Cheese
⅓ Cup of Unsweetened Applesauce
2 Tablespoons of Olive Oil
Directions
Preheat the oven to 350 degrees and line a baking sheet with a nonstick baking mat (or parchment paper) then set aside.
Using a large bowl, mix all the ingredients together. Add about 3 tablespoons of water so that the mixture forms a dough.
Roll the dough out between two sheets of plastic wrap until it is 1/4-inch thick. Then, take away the plastic wrap and cut out the biscuits with a 3.5-inch cookie cutter in the shape of a bone. Reroll scraps, and then cut out more biscuits.
Space the biscuits one inch apart on the prepared baking sheet from Step 1. Then bake for half an hour, until the biscuits are brown and firm.
Transfer the doggie biscuits to a wire rack and turn off the oven. Then, when the oven cools, move the rack into the oven. Leave the biscuits overnight to cool and harden. Then store in an airtight container. The biscuits will keep for up to two weeks.
2. Dog-Friendly Sweet Potato Fries
Does your dog get jealous when you make your famous sweet-potato fries for dinner? Look no further than this dog-friendly sweet-potato fries recipe from Beagles and Bargains. Not only is this treat delicious and good for you to eat too, but sweet potatoes are great for a pup's digestion. They contain plenty of fiber and are also high in the essential nutrients Vitamin C, Vitamin B6, and manganese.
Ingredients
1 Sweet Potato
1 Tablespoon of Coconut Oil
Desired Spices such as Turmeric and Cinnamon
Directions
Preheat your oven to 425 degrees. Wash and then peel the sweet potato.
Cut the sweet potato into evenly sized, long, skinny pieces to make the fries.
Coat the pieces with the oil and spices. Mix in a large bowl or a plastic bag.
Place the fries on a baking sheet in one layer, and bake for 15 minutes.
Then, flip over fries for even baking. Allow them to bake for another 10-15 minutes.
Let the fries cool and then serve.
3. Leftover Trail Mix
Not only can you get rid of some leftovers you don't want to eat, but this makes for a great snack while you're hiking or out and about.
Ingredients
Pieces of Meat (Chicken/Beef/Pork, No Seasoning)
Potatoes
Veggies (No Onions)
Fruit (No Grapes or Raisins)
Directions
Cut ingredients into half-inch thick pieces.
Spray lightly with cooking spray.
Place into food dehydrator or in the oven at 200 degrees until dry.
4. Baked Peanut Butter and Pumpkin Dog Treats
These treats are a quick and easy bake and take your dog is sure to love!
Ingredients
⅔ Cup of Pumpkin Puree
¼ Cup of Peanut Butter (Make sure your peanut butter doesn't use any artificial sweeteners like xylitol that are bad for your pup)
2 Large Eggs
3 Cups of Whole-Wheat Flour
Directions
Preheat oven to 350 degrees and line a baking sheet with parchment paper.
Mix wet ingredients until well combined and gradually add 2 1/2 cups of flour until it's all mixed in.
Add the last half cup of flour until the dough is no longer sticky.
Once it's all mixed, knead the dough on a lightly floured counter until it all comes together, then roll it out to desired thickness (about 1/4 inch) and use your favorite cookie cutter to stamp out the shapes.
Bake for about 20-25 minutes or until golden brown around the edges.
5. Oatmeal Banana Peanut Butter Treats
These treats only take a few ingredients and are sure to be one of your dog's favorites.
Ingredients
1½ Cups of Uncooked Oatmeal
1 Large Banana
½ Cup of Peanut Butter
Directions
Preheat your oven to 350 degrees.
Grind your oats until they are powder using a food processor or blender and set aside.
In a separate bowl, mix the banana and peanut butter together until the mixture is smooth. It's okay if there are a few chunks of banana, but you don't want large chunks hanging around.
Take about a tablespoon of the previously ground oatmeal and set it aside.
Then, pour the rest into the banana and peanut butter mixture and stir until combined.
Choose a clean, flat surface to roll out your dough.
Take the tablespoon of ground oatmeal you had set aside earlier and lightly dust your surface, so your dough won't stick.
Then, roll your dough out until it is about 1/4 inch thick.
After that, have fun! Cut your dough into shapes with cookie cutters or a freehand tool.
Place the cut-outs on a cookie sheet lined with parchment paper.
Bake treats for approximately 15 minutes, or until the edges start to brown.
Cool completely before storing in an airtight container for up to a week.
6. DIY Peanut Butter
Peanut butter is a great treat for dogs and can be used in a variety of dog treat recipes. Plus, it's something both you and your dog can eat (provided there are no nut allergies involved). Here's how to make some of your own at home:
Ingredients
3 Cups of Dry Roasted Peanuts (Salted or Unsalted)
2 Tablespoons of Honey (Optional)
2 Teaspoons of Cinnamon
A Pinch of Salt (Optional, Recommended if You are Using Unsalted Peanuts)
Directions
Put all of the ingredients in the bowl of a food processor. Use the pulse function as needed to help break up any masses that form – you want to end up with a mixture the consistency of a smooth paste.
Stop regularly to scrape down the sides and break up the mass that forms.
Don't be afraid to break the mixture up and puree it in halves or thirds if necessary. You want to make sure the butter continues to move around the bowl and mix in smoothly with the rest of the ingredients. It will take a while – about 3-4 minutes or more – to reach the smooth consistency you are looking for.
When it's finished, store it in an airtight container at room temperature. It should last for up to a month.
Frozen Dog Treat Recipes to Beat the Heat
One of the ways to help keep your dog cool in the summer is to give them dog-friendly frozen treats to enjoy. Since some dogs eat less during the hot days of summer, healthy frozen treats can help them get plenty of extra nutrients. Plus, making frozen treats is one of the dog-friendly summer activities. Here are some delicious frozen dog treat recipes to get you started:
7. Fruity Peanut Butter Frozen Kong Filling
This is a great option to keep your pooch focused and occupied with their fillable Kong toys. Just make sure you properly clean dog toys after your dog is finished so no food residue is left behind.
Ingredients
Peanut Butter as Needed
1 Fresh Banana
1 Fresh Mango
1 Tablespoon of Greek Yogurt
Directions
Mix peanut butter, fresh banana, fresh mango, and 1 tablespoon of Greek Yogurt until smooth.
Stuff it into a KONG and freeze.
Then, give it to your dog to enjoy.
8. Peanut Butter & Banana Pupsicles
Making your dog some "pupsicles" can be a great way to give them a relatively healthy frozen treat and help cool them down.
Ingredients
18 Ounces of Plain, Low-Fat Yogurt
½ Cup of Peanut Butter (Low Sodium)
4 Ounces of Banana Baby Food
1 Tablespoon of Honey
Directions
In a medium bowl, combine all ingredients and blend well.
Once the mixture is smooth, pour it into small cups (paper cups are usually a good fit for this as are popsicle trays).
Place a dog bone into the middle of the mixture, as if you were making a doggie popsicle. The bone will serve as a handle.
Once frozen, peel away paper cup and serve!
9. Blueberry Pupsicles
Instead of peanut butter and banans, you can also make your dog some blueberry pupsicles to enjoy.
Ingredients
Plain Yogurt
Fresh or Frozen Blueberries
Directions
Blend yogurt and blueberries until fully mixed and smooth.
Freeze in an ice tray or popsicle molds.
10. Meaty Ice Cubes
What could be better than meat-flavored ice cubes? Not much, according to dogs. And, they're ridiculously easy to make.
Ingredients
Chicken, Beef, or Vegetable Stock
Ice Cube Tray
Directions
First, simply pour chicken, beef, or vegetable stock into an ice tray.
Then, when the cubes are fully frozen, add them to your pup's food bowl for some icy accents to their meal. Alternatively, you may want to throw the ice cubes in your pup's water bowl for flavor and chill.
11. Banana and Peanut Butter Ice Cubes
Bananas and peanut butter are popular items that dogs often love. So, why not combine them and make them into some flavorful ice cubes just for your dog?
Ingredients
Banana
Peanut Butter
Ice Cube Tray
Directions
Mash up a banana.
Add a little peanut butter and mix together.
Spoon into an ice cube tray and freeze.
Once frozen, put a few in a bowl or inside a Kong toy for your dog to enjoy.
12. Banana-Based Dog-Friendly Ice Cream
Ice cream for dogs is a great option for a delicious frozen treat. Here's how to make some at home with bananas:
Ingredients
2 Bananas
4 Tablespoons of Plain Yogurt
Mint or Parsley, if Desired
Directions
Mash up two ripe bananas.
Mix with plain yogurt until smooth.
Add a bit of mint or parsley, if desired, and mix.
Freeze and scoop out a little for your dog when needed.
13. Frozen Carrots
This frozen dog treat is as simple and easy as they come. Just freeze a carrot and then give it your pooch to play with. When they're playing with this mysterious frozen object, they will forget all about the heat! Plus, carrots are a healthy treat they can enjoy.
14. Fruity Chillers
Packed with healthy sugars and plenty of vitamins – pups love seasonal fruit in the summer. Seasonal summer fruits like seedless watermelon, apple slices, strawberries, bananas, and oranges can make some of the best summer snacks.
Just remove all seeds, skins, and peels. Then, freeze the fruit pieces separately for individual frozen fruit treats or combine small pieces with yogurt and freeze for a frozen fruit salad your pup will love.
Thanksgiving Dog Treat Recipes
Although dogs can eat certain classic Thanksgiving staples, like turkey and mashed potatoes without seasoning, the Thanksgiving table is a minefield of foods that are toxic for dogs. Why not distract your pup with some tasty treats made just for them? Here are some safe Thanksgiving dog treat recipes to get you started:
15. Thanksgiving Medley
This Thanksgiving medley dog treat combines several Thanksgiving foods that dogs love, and most importantly, are allowed to eat. One serving is about a cup. The recipe takes only about half an hour to prepare and makes nine servings. You can even make extra so your pup will have leftovers just like everyone else!
Ingredients
3 Pounds of Skinless Turkey Pieces (You Can Use Both Light and Dark Meat)
1 Cup of Cooked Oatmeal
1 Pound of Cubed Sweet Potatoes
2 Tablespoons of Cranberry Sauce
4 Tablespoons of Turkey Gravy
Directions
Turkey gravy does tend to be heavy in fat. So, if your dog is on a special diet or you know fat upsets their tummy, it can be omitted or substituted with olive oil.
Plus, if you're already cooking your turkey, you can use pieces and gravy from that to make this recipe even easier.
All you have to do is cook the ingredients separately, mix them together, add the gravy or oil, and voila! – your dog is in Thanksgiving heaven.
16. Pumpkin Pie Treats
Luckily, pumpkin is a super-healthy food for dogs so it's easy to make healthy pumpkin dog treats. If you're making your pup a Turkey Day dessert, remember not to add sweeteners. Too much sugar or honey can be very damaging to a dog's system and Xylitol is downright dangerous. This recipe for pumpkin pie dog treats won't take too much time out of your Turkey Day preparations, and you probably already have the ingredients.
Ingredients
3 Tablespoons of Peanut Butter
1 Cup of Whole Wheat Flour
½ Cup of Water
1 Egg
1 Cup of Pumpkin Puree
Directions
Make sure you use plain pumpkin only for this recipe and not pumpkin pie filling.
Mix the peanut butter, flour, water, and egg. Stir it well – this mixture will become the crust for these treats.
Grab a 24 cup mini muffin tin, or a 12-cup if you want larger treats, and spray or grease it.
Then, take the dough you've made and press it along the bottom and side of each muffin cup to create the crust of your "pie".
After that, spread the pumpkin puree over the crusts.
Bake for 18-20 minutes at 350 degrees.
Let them cool completely before placing them in an airtight container or giving them to your dog. They'll last for about a week in the refrigerator or for up to three months in the freezer.
17. Butternut Squash Stew
This dog-friendly butternut squash stew makes a balanced meal, and will leave your pup begging for more! This recipe will make about six to eight cups of stew.
Ingredients
1 Pound of Boneless, Skinless Chicken Thighs, Cut into 1-Inch Chunks
1 Cup of Frozen Green Peas
8-Ounce Package of Frozen Butternut Squash
1 Cup of Uncooked Whole-Grain Rice or Barley
Fresh Parsley, if Desired
Directions
Start with a nonstick stewpot and heat it on medium heat.
Add the chicken chunks to the pot, allowing them to brown on both sides.
Then, add the frozen peas and stir.
After that, break up the frozen butternut squash over the mix and stir.
Cover the pot and let it cook. You'll want to give it about two minutes so the squash thaws out.
When you can easily stir all the ingredients, pour in the rice or barley.
Bring the liquid to a bubble, then reduce the heat to low, cover it, and simmer until the rice is fully cooked.
If your stew is stuck on the thick side, you can add some low-sodium chicken stock to thin it out.
Finish it off with a final stir.
Let the stew cool completely before you pour some in your puppy's dish. You can add a bit of fresh parsley as a garnish for a fancy touch.
18. Turkey and Cranberry Dog Treats
Dogs shouldn't be fed too much cranberry sauce because of its high sugar content, but cranberry itself is actually very healthy for dogs! Here is a great turkey and cranberry dog treat recipe to banish your pup's baleful look on Thanksgiving and for days after:
Ingredients
1 Cup of Whole Cranberries
1 Cup of Cooked Turkey
3 ½ Cups of Whole Wheat Flour
1 Egg
1 Tablespoon of Baking Powder
1 Tablespoon of Olive Oil
½ Cup of Water or Broth, to Use as Needed
Directions
If you happen to cook your turkey at the same time as you make this pup-friendly treat, you can substitute the olive oil and water for the turkey broth.
Start by mixing the dry ingredients together in a bowl and set aside.
Using a blender or food processor, combine the turkey, egg, and some of the water or broth if necessary.
When your mixture is similar to the consistency of baby food, add the cranberries and blend. After this step, your mixture should look more like a smoothie.
Pour this mixture into the bowl with the dry ingredients and stir to create a dough. Don't worry about getting it perfectly smooth, it's going to be a thick dough.
Knead the dough and then roll it out to bake on a cookie sheet. You'll likely need two greased cookie sheets and you can cut out the treats with cookie cutters.
You'll cook these in the oven for about 25 minutes at 350 degrees.
When they're finished, let them cool completely before giving them to your dogs or popping the leftovers in the refrigerator.
19. Turkey and Sweet Potato Meatballs
These Turkey and Sweet Potato Meatballs are safe for your dog and are delicious for humans and canines alike!
Ingredients
1 Pound of Ground Turkey
1 Egg
1 Sweet Potato
1 Cup of Oatmeal
1 ½ Teaspoons of Cinnamon
2 Teaspoon of Honey
2 Tablespoons of Parsley
½ Tablespoon of Rosemary
Directions
Cook the sweet potato as you would normally.
When cooled, mix all of the ingredients together.
Once all the ingredients are mixed together, make small balls and place them on a baking sheet covered with parchment paper.
Preheat the oven to 350 degrees and then place them in the oven for 15 to 20 minutes.
Once finished, remove from the oven and cut through a meatball to ensure they are cooked throughout.
If done, let cool for ten minutes. If they are not done, put them back in the oven for another ten minutes.
Serve with gravy and mashed potatoes.
20. Pumpkin Pupcakes
You might have plenty of pumpkin on hand and these Pumpkin Pupcakes are another option for a dog-friendly, pumpkin-flavored treats.
Ingredients
1 Cup of Flour
¾ Cup of Oatmeal
1 Cup of Pumpkin Puree
¾ Cup of Water
1 Tablespoon of Olive Oil
1 Large Egg
1 Tablespoon of Dried Milk
½ Teaspoon of Baking Soda
A Pinch of Salt
Directions
Mix all ingredients in a medium bowl.
Stir until thoroughly mixed.
Pour into a cupcake tin and bake for 15 to 20 minutes at 400 degrees.
Serve with plenty of water on the side. Your pup will definitely want a drink afterward.
Christmas DIY Dog Treat Recipes
During the holidays, you can spoil your dog and give your dog some of their own celebratory food. Don't worry about the extra shopping or trying to come up with dog-friendly recipes, here are some Christmas DIY dog treat recipes your dog will love:
21. Doggy Hot "Chocolate"
Chocolate is toxic to dogs, but carob is a dog-friendly substitute you can use to make a dog-friendly hot "chocolate" your pup can enjoy. Just make sure you check the temperature before you give it to your dog to make sure it's not too hot for them.
Ingredients
Low-fat, Lactose-free Milk or Unsweetened Coconut Milk
Carob Powder
Directions
Froth the milk, the frothier the better.
Set aside a little bit of froth for later.
Add a little water to dilute the milk and adjust the temperature.
Add carob powder to taste and mix.
Top with the froth you set aside earlier and serve.
22. Eggnog for Pooches
For many of us, this creamy beverage is a highlight of the holidays. It's a lovely pairing to fruitcake and family. Even though your pup can't savor the spirit in our eggnog, they can savor the spirit of Christmas with their own eggnog as long as they can handle a little bit of dairy.
Ingredients
7 Ounces of Plain Greek yogurt
1 Egg
2 Ounces of Sweet Potato Puree
¼ Cup of Water
Directions
Put all the ingredients in a blender.
Blend until smoothly mixed and a little foamy.
Serve to your pup.
23. Peppermint Pups
Your dog may not be able to have Peppermint Bark, but Peppermint Pups could do the trick! With these treats on the menu, your pooch won't be barking up the wrong treat this Christmas – they'll have their own.
Ingredients
1 Teaspoon of Peppermint Extract
2 Tablespoons of Peanut Butter
2 Tablespoons of Olive Oil
1 Teaspoon of Molasses
1 Cup of Water
3 Cups of Whole-Wheat Flour
Directions
After preheating the oven to 350 degrees, mix all of the ingredients together in a large bowl.
Then, work the dough until it becomes smooth.
Flatten the dough, then use a puppy-shaped cookie cutter to create your cookies.
And finally, put all the shapes onto a cookie sheet and bake for 30 minutes.
After letting them cool, hand them out to your guests to keep your pup entertained, and full, throughout the evening!
24. Beef Biscuits
These may not sound appetizing to us, but for dogs, they're very tasty morsels. With a handful of these, you'll be your dog's favorite all night.
Ingredients
¾ Cups of Yellow Cornmeal
1 Cup of Beef Broth
3 Cups of Wheat Flour
1 Egg
4 Tablespoons of Softened Butter
¼ Cup of Milk
Directions
Preheat your oven to 325 degrees, and then mix all of the ingredients – excluding the egg.
When the dough is stiff, flatten and cut into shapes if desired.
Then, place the biscuits on the cookie sheet.
Beat the egg and 1 tbsp of milk, and then brush over the biscuits.
Bake for 35 minutes.
Wait for them to cool completely before serving to your pup.
25. Gingerbread Dogs
Everyone's heard of gingerbread men, so how about you spice things up this Christmas with some gingerbread dogs! Your human guests would probably prefer the original, but your pup will absolutely love these.
Ingredients
1 Teaspoon of Powdered Ginger
1 Cup of Water
4 Tablespoons of Honey
1 Teaspoon of Ground Cloves
2 Teaspoons of Baking Soda
½ Cup of Vegetable Oil
1 Cup of Molasses
1 Teaspoon of Cinnamon
6 Cups of Flour
Directions
Mix all the dry ingredients in one bowl and all the wet in another.
When the mix of wet ingredients is smooth enough, combine the dry mix and stir.
Take the dough and divide it into evenly sized balls.
Then, put them in the refrigerator for about 4 hours.
After they are properly chilled, sprinkle flour over the dough balls and roll them out flat. Use puppy-shaped cookie cutters to make your gingerbread dogs.
Finally, put them on a cookie sheet and into the oven for 25 minutes at 350 degrees.
If you're feeling adventurous, these are sweet enough to try for yourself! Make sure they've cooled completely before giving any to your pup.
26. Canine Christmas Delights
These tasty treats let your dog join in on the holiday fun and have their own special treat or meal.
Ingredients
1 Cup of Whole-Wheat Flour
½ Cup of Unbleached All-Purpose Flour
½ Cup of Graham Flour
½ Cup of Soy Flour
⅓ Pound of Raw Chicken Livers
2 Tablespoons of Chicken Broth or as Much as Needed
2 Tablespoons of Canola Oil
1 Egg
Directions
If needed, move the oven rack to the center of the oven and preheat it to 350 degrees.
Place one slightly greased baking pan to the side.
Then, use a large bowl and a wire whisk to mix the whole-wheat flour, all-purpose flour, graham flour, and soy flour together and set it aside.
Use a food processor or blender to blend the chicken livers down to a paste, then beat in the broth, oil, and egg.
Blend together until smooth.
Next, slowly pour the blended mixture into the large bowl with the dry ingredients.
Mix it with a spoon until it becomes a soft dough and starts to pull away from the sides of the bowl. If it is too dry, add a little bit more broth.
Slightly flour a flat surface and dump the dough onto it.
Use a rolling to roll the dough out to approximately 1/2 inch thickness.
Then, use a cookie cutter to cut out the cookie shapes and place them on the previously greased baking sheet. Make sure to reuse the scraps as you go, cutting out cookies and re-rolling dough until it is used up. As a note, the dough will become stiffer as you continue to work it.
Once you're done, bake the cookies for around 15-20 minutes or until the cookies are a light brown color and look dry.
Remove them from the oven and place the tray on a cooling rack to allow them to cool completely, but don't remove them from the tray.
Turn off the oven, but keep the oven door closed to contain the warmth.
Once the cookies have cooled, place the tray back inside the warm oven on one baking tray (in case you used more than one) and let them sit in there undisturbed for 10-15 hours straight. This helps cure and harden them into crunchy, tasty biscuits for your dog.
Making your own dog treats is so much fun – after all, you're cooking for a friend! Plus, it's a great way to celebrate your dog, throw a dog birthday party, or just show them some love. It's fun to try different recipes and find out what your pup enjoys the most. There are tons of dog treat recipes out there and many are flexible.
Feel free to experiment with different ingredients and seasonings. But, if you choose to improvise, make sure to check every ingredient against a list of toxic food for dogs to make sure everything you make is safe for your dog to eat.