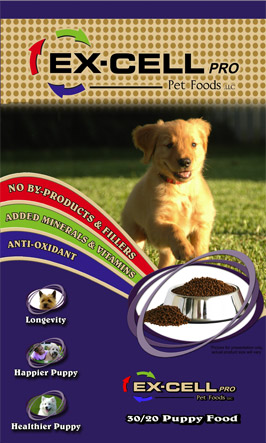 When it comes to feeding your dog, the quality of the food is essential. But, price and quantity also need to be a consideration. Ex-Cell Pro Pet Foods is a local favorite in Pennsylvania that is fantastic at balancing those factors. Here is some more information about Ex-Cell Pro:
The Ex-Cell family, led by Darvin Weaver, is a group of dog lovers who take the nutrition of pets very seriously. They understand that, especially in the early stages of a puppy's life, nutrition is a huge key to the animal's long-term health. Even at the point when a puppy is still feeding from the mother, the nutrition of the mother has an enormous impact as well.
As humans, we try to flood our body with anti-oxidants, the right vitamins, and more to keep ourselves healthy. That is exactly what the Ex-Cell formula helps to do for a dog. The Ex-Cell formula is a unique combination of vitamins and trace minerals designed to give your dog a better overall state of health. This patented mineral pack is something that you will not find in your standard "store brand' dog food.
Seeing is believing, so one of the Greenfield Puppies employees shares their experience:
"I have been feeding my 1-year-old Lab Ex-Cell for the past 2 weeks. I have noticed an increase in energy, and he does seem to enjoy his food more.
When I first bought my current dog, he suffered from some digestive problems. I had a very difficult time finding a food that worked for him. Finally, I was forced to buy Science Diet, which is a very expensive brand of dog food. I have been paying between $35 and $42 for 30lbs of food ever since.
It goes without saying that when I was introduced to Ex-Cell at under $40 (Adult Formula), I saw immediate savings. As a consumer, I will take 10 extra pounds for a lower price any day.
The bottom line is, I am not a person who concerns myself with only the cost of an item, but also the quality. Ex-Cell is producing a food geared towards the long-term health of your pets, not towards a bottom line. The interesting part about it is, after seeing how much my finicky Lab enjoys the food, I feel I have gotten the best of both worlds."
Ex-Cell Pro is currently only sold within Pennsylvania, both on their website and also at designated retail locations. If you're local or traveling through the area and want to give Ex-Cell Pro a try, check out their website to learn more and find where you can pick some up for your dog.