5 Essential Facts About Boxers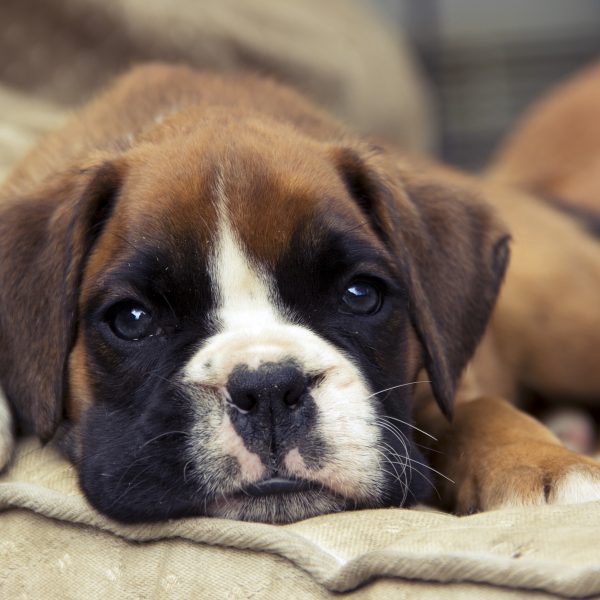 The Boxer is a friendly, exuberant, and energetic dog breed that has a friendly, playful personality and makes a great family pet. Here are a few more facts about Boxers:
1. They Are a Popular Dog Breed
The Boxer can trace its origins back to the ancient Assyrian empire war dogs of 2500 B.C. The breed as we know it originated in Germany in the late 1800s as the result of crosses between the English mastiff-type breeds of the time and Bullenbeissers. They were popular with hunters at the time for their skill in chasing wild game.
The first Boxer was registered with the American Kennel Club in 1904. However, the breed really burst onto the scene and became popular in the 1950s. Bang Away, a Boxer, won at Westminster during these years and became a national celebrity, which thrust the Boxer breed into the spotlight. They have consistently ranked in the top 10 most popular dog breeds in the United States ever since and is also one of the popular show dog breeds.
2. The Boxer is a Versatile Working Dog
The Boxer may be a popular family companion, but they are also a popular working dog. Their athleticism, eager personality, and trainability make them a good fit for a variety of jobs and they can be found working in several different capacities.
In addition to competing in dog sports, Boxers also make great service dogs. Their personalities make them a good fit for being therapy dogs or emotional support dogs as well. These dogs can also be found working as search and rescue dogs, serving as military dogs, and also working in law enforcement as police dogs.
3. They Make Great Family Dogs
Boxers are playful and friendly dogs that tend to have a happy, upbeat disposition. They tend to bond closely with their families and love nothing more than spending time with them, especially if they can be active too. Even with all of their energy, Boxers are considered one of the best dog breeds for first-time owners.
Boxers are bouncy and energetic, so they can get overexcited at times. But, they tend to get along fantastically with children and other dogs. After all, they love having someone to play with. Despite their high prey drive, they also tend to get along with other smaller pets in the household, but they may need a little bit of extra socialization with them.
4. Boxers Are Relatively Easy to Train
Because they are prone to jumping up on people, it's important to train your dog not to jump up when they are a puppy. Jumping up may be cute when they are small, but it can easily become a nuisance behavior and one that can potentially hurt people when they are a large, powerful dog.
Thankfully, Boxers are highly trainable dogs that are a good fit for owners of any experience level as long as they can handle a high-energy dog. In addition to being intelligent, they are also eager to please, which means they pick up on things easily. It also means they get bored easily. This, plus their high energy, can make puppy training classes a good idea.
5. They Are High-Energy Dogs
The Boxer is a high-energy dog breed. In addition to daily walks, they also need playtime, time to run, and a job to do to be happy and healthy. Because of their high prey drive, they do have a tendency to chase, so they should only be let off-leash in a secured area.
This makes a trip to the dog park a great activity if you don't have access to a large fenced yard. Since Boxers tend to get bored with repetition, you can also change things up and try new activities with them. Who knows? You and your dog's new favorite activity could be hiking, swimming, training for dog sports, etc.
These are just a few facts about Boxers. The Boxer can be a great fit for active owners or families that can give them the exercise, mental stimulation, and attention they need to be happy and healthy.
If you think this dog breed could be the right fit for you, learn more about them and check out the available Boxer puppies. You might end up finding your new best friend!