6 Facts About Boykin Spaniels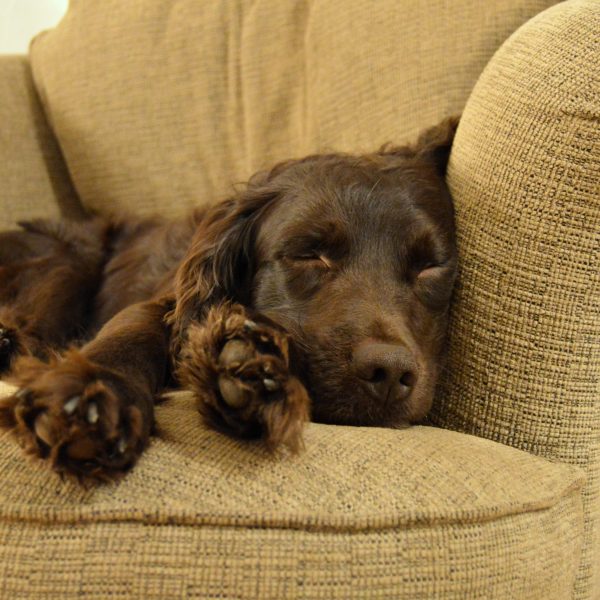 Boykin Spaniels are high-energy hunting dogs that also make great family companions. They're considered medium-sized Spaniels. At under 20 inches tall and between 25-40 pounds, they tend to be smaller than a Springer and a little larger than a Cocker. Here are a few more facts about Boykin Spaniels:
1. The Boykin Spaniel Originated in the United States
There aren't a lot of purebred dog breeds that originated in the United States, but the Boykin Spaniel is one of them. They came from Boykin, South Carolina, and were sometimes called "Swamp Poodles" due to their bird dog and retrieval skills in the swampy marshlands.
They are also a newer dog breed when it comes to established dog breeds as they were developed in the 20th century. The Boykin Spaniel was recognized by the American Kennel Club (AKC) in 2009 and they are considered a member of the Sporting Group.
2. They Are Talented Gundogs
Boykin Spaniels are talented gundogs. Whether working around a lake, in swampy marshland, or on land, they are skilled at flushing out game and at water retrieval. They are a popular dog breed for bird hunters, but also fit right in at home as a beloved family companion.
This dog breed is known for their versatility in the field as well as their eagerness to work. These dogs tend to be hardworking and intensely focused when on the job. These traits, paired with their hunting dog skills and their upbeat personality, make them a popular choice for anyone who works or spends time outdoors.
3. Boykin Spaniels Are Also Fantastic Family Companions
Although they are hardworking and talented hunting dogs, Boykin Spaniels also make fantastic family companions. They may be focused on their job while they're out working in the field, but when they are at home with the family, they are playful, charming, and relaxed. They also tend to form a strong bond with their families.
In addition to their working dog traits, the Boykin Spaniel has a great personality. They tend to be naturally friendly and social. This means they absolutely love attention! They also get along well with children and other dogs. After all, children and other dogs make great playmates and usually mean another friend to give out some affection and attention.
4. They Are High-Energy Dogs
The Boykin Spaniel is a high-energy dog breed. Their energy level can range from moderate to high, but rest assured, these dogs need a lot of daily exercise. Even if they're having a "moderate moment", you can bet they'll make up for it with some high energy later. Daily walks plus some extra activities are a must for this dog breed.
Although they require a lot of exercise, the great thing is that they are a versatile dog breed, so there are plenty of options to keep things interesting for both of you. Depending on what your Boykin Spaniel likes to do most, you can go running, hiking, swimming, or biking, play fetch or frisbee, go to the dog park, and more.
As a sporting breed, they also tend to be a great fit for some dog sports. So, you can also try your hand at training your Boykin Spaniel to compete in tracking, rally, agility, dock diving, and more.
5. They Are the State Dog of South Carolina
Because the Boykin Spaniel hails from South Carolina, it's no surprise they are the state dog. South Carolina designated this breed as their state dog in 1985.
6. Boykin Spaniels Are Named for Their Original Breeder
In the early 1900s, a man named Whit Boykin took in a little stray brown dog. He named the dog Dumpy and noticed the dog had excellent birding instincts. Boykin bred Dumpy with a few different spaniels, like American Water Spaniels, Cocker Spaniels, and Springer Spaniels. He also bred Dumpy with Chesapeake Bay Retrievers. This breeding resulted in a sturdy retriever that is used to hunt various birds and waterfowl.
Is a Boykin Spaniel Puppy Right For You?
These are just a few facts about Boykin Spaniels. They are a lovable, dedicated, and hard-working dog that is a good fit for owners and active families who can give them the exercise, mental stimulation, and affection they need.
Whether serving as a hunting companion, a family companion, or both, you can bet that the Boykin Spaniel will fit right in. If you think this could be the right dog breed for you, learn more about them and check out the available Boykin Spaniel puppies!