5 Useful Fall Dog Products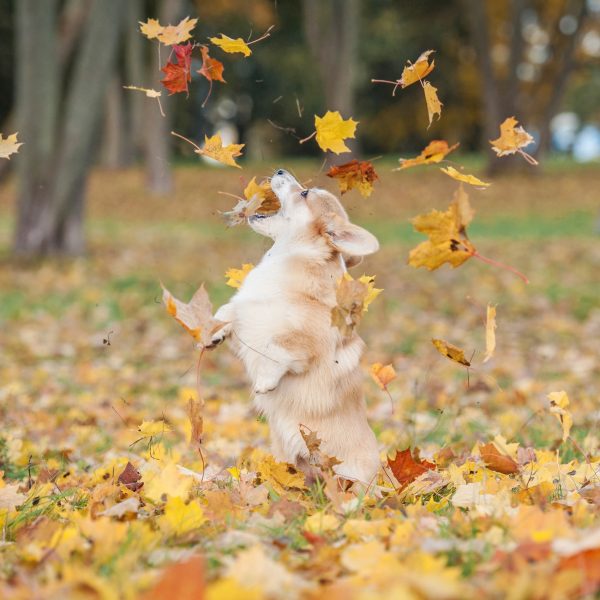 There are plenty of products on the market to help you care for your dog easier and make them more comfortable. Whether you're having a grooming session indoors or going out on an adventure, there's a product out there to help you and your dog. Here are a few useful fall dog products:
1. Portable Water Bowl
Hydration is important for you and for your dog. When you're out and about or exploring, it can be hard to find a good water source. So, normally, you bring your own water along with you. When it comes to your dog, how often have you poured water into your cupped hand to try and give your dog water? With a portable water bowl, you don't have to use your hand.
Using a bowl will help you conserve your water supply and ensure your dog is able to get plenty of water. The Ruffwear Trail Runner Bowl* (Amazon Affiliate Link) holds 32 ounces and is lightweight. Plus, it's portable and it folds up into its own small pocket for easy storage. This portable water bowl won't weigh you down or take up a lot of space and it makes staying hydrated easy for you and your pup.
2. Calming Vest
A calming vest can be a great product to help soothe an anxious dog. A good calming vest is comfortable for your dog to wear and offers compression similar to swaddling. Essentially, your dog is wrapped comfortably with gentle pressure and weight to help calm and soothe them. A calming vest* (Amazon Affiliate Link) provides comfortable full-chest coverage for your dog and includes reflective piping to increase safety in the dark.
Before putting a calming vest on your dog, make sure to check with your veterinarian first to ensure it is a safe product for your dog and there aren't any underlying health issues you need to address first. Then, take care to measure your dog carefully to ensure you get the right fit. It is imperative that the calming vest fits your dog correctly in order for them to be comfortable while wearing it.
3. Dog Brush
Grooming is important year-round. Your dog's coat can get tangled, matted, and dirty without regular brushing and bathing. Plus, loose fur can make your dog uncomfortable and itchy. A grooming glove and a good brush can help prevent tangles and matting and remove loose hair to make your dog more comfortable. Regular brushing can also help control shedding, since the loose fur ends up on the brush instead of around your home. It won't stop a dog from shedding by any means, but it can certainly help contain it a little more.
The Furbliss Pet Brush* (Amazon Affiliate Link) is made of medical-grade silicone, which makes it durable and easy to clean. It's two-sided for added convenience. One side features longer teeth with a blunt side to brush, massage, clean, and exfoliate. The other side is used for de-shedding and removing fur from furniture. It's a multi-purpose brush all-in-one. If you don't need the extra functionality, there is the rubber grooming brush* (Amazon Affiliate Link). This is a palm brush made of silicone. One side features the nibs for brushing, de-shedding, and massaging while the other has a handle for easy use. Both brushes are a great option for keeping your dog's coat tangle-free.
4. Seat Belt Harness
If your dog loves car rides or you like to take road trips with your dog, keeping them safe in the car is a priority. A seat belt harness secures your dog in the car and protects them in the event of a crash. It also keeps them from trying to get into the front seat and interfering with your driving or from exiting the car while it's still moving. The Sleepypod Clickit Sport* (Amazon Affiliate Link) is a seat belt harness for your dog that doubles as a walking or running harness. It's comfortable for your dog, easy to install, works with existing seatbelts, and has a reflective safety stripe for safety at night.
5. Long-Range Toys
For dogs with a lot of energy that also love playing fetch, long-range toys are the perfect solution. The original Chuckit! changed the game for dog owners everywhere. It lengthened games of fetch and helped tire out energetic dogs while protecting dog owners' throwing arms. Now, Petmate has released the Chuckit! RingChaser* (Amazon Affiliate Link). Just like the original Chuckit!, the RingChaser has a long, ergonomic handle to help protect your shoulder and arm while also increasing how far you can launch the toy.
Instead of a ball, this time you're launching an UltraRing which will bounce and zigzag for a more interesting and engaging game of fetch. The handle also features an easy pick-up head so you can use the tool to pick up and launch the ring instead of constantly bending over or crouching down. When your dog loves seemingly never-ending games of fetch, the RingChaser will help you extend the game without hurting your arm, shoulder, or back.
With these fall dog products on your side, you and your dog can have a lot more fun and safer adventures together.
*Greenfield Puppies is a participant in the Amazon Services LLC Associates Program, an affiliate advertising program designed to provide a means for sites to earn advertising fees by advertising and linking to amazon.com. Greenfield Puppies may earn a commission for purchases made through Amazon affiliate links on our site.