Florida Dog-Friendly Travel Guide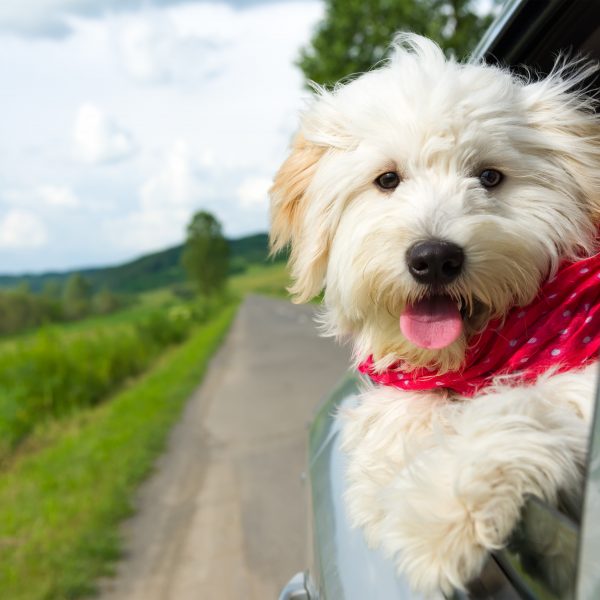 With miles and miles of beaches, Florida is one of the most well-known US states for "fun in the sun". When you're traveling to "The Sunshine State", you don't have to leave your furry friend behind. Instead, use this Florida dog-friendly travel guide to help plan your trip, so you can bring your dog along and enjoy the fun together!
12 Dog-Friendly Activities in Florida
Even if you have dog-friendly places to stay, you don't want to leave your dog alone in the hotel room or have to board them at a kennel. That's not fun for either of you. Check out these dog-friendly activities you both can enjoy all around The Sunshine State:
1. Dinosaur World
If you are a fan of dinosaurs, this is the perfect park for you and your pooch! Located in Plant City, a midpoint between Tampa and Disney, Dinosaur World features winding trails and 150 life-size dinosaur statues.
It's free for your dog to get in and they are welcome as long as they are well-behaved and leashed. There are even water stations along the trail, so you and your pup can take water breaks!
2. Fort De Soto Park "Paw Playground"
Located within the Fort De Soto Park is a dog beach called the "Paw Playground". Dogs are not allowed on the other beaches in Fort De Soto Park; just in the Paw Playground. This stretch of beach is a designated dog beach where they are allowed to run free and off-leash.
Just make sure you follow the dog park rules and some beach safety tips for dogs while you're there. Fort De Soto Park has fenced-in dog parks nearby for both large and small dogs. There are also dog showers and drinking water.
You can hose your pooch off on a hot day, or after they've rolled around in the sand, and keep them hydrated. Dogs are allowed in other areas of the park as long as they are on a six-foot leash.
3. Lazy Dog Adventures
If your Florida travels bring you to Key West, be sure to stop by Stock Island and check out Lazy Dog Adventures. There are "rent on your own" options as well as guided kayak tours available. You can rent a regular kayak, have your pooch hop on board, and take your dog paddling across the channel and canal.
You can also opt for the doggie paddle. Your pup will still take a ride with you on the kayak, but you'll head to a sandbar that is pretty much a private island dog park. Your dog can run free, go swimming, and more. It's a great opportunity for your dog to release some excess energy before it's time to head back to the marina.
4. Crab Island Cruises
If you're in Destin and you just want to spend a day on a boat and in the water, consider a pontoon rental from Crab Island Cruises. These private boat tours include a driver and a captain in your boat rental and almost everything else too including fuel, beach towels, toys, bottled water, life vests, and more.
You don't have to worry; you can relax and just have fun. Plus, your dog is welcome to join you out on the boat as long as they are friendly and well-behaved. Make sure your dog has a life jacket too and follow boat safety tips while out on the water to make sure everyone has a good time!
5. Beach Buddy Tours
Beach Buddy Tours is located in Fort Myers Beach and offers sightseeing tours that showcase various habitats and wildlife. Your dog is welcome to join you with prior approval and there is even a Four-Legged Friends Cruise option available.
This cruise is four hours long and stops at Bonita Dog Beach for a break. You can bring a cooler of your favorite beverages and a sack lunch and Beach Buddy Tours will provide clean-up baggies, a water dish, water toys, and more for your dog.
6. Scenic Cruise of St. Augustine
If you're in St. Augustine and local landmarks and history are your thing, consider taking a ride with the Scenic Cruise of St. Augustine. You and your leashed and well-behaved dog can enjoy a 75-minute ride on the Victory III while the captain narrates the tour and highlights local points of interest and historical landmarks.
7. Red Train Tours
If you still want to see the sights of Saint Augustine but prefer to do so on land and have a small dog, you can take a ride with Red Train Tours. This tour company has been showing people around Saint Augustine since 1953.
Small dogs are welcome to join as long as they are leashed, friendly, and well-behaved, but they need to be able to sit comfortably and safely on an owner's lap for the ride. Because of this, only small dogs that weigh 20 pounds or fewer are allowed on the train tours.
8. Fountain of Youth Archaeological Park
Also in Saint Augustine is the Fountain of Youth Archaeological Park; also known as America's First Colony. As long as your dog is well-behaved, leashed, and you clean up after them, they are welcome to join you as you explore over 15 waterfront acres.
You can also check out the Timucua Indian Village, the planetarium, and the 600-foot observation deck. There are peacocks that freely roam the grounds, so make sure your dog stays leashed and will be able to handle themselves, especially if they have a high prey drive.
9. Key West Aquarium
The Key West Aquarium is a historic attraction originally built by the WPA. It features, tours, shark feedings, a touch tank, a jellyfish exhibit, and more. Your dog may not be able to participate directly with the touch tank, but they are welcome to join you as you explore the aquarium provided they are leashed and well-behaved.
10. Three Brothers Boards
If you want to see wildlife around Daytona Beach and go paddling with your dog, you can book a Dolphin and Manatee SUP Adventure Tour with Three Brothers Boards. Each guided tour starts with a lesson and practice in the bay before heading off into the water.
Plus, your dog can join you for free. Just make sure your dog won't try to jump off the board or get scared by wildlife because you can expect to see dolphins and manatees on almost every adventure tour.
11. Jacksonville Arboretum & Gardens
If your travels bring you to Jacksonville and you need to take a break, stretch your legs, and spend some time in nature, consider exploring the Jacksonville Arboretum & Gardens. This is 120 acres of urban woodland with plenty of trails to explore and enjoy.
In addition to easy walking trails, there are also over three miles of rustic hiking trails that take you through ecological habitats. Plus, your dog is welcome to join you as long as they are leashed, well-behaved, and won't disturb or harm the wildlife.
12. Tarkiln Bayou Preserve State Park
If you are in Pensacola and want to enjoy some scenic views, spend some time at the Tarkiln Bayou Preserve State Park. This park features 4,000 acres of scenery. If you are lucky, you may even see some of the rare and endangered species that call the park home.
There are multiple trail options of varying lengths and difficulties. Your dog is welcome to join you on the dog-friendly trails as long as they are leashed and well-behaved. Just make sure you plan your walk in advance so you know what to expect and prepare accordingly.
5 Dog-Friendly Hotels in Florida
If you're in Florida for more than just a day trip, you'll need to find somewhere to stay overnight. Since not every place permits pets, you have to plan ahead a little more when you have your pup with you. These dog-friendly hotels and campgrounds in Florida will welcome you and your dog with open arms:
1. Fort De Soto Campground
If you're an outdoorsy type that enjoys camping and you happen to be near Fort De Soto Park, you can reserve one of their special campsites for campers with pets. Their camping area has 238 sites available and each provides picnic tables, grills, water, and electricity.
Modern restrooms and showers are nearby and even washers and dryers are available. Campsites go fast though, especially the pet-friendly ones, so you'll want to reserve one ahead of time if this is where you want to go camping with your dog.
2. La Quinta
This hotel chain can be found in several areas throughout Florida. They're affordable, and you're likely to find one just about anywhere you go. And, the best part? They are pet-friendly!
When you stay at La Quinta, your dog is welcome and stays with you for free. They have locations in all the major metros, like Tampa, Orlando, Ft. Lauderdale, Miami, and more, plus some in smaller areas too.
3. Aloft Hotels
Aloft Hotels is a Starwood boutique hotel chain with locations in Jacksonville, Tallahassee, Miami, Orlando, Tampa, Gainesville, Fort Lauderdale, Weston, Delray Beach, Coral Gables, and Sarasota.
They offer hip decor with a sophisticated style and they are pet-friendly. Some Aloft Hotels will even offer a complimentary pet package that includes a bed, bowl, treats, and toys for your dog to enjoy!
The specific pet policies for dogs will vary, especially on weight restrictions, deposits, and any added fees, so you will want to check with specific hotels for their policies. Usually, only one dog is allowed per room, they cannot be left unattended, and dogs should weigh under 40 pounds, but it may vary by hotel and you may be able to get accommodations if you call and speak with a manager about your specific dog and situation.
4. Residence Inn by Mariott Daytona Beach
If you need to stay overnight in Daytona Beach, consider booking a room at the Residence Inn by Mariott Daytona Beach. You also have a couple of options for this hotel around Daytona Beach; there is an oceanfront hotel and a hotel near the airport.
Up to two dogs of any size are welcome to join you for your stay at this dog-friendly hotel. There is an additional pet fee, which is $75 per stay. There is a grassy relief area on-site for convenience. Also, your dog can stay in your room unattended as long as they are well-behaved when you are not around and you put the "Do Not Disturb" sign on the door when you leave.
If you need to stay somewhere else and want to try another Residence Inn, just make sure you check on that particular property's pet policy. Although it is a national chain, there are some variations across properties when it comes to pets and some of them may only allow small dogs.
5. Old Town Manor
If your travels will bring you near Key West and you'll want to stay overnight, think about reserving a room at Old Town Manor. This bed and breakfast is located downtown and is dog-friendly.
Up to two dogs of any size are welcome to join you for your stay. There is an additional pet fee, which is $50 per stay for the first dog and an additional $25 per stay for a second dog. If your dog is quiet and well-behaved when you are not around, you can leave them created in your room and unattended.
Although there is no grassy relief area on the property grounds, there are several grassy areas within a block of the hotel. Additionally, there are treats, bowls, and waste bags available at the front desk upon check-in for your dog to use during your stay.
6 Dog-Friendly Restaurants in Florida
It's easy to get tired of stopping at gas stations or fast food drive-thrus so you and your pup can eat together. With dog-friendly restaurants on your itinerary, your pup can hang out and chow down with you while you both relax for a meal together. Check out one of these dog-friendly eateries if your travels bring you nearby during mealtimes:
1. Coconuts Bahamas Grill
Located in Fort Lauderdale, Coconuts Bahamas Grill is a great place to stop for a bite, especially if you love seafood. You may not be able to share the fish with your pup, but they'll be welcome to hang out with you in the dog-friendly outdoor seating as long as they remain leashed and are well-behaved. Coconuts has dog bowls available, which they will gladly fill with water for your furry friend.
2. Dexter's Restaurants of Orlando
Dexter's is a local chain of restaurants located in and around Orlando that provide a fun, relaxed atmosphere. They are popular any time of the day and are a hot spot for brunch any day of the week. Their main menu is full of handcrafted fresh food and their dinner menus change on a monthly basis.
They also offer more than 30 red and white wines, sherries, ports, and champagne by the glass. Most importantly, their patio is dog-friendly and so is their atmosphere. Dexter's has locations in Winter Park, Lake Mary, Orlando, and Windermere.
3. Tampa Bay Brewing Company
Tampa Bay Brewing Company has two locations, one in Westchase, just northwest of Tampa, and one in Ybor City, near downtown Tampa. Each location has a taproom, a full-service pub, and a dog-friendly outdoor patio. They're open for lunch and dinner and are a must-stop if you're a fan of craft beer.
4. The Beachcomber
The Beachcomber is a local favorite right on the beach in St. Augustine. Not only can you enjoy seafood, tacos, burgers, and more while you enjoy the laid-back beach vibe, but your dog is also welcome to join you at one of the shaded outdoor tables.
5. Hook'd Pier Bar & Grill
If you end up in Panama City around a mealtime, consider grabbing some food from Hook'd Pier Bar & Grill. A favorite among locals and tourists alike, the Hook'd menu offers a variety of tacos, gumbo, burgers, seafood, oysters, and more. It's right on the waterfront and your dog is welcome to join you on the outdoor patio.
6. Pineapple Willy's
Also in Panama City is Pineapple Willy's, which has been a local staple since 1984. It is considered one of the go-to places for seafood and ribs. In addition to a selection of craft beers and classic frozen daiquiris, the menu also features popcorn shrimp, chicken tenders, clam strips, mahi-mahi, and more.
You can even order a pound of ribs that come in a sand castle basket that you can take home as a souvenir! Plus, your dog is welcome to join you on the covered, shaded pier at one of the outdoor tables.
There are a lot of dog-friendly places to explore in Florida. This Florida dog–friendly travel guide will get you started and help you add a few places to your trip, but it certainly doesn't cover everything. If you find something else you want to see, just make sure it's dog-friendly or you have a plan for your dog before it goes on your trip plan.
If you're headed to a different state, check out the other dog-friendly travel guides available. Here's to safe travels and wagging tails no matter where your adventures take you!