Georgia Dog-Friendly Travel Guide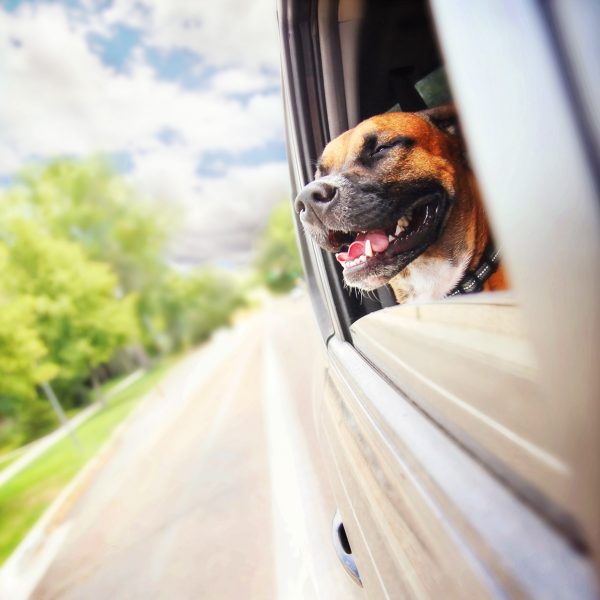 Traveling is a great way to relax, experience something new, and explore. It's exciting to plan a trip, but can get stressful if you have to leave your furry best friend behind. Between arranging care and the stress of being apart, it can make you wonder whether your trip is even worth taking. Instead of stressing out, plan to take your dog with you! If you're headed to the Southeast, use this Georgia dog-friendly travel guide to plan a trip both you and your dog will enjoy!
6 Dog-Friendly Activities in Georgia
When you travel with your dog, it's a much more enjoyable trip for you both if you can experience fun, new things together. Add some of these dog-friendly activities to your trip itinerary to ensure your dog doesn't have to stay behind at the hotel while you explore.
1. Ghost Talk Ghost Walk
Savannah, Georgia is a historic town with a long past and plenty of stories, including ghost stories. If spooky tours are your thing and you happen to be traveling around Savannah, be sure to go on a Ghost Talk Ghost Walk tour.
The tour will take you around Savannah's most haunted spots. Plus, it's dog-friendly! As long as your pup stays leashed and you clean up after them, they are welcome to join you on the tour for your own Scooby-Doo style adventure.
2. The Three Sisters Vineyards & Winery
If your travels take you near Dahlonega, stop by The Three Sisters Vineyard & Winery. You can relax and taste different wines as you take a break and unwind. Your pooch is welcome to join you as long as they are clean, on a leash, and do not bark while indoors.
During the month of June, The Three Sisters hosts the Georgia Wine Country Festival every weekend! It's a must-stop for every wine-lover traveling through this part of Georgia.
3. Centennial Olympic Park
The Centennial Olympic Park is located in Atlanta and is one of the largest city parks in the country. With 21 acres for you and your dog to explore, it's a great way to relax in nature and get out some extra energy.
Your dog needs to be leashed and well-behaved at all times, but is welcome to enjoy the park with you. Make sure you check out the Fountain of Rings!
4. Broad River Outpost
If you and your pooch are dedicated outdoor enthusiasts, add Broad River Outpost to your trip itinerary. It's located in Danielsville and you can rent a kayak or canoe to take a trip on the water.
Plus, your dog is welcome to join you as long as they are friendly to other dogs and people. They need to be leashed while on land, but are welcome to come along with you as you paddle down Broad River.
5. Captain Mike's Dolphin Tours
If your travels take you near Tybee Island, make sure you leave enough time for Captain Mike's Dolphin Tours. These tours last about an hour and a half. You'll see things like the Tybee Lighthouse, Fort Pulaski, and more.
Inshore and offshore fishing and sunset cruises are available from May to September. And, your dog is welcome to join you on board! Just make sure they're comfortable on the open water, first. Your pooch will need to stay leashed and under control at all times on the trip, but is welcome to enjoy the cruise with you.
6. Raven Cliff Falls Trail
Nestled in Helen, Georgia is the jewel that is Raven Cliff Falls Trail. This trail is five miles long and is mostly shaded. You can enjoy the gorgeous scenery along the way as well as a waterfall with a dog-friendly swimming hole.
It's five feet deep and will be a great way for your pup to jump in the water and cool off. It's a great experience if you're an outdoor enthusiast and enjoy hiking with your dog.
3 Dog-Friendly Hotels in Georgia
After all of your adventures throughout the day, you and your pooch need a comfortable place to rest. Not every hotel will welcome your pup with open arms, so make sure you plan ahead to ensure you have reservations with a dog-friendly hotel.
1. Holiday Inn Resort Jekyll Island
The Holiday Inn Resort Jekyll Island is a dog-friendly hotel that allows two pets of any size, which includes big dogs. There is a pet fee of an additional $20 per pet, per night. You can experience island luxury with a beautiful view of the Atlantic Ocean and the beach within walking distance.
2. The Brice, A Kimpton Hotel
Located in historic Savannah is The Brice, A Kimpton Hotel. It's considered "the southern belle of hotels". Two pets of any size are permitted, including big dogs, and there is no pet fee.
You and your dog can enjoy a classic room on the first or second floor in addition to a courtyard and an on-site restaurant serving Italian fare; you may need to order takeout for your dog to be able to join you for a meal.
3. Hotel Indigo Atlanta Airport – College Park
If you're planning to stay in Atlanta, check out the Hotel Indigo Atlanta Airport – College Park. They allow two pets of any size, including big dogs, for an additional $75 per stay.
It's located close to the Jackson Atlanta International Airport and has an on-site restaurant serving American cuisine, beer, and cocktails.
4 Dog-Friendly Restaurants in Georgia
Exploring can really rack up an appetite! You'll want to make sure you have plenty of snacks and water on hand for your dog and plenty of dog-friendly restaurants on your list so you can both grab a bite to eat and replenish energy for the rest of your adventures.
1. Kayak Kafe
If you get hungry while visiting Savannah, you can stop by the Kayak Kafe for some nourishment. Your dog is welcome to join you on the outdoor patio. This restaurant is known for its delicious sandwiches, Mexican food, and American food. Plus, they also offer vegan and vegetarian options.
2. Emily's Bar & Restaurant
Located in Ellijay, Emily's Bar & Restaurant is a great place to stop for some food and drinks. The menu features scrumptious American food made with local and seasonal ingredients including meats and sides, fish, and salads. They have tables outside where your dog is welcome to join you as you eat and relax.
3. North Georgia Barbeque Company
If you're in Helen and in the mood for some mouth-watering barbeque, the North Georgia Barbeque Company is the place to stop. They don't have any indoor seating, but have a large outdoor patio that is also dog-friendly. This place has the "best BBQ in town" and is a great stop where you can relax while enjoying a meal of Southern BBQ.
4. Mama's Boy Restaurant
If you're in Athens, Georgia, Mama's Boy Restaurant is an awesome place for a southern-style meal. Their menu features southern staples with plenty of options for everyone and daily specials. This restaurant is a local favorite for breakfast for four years running. It's also dog-friendly and your pup is welcome to join you at the outside tables.
Traveling can be so much more fun when you're able to bring your dog along. Dog-friendly travel guides are often a big help in planning a great adventure you and your dog can enjoy together. Here's to safe travels, new adventures, and great memories with your furry best friend!