Homemade Dog Food Recipes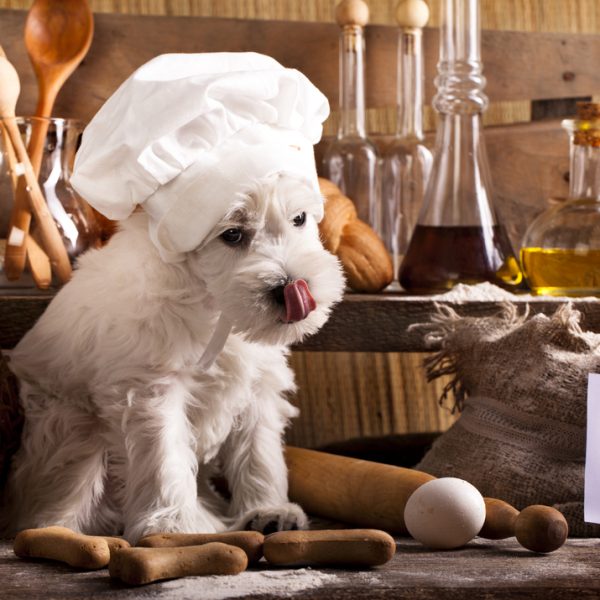 Do you ever wonder how dogs feel about being fed the same commercially manufactured kibble day in and day out?
Even if your dog's food tastes absolutely wonderful to him (who knows what the big dog food companies do to ensure that?! Do they use doggie consumer focus groups?), making your own dog food can be a rewarding experience for you as well as very beneficial to your puppy!
Ensuring Good Nutrition
If you're set on making your own dog food to feed to your pup regularly and not as an occasional treat, you'll have to be careful that the recipe you use measures up nutritionally.
Making your own dog kibble can be a good way to fill in nutritional gaps left by commercial puppy chow. Iron, copper, calcium, and zinc are minerals that are often left out of commercial recipes.
Dogs need a form of protein, fats, carbs, calcium, and essential fatty acids. Dogs with health issues may need a special diet. Even if your dog is healthy, you might want to consult a pet nutrition expert before tackling this challenge.
You should check with your vet before making changes to your pup's diet, especially if he has pre-existing health conditions. When making your dog food, make sure that you adhere to the same food-safety standards as you would with human food. Be sure to have a working knowledge of the human foods that dogs can and cannot eat; for example, be sure to completely avoid macadamia nuts, chocolate, tea, coffee, raisins, grapes, onions, or excessive amounts of garlic.
Depending on the ingredients you use and the kind of dog food you'd normally buy, making your own puppy chow can actually be cheaper than buying it in a store. Other benefits can include a more interesting diet for your pup, eliminating preservatives from his diet, and better ingredients. So, why not give it a go?
Homemade Dog Food Recipe Ideas
Puppy Stew
If your pup seems like a soup-loving kind of guy or girl, you may want to try out this Puppy Stew.
Ingredients
3 pounds of boneless chicken without skin (with skin, if it's not too rich for your dog)
2 cups of brown rice or barley
6 peeled and diced large sweet potatoes
6 peeled and chopped carrots
24 ounces of frozen peas or lima beans
56 fl. oz. of diced tomatoes with juice
3 tablespoons of fresh parsley or oregano
1/2 cup of fish, safflower, or olive oil
1 teaspoon iodized salt
Directions
Start with a three-gallon stockpot. Place all ingredients inside and add enough water to cover them. Bring it all to a boil, then lower to a simmer. Cover and cook for two hours, stirring occasionally. If needed, add small amounts of water to keep it from going dry. If it's been simmering for two hours and the liquid is reduced and all ingredients are soft, it's done.
The recipe yields 32 cups, which will feed a medium-sized dog for eight days, at four cups per day. The recipe is very well-rounded nutritionally, including chicken, grains, veggies, and oil.
Crockpot Beef & Rice
For quick prep time and nutritional value, try out this Crockpot Beef & Rice.  It takes about 10 minutes to prep and the rest is easy crockpot cooking. It yields about 12 cups and anything you have left over can be frozen for future meals.
Ingredients
2 1/2 pounds of ground beef
1 1/2 cups of brown rice (uncooked)
15 oz. of drained and rinsed kidney beans (usually one can)
1 1/2 cups of chopped butternut squash
1 1/2 cups of chopped carrots
1/2 cup of frozen peas
4 cups of water
Directions
Start with a crockpot. Stir in all ingredients along with four cups of water. Cover the crockpot. If you're using low heat, cook it for five to six hours. If you're on a shorter schedule and can watch it, you can cook it on high heat for two to three hours. Stir it as needed and let cool to room temperature before serving or storing.
Turkey & Veggie Stew
For something that packs a veggie punch, try this turkey & veggie stew. As listed below, the recipe will make about eight cups.
Ingredients
1 1/2 cups of brown rice
1 tablespoon of olive oil
3 pounds of ground turkey
3 cups of chopped baby spinach
2 shredded carrots
1 shredded zucchini
1/2 cup of canned or frozen peas
Directions
You'll need a couple of pots and pans for this one – a large saucepan and a large stockpot or Dutch oven. Start with the large saucepan. Fill with three cups of water and cook rice according to its package instructions, then set aside.
In the large stockpot or Dutch oven, heat the olive oil over medium heat. Then, add the ground turkey and cook about three to five minutes until it is browned, crumbling it as it cooks. You don't want your dog to have to deal with large chunks of turkey.
Once the turkey has been browned, and crumbled, stir in the veggies and rice! Cook three to five minutes. The spinach should be wilted and the mixture heated throughout. Let it cool completely before serving or storing.
With a little help, perhaps, from an animal nutritionist or your vet, you can look at what dogs need nutritionally and devise your own dog food recipe. If you intend to make your own recipe, after talking to your vet, try using BalanceIT . This site helps you create a nutritionally balanced dog food recipe, and also features cooking tutorials and offers the services of veterinarians who can evaluate and approve your recipe.