Illinois Dog-Friendly Travel Guide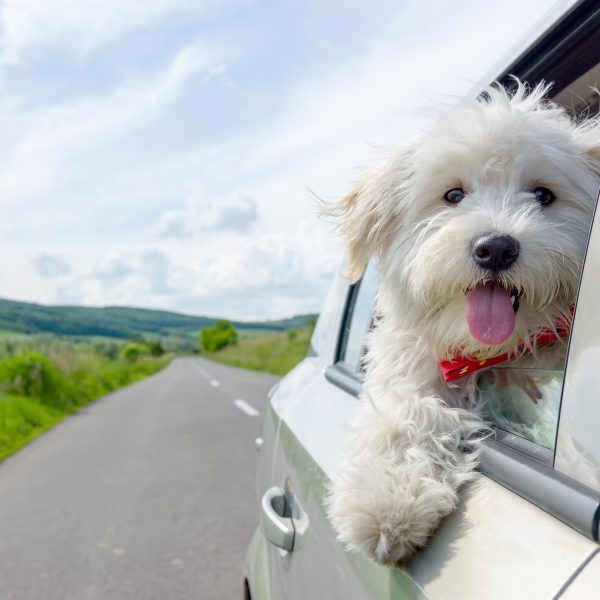 Traveling is a lot of fun, but your trip can be tinged with sadness if your best friend can't come with you. Instead of leaving your dog at home the next time you travel to Illinois, plan a trip you both can enjoy by using this Illinois dog-friendly travel guide and bring them along!
6 Dog-Friendly Activities in Illinois
Lackadaisical travel isn't always an option when you have a dog along for the ride because you can't guarantee that everywhere you go will be pet-friendly. Add these dog-friendly activities to your trip itinerary to travel with purpose and with confidence that your furry friend will be welcome.
1. Hawk Hollow Preserve
The Hawk Hollow Preserve is located in Bartlett and offers plenty of opportunities to explore with your dog. There are 34 acres of off-leash area throughout the preserves. You do need a permit for your dog to be off-leash in this area.
Your dog must stay leashed in all other areas. In addition to all of the off-leash space, there is also a 3-mile multipurpose trail and it connects to other trails in both the Mallard Lake and the West Branch forest preserves.
2. Geneva Commons
Should your travels bring you to Geneva, the Geneva Commons is a shopping area that should definitely make your list. There are plenty of pet-friendly stores and restaurants for you and your dog to enjoy.
There is even a designer "pawtique" just for dogs called Wet Nose. Whether browsing, shopping, or just grabbing a quick bite to eat, this place is a great stop for you and your pup during your travels.
3. Seadog Cruises Chicago
Right along Navy Pier in Chicago is Seadog Cruises. Your dog is welcome to join you aboard the speedboat for a tour of the Windy City. Several tours are available, from a short, fast 30-minute tour to a longer, more leisurely 75-minute tour.
This speedboat tops 45 mph on the open water and will thrill you with 360-degree spins, so make sure your dog is up for the exciting trip before you hop on board. Whichever tour you decide to enjoy, you and your dog will be able to enjoy it together!
4. Jackson Bark
Also located in Chicago is Jackson Bark. This dog park is located within Jackson Park. It's a short distance south of the Museum of Science and Industry and it has an agility course.
Clean, large, and with plenty of obstacles to explore, your dog will have a blast playing and making new friends in this amusement park for dogs. They even have special events throughout the year.
5. Montrose Dog Beach
If your pup loves playing in the sand and ocean water, the Montrose Dog Beach is a must in Chicago. It's a fenced-off beach area where your dog can run and play off-leash.
Free dog waste bags and a dog wash area are available. The beach itself is free, but DFA access tags are required for all dogs, which cost $5 each.
6. Shawnee National Forest
Should your travels take you into Southern Illinois, take a break to relax and enjoy the Shawnee National Forest. This forest covers over 270,000 acres across 10 counties.
This area is home to the 90-foot Pomona Natural Bridge, the remains of a Native American village at Milestone Bluff, and several hundreds of miles of hiking trails consisting of trails at every difficulty level. Your dog has to be leashed at all times, but they are welcome to join you as you explore.
3 Dog-Friendly Hotels in Illinois
Traveling and exploring attractions can be exhausting. You'll want to make sure you have a great place lined up where you and your pup can rest, relax, and re-energize. One of these dog-friendly hotels could be just the place you need:
1. Best Western Plus Hawthorne Terrace Hotel
If you're planning to spend the night in Chicago, the Best Western Plus Hawthorne Terrace Hotel is a dog-friendly option. It's located in the Lakeview East neighborhood of Chicago. It offers plenty of green space around the hotel and a doggie beach a few blocks away.
They allow two dogs up to 80 pounds and there is a pet fee, which is a refundable deposit. They are willing to consider other pets, but you'll need prior hotel approval.
2. Fairfield Inn & Suites Effingham
Should you end up in Effingham for the night, the Fairfield Inn & Suites is a good option. It's located 30 minutes from the Eastern Illinois University and it's dog-friendly.
Two pets of any size are allowed and will cost an additional $10 per stay as a pet fee. If you need to bring more pets, you'll need hotel approval beforehand.
3. Rim Rock's Dogwood Cabins
Located in Elizabethtown, Illinois, within the Shawnee National Forest, are Rim Rock's Dogwood Cabins. These cabins have full kitchens and are the perfect solution for a dog-friendly stay.
Two pets of any size are permitted in the cabins with no pet fee. Just clean up after yourself and your pets and there isn't an issue. There are plenty of front porches or screened-in porches for a lazy pooch to relax on and plenty of outdoor activities for a more active dog.
2 Dog-Friendly Restaurants in Illinois
It's easy to work up an appetite while traveling. Convenience stores and fast food gets old fast. Besides, why pass up the chance to get a taste of the local flavor? With these dog-friendly restaurants, your pup can join you when you stop for a bite to eat:
1. Route 34 Drive-In Theater
This stop is both a dog-friendly attraction and a restaurant. Located in Earlville, Illinois, the Route 34 Drive-In Theater welcomes you and your dog with open arms. The surface is grass instead of paved, which means it's safe for your pup's paws during the summer heat.
The theater also features a full snack bar and grill, so you can grab a bite to eat while you and your dog enjoy a movie. You'll want to make sure you have plenty of cash on hand as they don't take plastic for payment.
2. O'Brien's Riverwalk Cafe
When you need something to eat in Chicago, O'Brien's Riverwalk Cafe is a great dog-friendly option. Your pup is welcome to join you outside at the front sidewalk tables.
O'Brien's offers continental cuisine with an Old Town, historic feel. With plenty of options and variety on the menu, there is truly something for everyone.
No matter where your travels bring you, knowing that wherever you go will welcome you and your dog with open arms takes a lot of stress out of traveling. If you're headed somewhere else in the U.S., check out the other state dog-friendly travel guides.