Maryland Dog-Friendly Travel Guide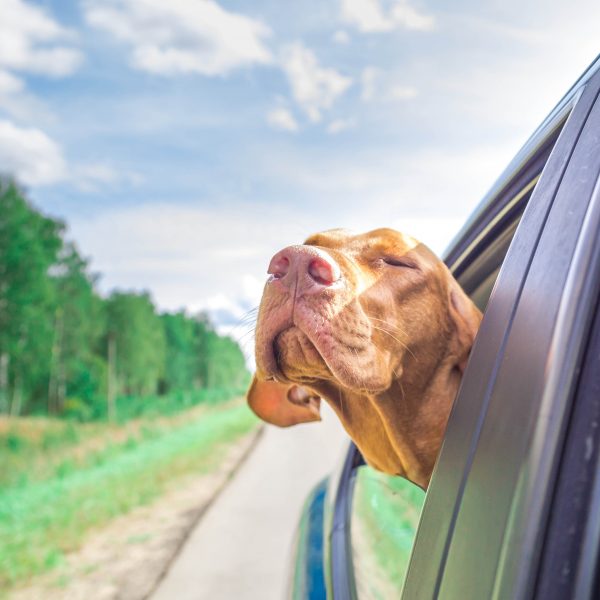 Planning a trip to Maryland with your dog? The "Old Line State" is a terrific spot for both sightseeing and adventuring. Although not everything is dog-friendly, you can use this Maryland dog-friendly travel guide to find some things you and your dog can enjoy together:
10 Dog-Friendly Activities in Maryland
Maryland has a variety of activities for people, but leaving your pup behind just doesn't feel fair. That's where fun dog-friendly activities come in! Consider adding some of these dog-friendly activities in Maryland to your trip plan:
1. Cruises on the Bay
What better way to relax alongside your dog than on a cruise? Cruises on the Bay by Watermark offers cruises from only 40 minutes to a full day for people and pups. Embarking from Annapolis Harbor, Baltimore Inner Harbor, and the Chesapeake Bay, this attraction is versatile and convenient.
After over 50 years of being in business, they've mastered the voyage. Each ship offers unique scenic routes and is climate-controlled. There's no need to worry about parking to see the US Naval Academy or Baltimore when you view it from the bow of a ship. And, as long as your pup stays leashed, they are welcome aboard!
2. Bell Branch Dog Park
Bell Branch Dog Park is the perfect stop between beaches for you and your dog. With 3,400 feet of trail, it's a fantastic way for dogs to let loose and stretch their legs.
There's even a concession stand for you! With a playground, picnic grounds, and restrooms, there's something for everyone who needs to take a break from traveling.
3. Historic London Town and Gardens
With historic roots and lovely foliage, Historic London Town and Gardens is a refreshing location. It offers visitors idyllic scenery for reflection and contemplation.
Founded in 1683, the town thrived for over 100 years before settling into obscurity as trade routes transitioned elsewhere. The reconstructed homes and businesses represent the architecture, and culture, of early US industry: for example, a carpenter's shop, tobacco barn, and employee tenement of the 1700s.
In addition to the town, the Woodland and Ornamental Gardens display a natural habitat of native trees and flowers that are breathtaking to behold – like the magnolias, hydrangeas, and salvias. The Sound and Sensory Garden is dedicated to teaching children about nature and conservation, along with playsets and instruments just for fun.
Your dog is welcome to join you throughout the majority of the site and gardens as long as they are leashed. The exception to this is the historic Willian Brown House, which does not allow pets.
4. Elms Beach Park
Beautiful Elms Beach Park on the Chesapeake Bay in Maryland offers swimming, hiking, picnicking, and fishing. Dogs are welcome as long as they are leashed, and visitors can go crabbing in the Bay.
Keep in mind, the park does charge a $10 entry fee per car. It may not be free entry, but it's well worth the price to explore the 476-acre park.
5. Deep Creek Lake
Deep Creek Lake in Maryland is a great place to take your pup. If you and your family love hiking and your dog can keep up, it's even better.
However, if you plan on hiking with your dog, make sure you know their level of stamina. And, never leave for a hike without water for everyone! Dehydration can spell disaster on a hot day.
Opportunities for fishing, hiking, and watersports abound in Deep Creek. There are plenty of pet-friendly rentals. Some renters even cater to dogs!
6. Double Rock Park
If you and your dog love spending time hiking in the woods and your travels bring you near Parkville, consider spending some time at Double Rock Park. Trails wind throughout the 102-acre county park.
You can go with short trails or long trails. There are plenty of spots with water, rocks, falls, and more. Your leashed dog is welcome to join you throughout the park and can even play in the water with you.
7. Cylburn Arboretum
The Cylburn Arboretum is located in Baltimore. It's 207 acres and features a mini-museum, grass pastures, several gardens, a greenhouse, and plenty of walking trails. Your leashed dog is welcome to join you throughout the arboretum as long as you clean up after them.
8. Montpelier Farms Family Park
If you and your dog enjoy exploring farm life, Montpelier Farms Family Park in Upper Marlboro could be the stop for you. As long as your dog is leashed, well-behaved, friendly, and you clean up after them, they are welcome to join you around the farm.
Whether you're exploring the pumpkin patch, tackling the corn maze, or visiting the farm market, you and your dog can enjoy it together. There are also special events throughout the year.
9. Baltimore Ghost Tours
Ghost tours are a great activity for fans of the spooky and macabre. If you're in Baltimore for the evening, you and your leashed, well-behaved dog can take some Baltimore Ghost Tours. Dogs are not permitted on the pub crawls because they go inside buildings, but they are allowed on walking tours.
There are several walks available, but the two main ones, that do not include a pub crawl, are – the Original Fells Point GhostWalk and the Mount Vernon GhostWalk. On both of these walks, you'll travel through history while a costumed guide recounts the lore, rumors, and ghostly history of the area.
10. Calvert Cliffs State Park
Calvert Cliffs State Park is located in Lusby. This park features a shoreline, a quarter-mile-long beach, craggy cliffs, coves, and 13 miles of trails to explore. Your dog is welcome to join you throughout the park as you check out the designated wildlands, the Chesapeake Bay, and more. You and your dog may even find fossils on the beach!
4 Dog-Friendly Hotels in Maryland
After being thoroughly entertained, you'll need a place to stay for you and your dog. It's not always easy to find pet-friendly hotels on the fly, so it's a good idea to plan ahead. Here are a few dog-friendly hotels in Maryland to kickstart your research:
1. La Quinta Inn and Suites Ocean City
La Quinta Inn & Suites Ocean City prides itself on having the best amenities available for the lowest prices. Each room has an HD flat-screen TV with cable, wireless internet, and a private balcony.
To make the experience even sweeter, every room has a kitchen equipped with a microwave, coffee maker, refrigerator, and hairdryer! Even better, the La Quinta Inn allows two pets, of any size, for free!
2. Westin Annapolis
The Westin in Annapolis maintains a serene environment to ease guests into vacation mode. With a white tea aroma permeating the lobby, and each room's complimentary soap, relaxation is the Westin's number one goal.
They even offer spa services. There's a gym for fitness experts accompanied by an indoor heated pool. If you and your dog appreciate luxury and the finer things in life, the Westin delivers. The Westin permits two pets per room with a $50.00 fee per pet, as long as they are under 40 pounds.
3. Sheraton Rockville Hotel
The Sheraton Rockville Hotel offers pet-friendly rooms with all the amenities of their traditional guest rooms – and more. Along with your king-sized bed, or two doubles, you'll get a doggy bed, too!
They have flat-screen TVs, safes, and wifi for your convenience as well. With a jacuzzi and an indoor heated pool, the Sheraton is comfort central. They have a shuttle service for their guests as well as a fitness center. Sheraton Rockville Hotel allows two dogs at 40 pounds or less, and doesn't require an additional fee.
4. Residence Inn
If you need to stay overnight in Baltimore, Ocean City, or somewhere else in Maryland, consider booking a room at the Residence Inn. For the Residence Inn Baltimore Downtown/Inner Harbor, two dogs up to 100 pounds are welcome to join you for your stay.
There is an additional pet fee, which is $100 per stay. If your dog is quiet and calm when you are not around, you can leave them unattended in your room as long as they are crated. Although there isn't a grassy relief area on-site, there is one across the street. Waste bags and treats are available at the front desk if you forget them in your room.
If you need to stay outside of Baltimore, you may be able to find a Residence Inn nearby. Although the pet policies may be similar, the details may also be different. Because of that, it's a good idea to check the particular doggy details for individual hotels before booking a room.
6 Dog-Friendly Restaurants in Maryland
Going out to eat is a given during vacations, even for dogs. Why leave them at the hotel if they can come along? Here are some dog-friendly restaurants in Maryland to consider:
1. Mutt & Joe
This restaurant provides a cafe menu for its human guests, with a variety of delightful coffees and pastries. They also provide a very unique menu for their canine guests – grooming!
Mutt & Joe offers full grooming services for dogs while you savor your latte. Your pup can try out their "Fluff & Buff" for a full scrub-down, or their "Pet-A-Cure" for just nail work. There are several menu items to choose from, all for competitive prices.
2. Second Chance Saloon
The Second Chance Saloon boasts over 100 flavors of beer, like the "Dogfish Midas Touch Handcrafted Ancient Ale", and a sizzling pub menu. Chow down on homemade fares like deluxe burgers and seasoned fish and chips. Dogs are welcome on their outdoor patio seating area, one of which is fenced in for doggy play freedom.
3. Bruster's Real Ice Cream
For a cold treat on a hot day, Bruster's Real Ice Cream hits the spot for people and pups. You can sample their "Black Cherry Chocolate Chunk" or "Chocolate Peanut Butter Buckeye" while your pup samples their own! Bruster's will give your pup a complimentary, pet-friendly sundae so you can both share a treat together!
4. Sugarloaf Mountain Vineyard
If you're a fan of wine and love a good tasting, consider spending some time at the Sugarloaf Mountain Vineyard in Dickerson. This winery is famous for its award-winning Bordeaux-style wines.
In addition to great wine, you can also sample cheese pairing while enjoying the relaxing atmosphere and beautiful scenery. Plus, your leashed and friendly dog is welcome to join you.
5. The Dog Chef Cafe
This stop is all about your dog. Run by The Dog Chef, The Dog Chef Cafe is located in Baltimore and features made-from-scratch deliciousness for your dog.
Healthy food and treats are on the menu and you can sample things all the way from beef and chicken-based meals to frozen yogurt, cupcakes, and more. You can even look into holistic meal plans for your dog.
6. The Jetty Dock Bar
If you love seafood, or at least if you don't mind being around it, The Jetty Dock Bar in Grasonville is for you. In addition to a variety of fresh seafood options, their menu also has some non-seafood options.
From burgers and salads to sandwiches, wraps, and more, there's something for everyone. Plus, your dog is welcome to join you as you enjoy the food, brews, and views along the water in the outside bar and outdoor dining area.
Maryland is a great place for people and their pets to visit. Although this Maryland dog-friendly travel guide is a good start, it doesn't cover everything available. If you find something else you want to do, just make sure your dog will be welcome before it makes it onto your trip plan.
If you're planning on visiting other states as well, check out our dog-friendly travel guides across the US. Here's to wagging tails and safe travels no matter where your adventure takes you!