Michigan Dog-Friendly Travel Guide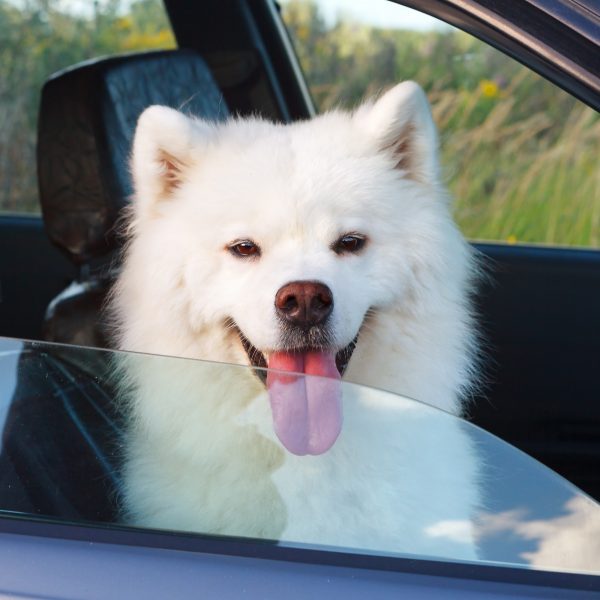 Traveling can be stressful enough without having to worry about leaving your dog behind or whether they will be welcome if they come with you. Instead of stressing out about it, take some extra time to research and plan a dog-friendly trip. If you're headed to Michigan, start your research with this Michigan dog-friendly travel guide.
5 Dog-Friendly Activities in Michigan
While you're traveling around, you want to make sure there are plenty of things you and your dog can enjoy together. Depending on where your travels take you, you might be able to include some of these dog-friendly activities in your trip itinerary:
1. Lake Michigan Beach
If your travels take you near Glen Arbor and especially the Sleeping Bear Dunes, be sure to set some time aside for Lake Michigan Beach. The beach and the water are beautiful and dogs are welcome on the east end of the beach. It's the perfect place to stop if you and your dog both love to play in the sand and the water!
2. Portage Creek Bicentennial Park Trail
Located in Portage is the Portage Creek Bicentennial Park Trail, which is also referred to as Celery Flats. This multi-use trail is paved and runs alongside Portage Creek. Plus, it's dog-friendly!
This well-maintained trail is beautiful during all seasons and your dog is welcome to romp and play along with you on the trail and in the creek as long as they are leashed. Also, pick-up bags are provided and there are waste bins available along the trail to make clean-up easy.
3. Ludington State Park
Ludington State Park is a must if your travels bring you near Ludington, Michigan. This state park features 5,300 acres of sand dunes, beaches, marshlands, wetlands, and forests. Your dog is welcome to join you as long as they are leashed.
They may not be able to hang out on the beaches or swim in designated swimming and wading areas, but there are still plenty of things you can do together. Between wooded hiking and biking trails, Hamlin Lake, and Big Sable River, there are a lot of places for you and your dog to explore and even a few areas where your dog is allowed to splash around.
4. Bavarian Belle Riverboat
If you and your dog love boat rides and your travels bring you near Frankenmuth, the Bavarian Belle Riverboat is the perfect dog-friendly attraction for you. The Bavarian Belle is a fully-restored historic vessel and is an authentic stern-driven paddlewheel riverboat.
It carries up to 150 passengers and welcomes dogs aboard its 1-hour historic and narrated tour of the area. The upper deck is open air while the lower salon is fully enclosed and includes restrooms. There's a snack bar on board with both food and drinks available for purchase. There are even souvenirs on board and tours run from early May to mid-October.
5. Mackinac Island State Park
Mackinac Island features Mackinac Island State Park, which was Michigan's first state park. Over 80% of the island is state park property and there are plenty of historic and natural areas to enjoy.
Fort Mackinac and Historic Downtown offer several events throughout the year. Plus, there are plenty of natural wonders to see and hiking trails to enjoy. The best part is that it is dog-friendly. Your dog is welcome to explore the sites with you as long as they are leashed.
3 Dog-Friendly Hotels in Michigan
After a long day of exploring, you and your dog will need a place to stay and you'll want to make sure wherever you stay will welcome your dog. Start your research with these dog-friendly hotels and be sure to book your room in advance to make sure a dog-friendly room is waiting for you when you arrive!
1. Comfort Inn Ludington
The Comfort Inn Ludington, located in Ludington, Michigan, is dog-friendly. They welcome two dogs of any size to join you. There is a pet fee, which is an additional $10 per dog, per night. This hotel offers cozy accommodations, including breakfast, and is located near Lake Michigan.
2. Drury Inn & Suites Frankenmuth
This Drury Inn & Suites is located in the heart of Frankenmuth and is dog-friendly. You are permitted to have two pets with a combined weight that does not exceed 80 pounds. There is an additional pet fee, which is $35 plus tax, per night, and you cannot leave your dog unattended in the room.
3. Kara's Kottages
Kara's Kottages is a bed and breakfast consisting of 3 historic homes near downtown Kalamazoo that have been transformed into 6 suites with cozy interiors. Two dogs up to 50 pounds are welcome to join you during your stay. There is a pet fee, which is $15 per dog, per night of your stay.
3 Dog-Friendly Restaurants in Michigan
While out and about with your dog, you're bound to need some sustenance. Convenience stores and gas station food gets old very fast. Instead, check out one of these dog-friendly restaurants where you can sit down and enjoy a meal:
1. Grizzly Peak Brewing Company
If your travels bring you near Ann Arbor around a mealtime, be sure to stop by Grizzly Peak Brewing Company for some refreshment and relaxation. In addition to their craft beer on tap and specialty burgers, Grizzly Peak also offers a varied menu featuring hot sandwiches, BBQ ribs, shrimp tacos, and pizza.
The outdoor seating area is dog-friendly and, along with a bowl of water, you can order some food for your dog off the "Pups on the Patio" menu. There are dog-friendly burgers, salmon or chicken with rice, kielbasa with peanut butter, and ice cream available. Dinner and dessert with your dog? Yes, please!
2. Scalawags Whitefish & Chips
If you're a fan of seafood and are traveling near Mackinaw City, Scalawags Whitefish & Chips is the place for you. This restaurant features a menu of tasty seafood and other options and their outdoor seating is dog-friendly. You both can relax and your dog can enjoy a bowl of water and some food of their own while you enjoy a delicious meal.
3. Tom's Oyster Bar
Located in Royal Oak, Tom's Oyster Bar offers a delicious menu featuring seafood and other options. You can choose from menu items like jambalaya, lobster mac, shrimp scampi, oysters, and non-seafood options. Plus, their outdoor patio is dog-friendly and the staff often provides a bowl of water to help hydrate your pup while you eat.
When you're planning a trip, there's no need to leave your dog behind when you have dog-friendly travel guides on your side. Have fun planning a trip you both can enjoy together and then have a blast creating memories with your furry best friend. Safe travels, happy trails, and wagging tails!