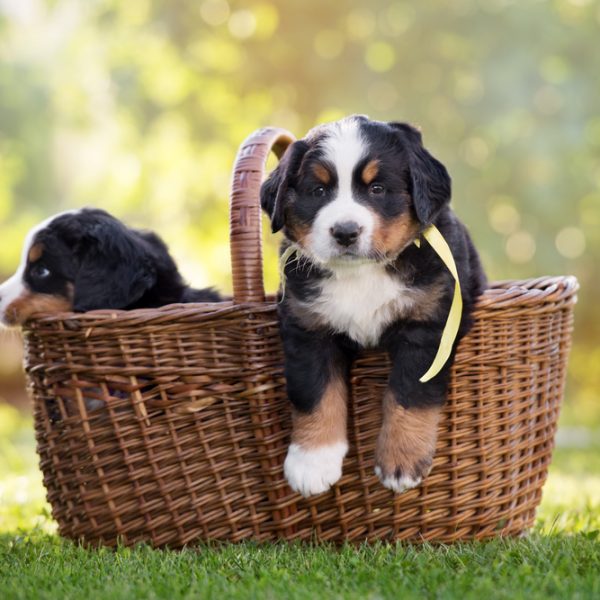 Getting a new puppy is so exciting! It's easy to get caught up in the emotions of adding a new and adorable member to your family. So you can focus on the fun part, it's good to be prepared with everything the new pup will need. What follows is a new puppy checklist to set your mind at ease:
New Puppy Checklist
1. A Crate
You will definitely need a crate and an introduction to crate training. And, you'll need one that's the right size for your new puppy. Many dogs, especially untrained puppies, just need to be put in a crate sometimes when they can't be supervised.
Plus, dogs actually find being in a crate comfortable and comforting. They get a sense of security in a crate when it's used as their place.
If a crate is too big, the pup might go to the bathroom in it and if it's too small, the dog will be uncomfortable. Your new puppy needs room to stretch out and turn around.
You should cover the floor inside the crate with old bedding or old, worn T-shirts, and leave a chew toy or two in it to give the new pup something to play with.
2. Food and Treats
Puppies have different nutritional needs than full-grown dogs do, so you will want to pick up food made especially for puppies. You will also want to make sure you understand how often to feed a puppy.
It's also a good idea to stock up on treats. You'll be using a lot of these in the process of training the new pup. 
3. A Variety of Chew Toys
Keep in mind that your new and untrained puppy may want to start chewing everything in sight: shoes, furniture, and anything else within reach. It's a smart idea to channel this instinct into toys from the very beginning.
Every dog has different preferences when it comes to toys, chew and otherwise, so just start with a multi-pack from the pet store. Bones for puppies, toys that squeak, rubber balls, etc. are all good places to start.
4. A Leash and Collar
It's a good idea to start getting your pup used to wearing a leash and collar, even if they aren't allowed outside yet. Put the collar on them for a few minutes a day at first and then work up to all-the-time wear, if they don't like it at first.
5. Hair Care Products
You should pick up some shampoo made especially for puppies, as well as a soft-bristle brush and a metal comb. Getting the right types of dog grooming brushes for your dog's coat can help make taking care of their fur a lot easier.
6. Bitter Apple Spray
The toys you lavish on them may not be enough to prevent the new puppy from ravaging your furniture. So, pick up some bitter apple spray and spritz areas that seem vulnerable, like the lower parts of your furniture. The scent of bitter apple spray is not detectable to most humans, but dogs think it tastes awful, so it will keep them from chewing on things.
7. "Wee-Wee Pads"
You're going to want to have these if the new puppy is not already house-trained. You should be starting and establishing bathroom requirements and working on house-training immediately and throughout the first 6 months with your puppy. These could be a useful tool to help potty train your puppy and also help protect your house in case of an accident.
8. A Playpen
It's a good idea to get a wire playpen when the puppy is little. It allows you to supervise them while playing, especially when outside, and keeps them from wandering away and getting lost or being attacked by other animals.
These are just a few things to include in your new puppy checklist to help your puppy settle in.