New York Dog-Friendly Travel Guide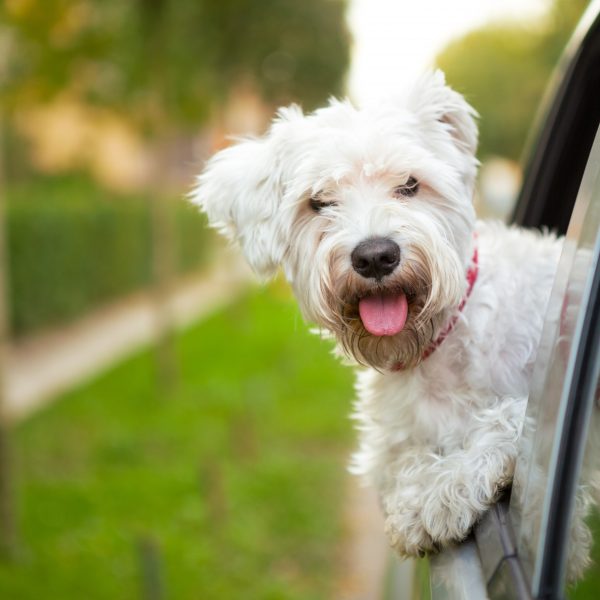 New York state, as well as the Big Apple itself, are great places to stay, explore, and have fun. For us bipeds, it's easy to hop on a train, book a hotel, and head out to our destination. For our four-legged friends, however, there is much more to consider.
Luckily, if you want to explore New York with your furry friend, there are plenty of options to choose from – if you do a bit of research. Use this New York dog-friendly travel guide to start your research and find a few dog-friendly places to enjoy during your time in New York:
10 Dog-Friendly Activities in New York
You can't guarantee everywhere you go will be dog-friendly, unless you check into things ahead of time. Here are a few dog-friendly activities in New York to consider adding to your trip plan:
1. Dyker Beach Park
Dyker Beach Park has a large dog run and is grassy and spacious. It's perfect for any pup to romp and roam freely without a leash – with supervision, of course.
There are two sections of the dog-safe area for small and large dogs. There are also plenty of easily accessible water sources for your pup.
2. Wolfe's Pond Park
This park is located on Staten Island, and offers a special walking trail specifically for dogs. Wolfe's Pond Park hosts plenty of dog-related events for you and your pup, and even has agility trials for the active dog that needs to let off some steam.
3. Inwood Hill Park Trail
There are tons and tons of dog parks throughout New York. Central Park is dog-friendly and offers plenty of space for you and your pup to explore. If you're looking for something a little less populated, Inwood Hill Park Trail is a great option.
It's an easy 2-mile hike with moderate slopes. It should take about an hour to complete with your pup. Dogs have to be kept on a leash no longer than 6 feet. Although your dog won't be able to run off-leash, you and your pup will still enjoy hiking through the only natural park on Manhattan Island.
4. Emerald Glen Farm
The Getaway at Emerald Glen Farm is a 175-acre vacation for you and your dog. It has plenty to entertain you, your furry friend, and the rest of the family. If your dog enjoys swimming they have a creek that is perfect for fetch and sunbathing. Part of the creek even has a small beach that is perfect for the whole family to build sandcastles or just hang out.
The farm also has a large pond with a fountain in the middle that offers floatation devices for two and four-legged campers as well as pool toys. If swimming isn't your style, there are plenty of barbeque pits, picnic areas, and hiking trails. The entire farm is leash-free and offers cabins, RV parking, and camping.
5. New York Dog Film Festival
The New York Dog Film Festival is an annual event that celebrates the love between people and their dogs. It's a philanthropic celebration where portions of the ticket sales go to benefit senior dog rescues.
It's a two-hour event that features a mix of inspirational, educational, entertaining short films from around the world. Each year, it kicks off in New York and then travels around the country to bring people and their dogs together while benefitting local dog rescues.
6. Mirror Lake
Mirror Lake is located in Lake Placid. Your dog can join you on the leisurely 2.7-mile trail that winds all the way around the lake. As long as they are well-behaved, friendly, and you clean up after them, they are welcome to join you on the sandy beach or for a swim in the clear water. You can even take your dog paddling with you!
The village is nearby and hosts several events at Mirror Lake throughout the year. So, just make sure you check the event calendar to make sure it will be open to the public and not hosting something like the Ironman Competition before you go.
7. Niagara Falls State Park
If your travels will bring you near Niagra Falls, plan to spend some time at Niagara Falls State Park. Your dog is welcome to join you as you explore the trails, pathways, and the scenic view of the falls as long as they are leashed and are up to date on their rabies vaccine. Start Park Police will enforce these leash laws, so make sure you keep your dog leashed appropriately as you explore the park with them.
8. Wrights Farm
If you like apples and your travels will bring you through the Hudson Valley, consider spending some time at Wrights Farm in Gardiner. This farm is family-owned through six generations and offers 450 acres to explore.
In addition to picking apples in the orchard, you can also visit the farmstand market for jellies and hams, homemade pies, cider donuts, and more. And, your dog is welcome to join you for it all! Just make sure you bring some waste baggies to pick up after them.
9. Lavender by the Bay
If lavender is your favorite scent and you'll be near East Marion, consider adding Lavender by the Bay to your trip plan. Located halfway between Orient Point and Greenway, Lavender by the Bay features an outdoor lavender farm that you and your dog are welcome to explore. You can also pick up some lavender plants of your own, lavender honey, or other handmade lavender products.
Your dog just needs to be well-behaved, friendly, and leashed, and you need to clean up after them while you are on the grounds. Visitors have mentioned the presence of a chicken coop, so make sure your dog will remain calm and collected around chickens before you go.
10. Lake George Cruises
If your travels take you around Lake George and your dog does well on a boat, Lake George Cruises could be a good activity for you. During the one-hour historic sightseeing cruise, you'll be able to see tranquil bays, million-dollar mansions, and secluded islands while learning about the history of Lake George.
There is a full bar available in addition to coffee, tea, and snacks. Plus, your dog is welcome to join you! They just need to be leashed and well-behaved while on the boat.
5 Dog-Friendly Hotels in New York
After a day full of fun and adventure, it's important to have a place where you and your dog will be able to rest and relax. Not all hotels are dog-friendly, some have exorbitant pet fees, and those with dog-friendly rooms often get booked quickly. So, it's important to do your research and book your room early to make sure you are guaranteed a place to stay. Here are a few dog-friendly hotels in New York to consider:
1. Element New York Times Square West
This hotel is a stunning building. It's close to Times Square, and minutes from the rest of the island either by foot, subway, or taxi. Element New York Times Square West offers a small grass walking area so your pup does not have to be overwhelmed in the big city when they simply need to go to the bathroom.
Along with their pet-friendly amenities, they also don't charge extra for pets and allow one pooch of 50 pounds or less. If you discuss possible additional pets before booking, they may be able to accommodate the whole family. The only requirement is that your dog is in their crate when you are out of the room. That ensures their safety as well as the safety of others.
2. The Muse Hotel
The Muse permits two pets per room. They can be any size, and there is no pet admittance fee! All dogs must be crated when you or your family members are not in the room with them.
This ensures your dog will not damage hotel property, or surprise the cleaning staff. The Muse Hotel provides pet beds and dishes for your dog and offers treats at the front desk.
3. Ink48 Hotel
The Ink48 Hotel offers dog-friendly rooms with no size restrictions or extra pet fee. There is a maximum limit of two dogs per room, and all dogs must be in a crate when unattended. You must also give the front desk your cell phone number in case your dog requires medical attention, is disturbing other guests, or has damaged hotel property.
4. The Getaway
In addition to being full of dog-friendly spaces and activities, The Getaway at Emerald Glen Farm also offers cottages and cabins for rent, parking spaces for RVs, and tent camping sites. The best part is that your dog is welcome to join you for stays at all of them.
All lodging reservations are maxed out at 2 people and 3 dogs. Exceptions to this are the cottages and the Northstar Lodge. The cottages can handle 2 people and up to 4 dogs; over 4 dogs will be subjected to additional fees. The Northstar Lodge is a fully-fenced private getaway available in the winter and the summer that can accept up to 6 dogs.
5. Holiday Inn Saratoga Springs
If you'll be planning to stay overnight in Saratoga Springs, consider booking a room at the Holiday Inn. At this hotel, up to two dogs of any size are welcome to join you for your stay. There is an additional pet fee, which is $25 per stay.
Not only is this hotel located close to Congress Park, but you can also leave your dog unattended in your room as long as they are quiet and well-behaved when you are not around.
Since the Holiday Inn is a chain, you may be able to find one if you are planning to stay somewhere else in New York. Even if it is also dog-friendly, individual policies and pet fees may vary, so make sure you know what they are before you reserve a room.
5 Dog-Friendly Restaurants in New York
Although you can always rely on the food you brought from home or bought along the way, that can also sometimes mean missing out on local flavors and experiences. Instead of missing out, consider a meal at one of these dog-friendly restaurants in New York if your travels bring you nearby:
1. Grimaldi's Pizza
This pizzeria is possibly one of the most famous pizza joints in New York. With their handmade pepperonis, artfully crafted dough, and fresh spices, it's understandable why people flock to Grimaldi's.
Aside from having the best pizza on this side of the Atlantic, their outdoor section is dog-friendly. So, split a pie with friends, and maybe give some to your dog under the table, too.
2. d.b.a
d.b.a is an open bar that features a gravel garden perfect for drinking a brew while relaxing with your pup. Most bartenders have dog treats on hand, and the staff is always happy to welcome a furry friend to happy hour. This bar is located in Manhattan and is an ideal place to stop and relax during your adventures.
3. Barking Dog
Although this is not a restaurant made for dogs, Barking Dog in New York is dog-friendly. They have outdoor seating under a canopy where your dog is welcome to join you. They even have a dog fountain outside of the entrance!
Between the extensive menus and reasonable prices, this restaurant is popular with locals and with tourists. Local favorites include buttermilk-battered fried chicken, penne a la vodka, pan-sear crab cakes, and more.
They may not have a specific menu for dogs, but they do have water and treats on hand and have been known to make a plain burger for polite dog owners who have asked.
4. Emack & Bolio's
Emack & Bolio's is located in Albany and is an ice cream parlor that offers smoothies, pastries, coffees, cakes, toys, and more. They even have a doggie sundae! Your dog is usually welcome in the front of the shop as you choose items. Then, they are welcome to join you in the outdoor seating area as you enjoy.
5. Dinosaur Bar-B-Que
If you love BBQ and you will be in Syracuse, consider grabbing some food at Dinosaur Bar-B-Que. They feature ribs, chicken, brisket, and more on their menu. There is plenty of outdoor seating available, and your dog is welcome to join you and enjoy some water and treats on the house while you enjoy some delicious BBQ.
With this New York dog-friendly travel guide in hand, your plans to visit New York with your dog just got a lot easier. This guide certainly doesn't cover everything. If you find something else you want to see, just make sure it's dog-friendly or you have plans in place for your dog before it goes on your trip plan.
If you're headed somewhere else, take a look at the other dog-friendly travel guides available. Here's to safe travels and wagging tails no matter where your adventures take you!