Ohio Dog-Friendly Travel Guide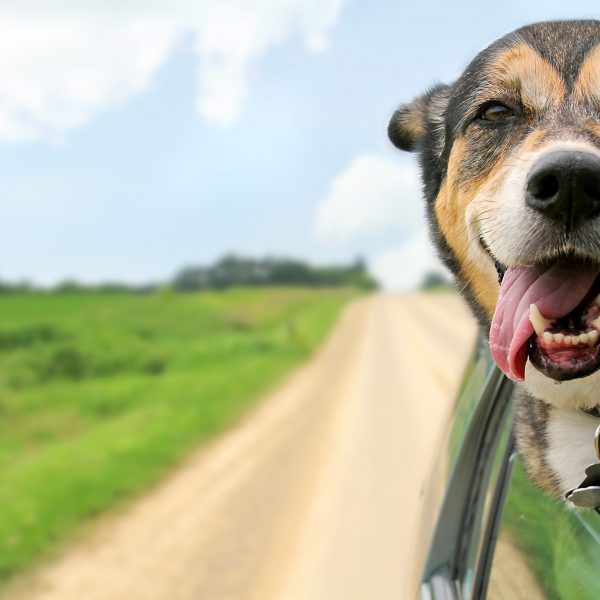 Traveling with your dog can make your trip a lot more fun. There are lots of memories to be made with your best friend along for the ride. But, you need to plan ahead to make sure where you're stopping and staying will welcome your dog. If you're heading to the "Buckeye State" for some R&R, here's a handy Ohio dog-friendly travel guide to make the most out of your trip – for the both of you:
6 Dog-Friendly Activities in Ohio
With dog-friendly stops on your trip itinerary, you don't have to leave your dog behind or figure out a place for them to stay. Luckily, there are plenty of things to do in Ohio for both you and your pup. Here are just a few dog-friendly activities in Ohio to consider for your trip:
1. Woofstock
Ohio's grooviest turnout is for the annual Woofstock dog festival held at the Cleveland Metroparks! Every fall, Rescue Village holds this fundraiser for homeless pets in need.
Pups go on parade, enter contests, and rock out to live music for a good cause. Miss the date? Nothing to fear, the Cleveland Metroparks are pet-friendly all year round. Join in the pack walks and get your dog socializing!
2. Holden Arboretum
The Holden Arboretum is home to about 20 miles of hiking trails over an astounding 3,600 acres. Hundreds of carefully cultivated plants grow over the sprawling, verdant land.
Plus, you're sure to get amazing views during any time of the year. Imagine the breathless excitement your pup will display at all the new sights and smells!
3. Bow Wow Beach
This 7.5-acre park is the ideal place for you to relax, and for your pup to go wild. They can race along the beach chasing seagulls, and swim in the lake to their heart's content.
As an added bonus, Bow Wow Beach is completely fenced in for the safety of your pup – and has waste and dog wash stations! It's open from mid-March to the beginning of December as weather permits.
4. Chagrin Falls
Main Street in Chagrin Falls holds a charming array of independent shops. Quirky curiosities, specialty boutiques, and art fixtures line the street with whimsy. At many of these shops, dogs are welcome visitors and treasured company as long as they are leashed.
5. Splash Your Pup
Splash Your Pup is located in Dayton and is all about your dog. This pool is designed specifically for dogs and is used year-round for swimming and dock diving. The pool has an advanced filtration system that helps reduce the amount of chlorine needed.
The water is also maintained at 82 degrees. Not only is this great for dogs of all ages, but it's soothing for dogs with arthritic joints and can be a great opportunity for some canine hydrotherapy. Reservations are required in advance.
6. Rocky River Reservation
If you'll be traveling near North Olmsted, plan to take a break and stretch your legs at the Rocky River Reservation. Plenty of trails wind throughout the reservation and provide scenic views like floodplain forests, meadows, shale cliffs, wetlands, and more.
Your dog is welcome to join you as long as they are leashed and you clean up after them. Make sure you stop by the Smoky the War Dog Memorial dedicated to Smoky the Yorkie that served in World War II.
5 Dog-Friendly Hotels in Ohio
Finding dog-friendly hotels can be difficult, especially out on the road. Because of this, and because dog-friendly rooms tend to be reserved quickly, it's important to research places to stay and book a room ahead of time. These dog-friendly hotels in Ohio will gladly host you and your dog for a comfortable place to stay:
1. Brewdog's Doghouse Columbus
The Brewdog's Doghouse Columbus is located in Canal Winchester and has dog-friendly rooms. There are four Standard King Rooms that permit dogs, so space is limited. But, if you book a room ahead of time, you'll be fine.
Up to two dogs of any size are welcome to join you for your stay. And, there is no additional pet fee! The dog-friendly rooms even have a back door leading to a grassy pet relief area for convenience. Plus, staying here puts you in the same 42-acre complex as the DogTap, interactive craft beer museum, OverWorks USA sour brewery, and more.
2. Sheraton Suites
This hotel in downtown Columbus not only accommodates pets, but does so for free! Two dogs up to 80 pounds are allowed to stay with no additional charge. Sheraton Suites even has a canine concierge to assist you with any doggy needs.
3. Metropolitan at the 9
This is a luxury hotel that absolutely exudes style. For people, and pups, who appreciate the finer things in life, this hotel was made for them.
Metropolitan at the 9 permits up to two dogs up to 75 pounds each, and charges a $100.00 pet fee for each. However, this fee comes with access to a special pet package upon entry, as well as a 24-hour dog park located upstairs.
4. Westin
The Westin in Columbus is dog-friendly, no matter the size of your pup! Up to two dogs of any size are allowed to stay in rooms at the Westin – given that they are not left alone. It even has a field across the street that's perfect for stretching your pup's legs and getting rid of excess energy before bed.
5. Comfort Suites
All the rooms at the Comforts Suites in Columbus are pet-friendly, including pets of any size! For a fee of $20.00 for each pet, per night, this hotel allows any number of pets; within reason, of course. For travelers with more than two pets, or who are on a budget, this is the place to stay.
8 Dog-Friendly Restaurants in Ohio
It's rough vacationing with a dog when you don't pack enough trail mix. Stopping for a quick bite isn't easy with a furry companion. With these dog-friendly restaurants in Ohio, you and your pup can stop for a little nibble, and a little kibble, to satisfy your hunger together:
1. Ruff Life on the Lake
This stop is all about your dog! Ruff Life on the Lake is a dog-friendly cafe and dog boutique located in Geneve-on-the-Lake. Not only do they feature a menu with salads, sandwiches, and other options for humans, but they have an extensive menu just for dogs!
Scrambled eggs, chicken, grilled hot dogs, and more are doggy menu items available. Your dog can even get dessert with you! How about vegan chocolate chip cookie cheesecake for you and an ice cream cup with a dog treat for your dog? Then, after a meal, you and your dog can explore the shop and pick up other dog-friendly items you may need.
2. Johnny's Downtown
Johnny's pulls out all the stops when it comes to fine dining. Their Italian cuisine is top-notch, and their dog affinity couldn't be higher.
Johnny's Downtown allows seating for dogs, and frequently leaves water out for its canine customers. The owners will also often slip your furry friend dog treats for their enjoyment.
3. Luxe Kitchen
Luxe prides itself on diversity. Their multicultural menu features items like carrot hummus and lamb merguez – along with the K9 casserole. That's right!
Luxe Kitchen has outdoor seating for dogs, but also offers a doggy dish consisting of rice and beef on the menu. On Sundays, they also host a Bow Wow Brunch for pups who crave a more refined breakfast.
4. Gresso's
Gresso's Restaurant & Bar hosts a "Pups on the Patio" event twice a week for its clientele! With a menu of burgers and wings, your pup will not be disappointed. Dogs are permitted on the patio, and the wait staff is friendly to four-legged companions.
5. Scotti's Italian Eatery
Another restaurant with a pup-friendly patio, Scotti's Italian Eatery is a traditional pizzeria. This establishment allows dogs on the patio for a dining al fresco allure. The wait staff is also known to slip doggy treats to four-legged friends when tempted.
6. Brown Bag Deli
The Brown-Bag Deli is a classic delicatessen with artisan flair located in Historic German Village. Their soup and sandwich pairings are truly inspired! Best of all, they accommodate pups with a spacious deck outside, which is open spring through fall.
7. Debonne Vineyards
Debonne Vineyards is located in Madison, about an hour east of Cleveland. With over 175 acres of vines, it's the largest estate winery in Ohio. In addition to an incredible selection of wines, there is also a brewery on-site that features 12 craft beers.
Not only is your leashed dog welcome to join you on the grassy hillside and outdoor patio, but there is also a Woof Wednesday event. It occurs every other Wednesday at the vineyards and is a ball for canines and humans alike.
8. The Monkey Bar & Grille
If something more laid-back and casual is your style, and your travels bring you near Maineville, consider stopping at The Monkey Bar & Grille. The menu features a wide variety of tasty foods and drinks for you. There is even local doggie ice cream available on the menu for your dog!
The outdoor tables are dog-friendly, and there are heaters and fire pits on the patio to help keep everyone warm when it's colder out. Plus, it's located right along the river for fantastic views! There are even canoe/kayak access points and biking/walking trails nearby too.
Hopefully, this Ohio dog-friendly travel guide is helping to make your pup-laden vacation less complicated already. This little guide to doggy destinations is just the first step on what will be a fantastic journey! If you find somewhere else you want to go, just make sure it's dog friendly or that you have a plan for your dog before it makes it onto your trip plan.
If you're planning to head to another state, check out the other dog-friendly travel guides to available. Here's to wagging tails and safe travels no matter where your adventures take you!