5 Outdoor Adventure Products for Dogs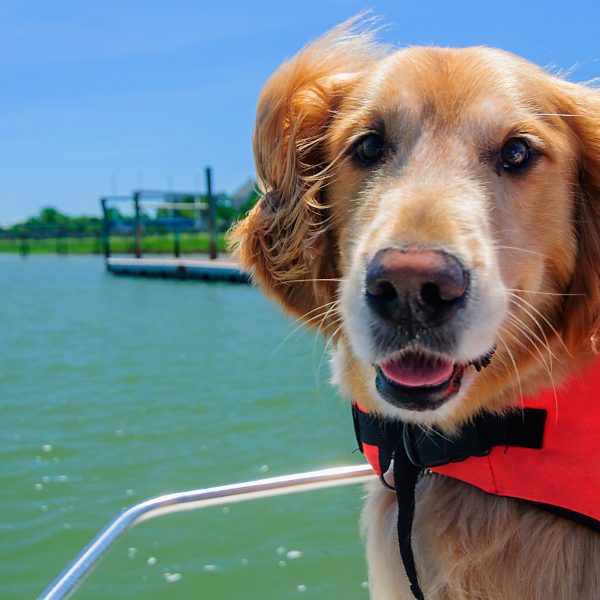 Taking your dog on outdoor adventures with you can be a fun bonding experience. Plus, it gives them plenty of exercise. Whether you're swimming, hiking, or doing something else, here are some outdoor adventure products for dogs to help them tackle the outdoors with you:
1. Harness
When enjoying the outdoors with your dog, a sturdy harness is a must! You want something that is no-pull and no-escape. A dog harness* (Amazon Affiliate Link) that comes in a bright color and includes reflectors keeps your dog safe while you're in the woods with them or out at night. Another good feature is a durable handle, especially if you're exploring rough terrain. A handle allows you to help your dog over obstacles.
2. Dog Backpack
There are two ways you can go with this one. You can get a backpack your dog can wear or you can get a backpack that you wear for carrying your dog. A light dog backpack* (Amazon Affiliate Link) with a saddlebag design and a handle allows you to pack some extra gear for your dog to carry when out on longer hikes and adventures. These often act as a combination harness and backpack and are equipped with a D ring for easy leash attachment.
If you have a small dog and go on adventures with them, a backpack dog carrier* (Amazon Affiliate Link) can be a good option for you. Your small dog may get easily tired along the trip and need to be carried. Having a backpack dog carrier for them allows you to give them a rest while keeping your hands free. These backpacks also often include pockets for extra storage. With a backpack like this, you and your small dog can fearlessly tackle hikes together.
3. Dog Boots
When you and your dog are out exploring nature, their sensitive paw pads can get sore and potentially damaged, especially from rough terrain. A good pair of dog boots* (Amazon Affiliate Link) will protect your pup's paws across any terrain while you go adventuring together. You want to look for water-resistant or waterproof dog boots with a thicker rubber sole.
Anti-slip and reflective material are helpful features. Rugged dog boots are usually all-weather and all-season. This means you can use them for exploring rocky terrain and then also use them during the summer to protect paws from hot asphalt and during the winter to protect your dog's paws from snow and salt.
4. Life Jacket
When going swimming with your dog, a life jacket is highly recommended. This will ensure your dog is safe while they swim. If they join you for water sports or hang out on your kayak, a good life jacket is a necessity to keep them safe while they enjoy the adventure.
A brightly-colored dog life jacket* (Amazon Affiliate Link) with reflective strips will provide maximum visibility while they are in the water. A sturdy handle is also a good idea, so you can easily help your dog in and out of the water.
5. Boat Ladder
If boating is a big part of your outdoor adventures and your dog joins you on the boat, they'll definitely need a life jacket. Additionally, you can equip your boat with a dog boarding ladder* (Amazon Affiliate Link).
This attaches to your boat ladder and provides an easy exit ramp for your dog. This way your dog can easily get in and out of the water and get back on the boat whenever they want. It's easy for your dog and also easy for you.
When going on an outdoor adventure with your dog, products like these can help you ensure the trip is fun and safe for you both.
*Greenfield Puppies is a participant in the Amazon Services LLC Associates Program, an affiliate advertising program designed to provide a means for sites to earn advertising fees by advertising and linking to amazon.com. Greenfield Puppies may earn a commission for purchases made through Amazon affiliate links on our site.