Pennsylvania Dog-Friendly Travel Guide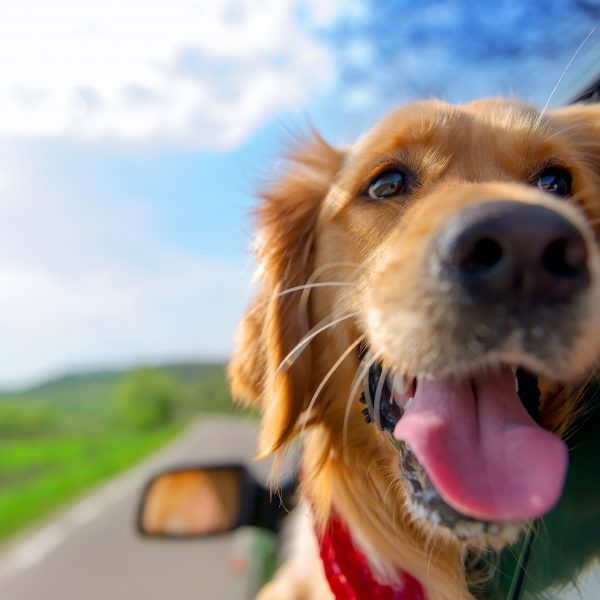 Taking a vacation with your dog can be a great bonding experience for both of you. But, your plans can get a little gritty if where you're going isn't dog-friendly. If you're planning a trip to the Northeast with your dog, this Pennsylvania dog-friendly travel guide is just what you need to start your research:
6 Dog-Friendly Activities in Pennsylvania
There may be plenty of things you want to do and see during your trip, but they may not all be welcoming to your dog. Adding some dog-friendly activities to your trip plan and making sure you have a plan in place for your dog for anything that isn't can help keep things fun. Here are some dog-friendly activities in Pennsylvania to consider adding to your trip:
1. The Gettysburg National Military Park
If you like history and the beauty of nature, then you and your pup will love visiting the Gettysburg National Military Park. Here, there are hundreds of acres for you to explore with your dog. Battlefields, cliff faces, parks, and outdoor museums all welcome two-legged and four-legged friends.
In Devil's Den, an infamous Gettysburg battleground, you and your dog can climb rocks, hike through the woods, and learn about the war-torn history of the land. Be sure, however, to always keep your dog on a leash and pick up after them.
2. Knoebels Amusement Park
Many Pennsylvanian natives remember spending summer vacations at Knoebels Amusement Park – but, did you know the entire park is dog-friendly? The park, and many of its rides, allow you to bring your dog.
All campgrounds and the park areas allow dogs on the premises as long as they are leashed, and many of the surrounding lodgings are dog-friendly as well. Before you travel to Knoebels, make sure to check what ride limitations there are for dogs and if there are any lodging limitations such as weight or breed.
3. Presque Isle State Park
Presque Isle State Park is a beautiful place where you can explore all the wonders of Lake Erie and the surrounding woods. There are plenty of places to camp or stay with your pup in the town.
While in Presque Isle you can hike, fish, camp, and swim among other fun activities. While at Presque Isle, make sure to clean up after your furry friend and keep them on a leash where necessary.
4. Bushkill Falls
Often called the "Niagara of Pennsylvania," Bushkill Falls is a beautiful destination for you and your pet. They have plenty of space for you to explore and play a game of fetch. Be sure to keep your dog leashed and bring along possible floatation devices for you and your pooch.
5. Beau's Dream Dog Park at Buchanan Park
Beau's Dream Dog Park at Buchanan Park is definitely a stop that is all about your dog. It's free to enter as long as your dog meets the requirements and you're following the dog park rules.
Plus, it's open year-round from dawn to dusk. Not only is it one of the best dog parks near Lancaster, PA, but it also features dedicated areas for small and large dogs as well as plenty of fun things to explore.
Each area has a splash pad and some dedicated features that are unique to each. In addition to other structures, the small dog area features a doxi tunnel while the large dog area features a tennis ball tree for launching tennis balls.
6. Lehigh Gorge Scenic Railway
If you love scenic views and your dog will be okay with the loud noises, consider taking some time to take a ride on the Lehigh Gorge Scenic Railway. It's located in Jim Thorpe and offers a 16-mile roundtrip in passenger cars from the 1920s and an old-style diesel-powered train.
The trip lasts about an hour and features views of mountains, streams and flowing rivers that run next to the track, outdoor adventurers, and more. Plus, your dog is welcome to join you free of charge as long as they are well-behaved.
5 Dog-Friendly Hotels in Pennsylvania
After a day full of fun and adventure, it's important to make sure you and your dog have somewhere to rest and relax. Not all hotels are dog-friendly and the ones that have dog-friendly rooms tend to get booked quickly, so it's important to do your research and reserve a room early. Here are some dog-friendly hotels in Pennsylvania to help start your research:
1. Delaware Water Gap/Pocono Mountain KOA
If you and your dog will need to stay overnight near East Stroudsburg, consider booking a tent site or a cabin at the Delaware Water Gap/Pocono Mountain KOA. As long as your dog is leashed and on a leash no longer than six feet when they are outside of your camper, RV, tent, or cabin, they are welcome to join you.
There is no additional pet fee for tent sites, but there is a $10 additional pet fee for the cabins. You also cannot leave your dog unattended at campsites. But, there is no weight restriction on dogs. As long as they are leashed when outside and are well-behaved, your dog is welcome to join you!
2. Battlefield Bed & Breakfast Inn
If you're visiting Gettysburg with your dog, consider booking a stay at the Battlefield Bed & Breakfast Inn. Not only do you get a gorgeous stay, scenic views, and breakfast, but your dog is also welcome to join you!
Dogs of any size are welcome at this Bed & Breakfast and there is no additional pet fee. You can't leave your dog unattended in the room, but there is a fenced dog run on the property in addition to 30 acres full of walking trails.
On top of that, you will receive a doggie welcome basket upon check-in. It includes welcome treats, towels, waste bags, a blanket, and bowls for you to use during your stay.
3. La Quinta
Possibly the most pet-friendly, La Quinta offers pet beds, piddle pads, and water bowls as well as tennis balls and other toys. La Quinta has these pet amenities without an additional charge – unless there are more than two dogs or cats.
They also do not have weight or breed restrictions. If you are going on a cross-country trip, your best option will be La Quinta for you and your pooch.
4. Best Western
Best Western has over 1,600 hotels that are pet-friendly. This chain will allow two pets to stay as long as they are under 80 pounds each.
They will even offer more exotic animals such as birds, monkeys, and reptiles. They will, however, charge for a pet staying with you. This is usually a minimum of $20 a night. Be sure to check with the chain before booking the room.
5. Red Roof Inn
The Red Roof Inn has 360 properties to accommodate you and your pooch. They will not charge additional costs for having a pet, but do not have a doggie concierge or complimentary pet beds. However, they will always be happy to leave the doggie door open for you.
8 Dog-Friendly Restaurants in Pennsylvania
Although you can always rely on the food you brought with you or picked from the store, but it also often means you miss out on the local flavor. Instead of missing out, consider a meal at one of these local dog-friendly restaurants in Pennsylvania or one of the dog-friendly national chains if you find yourself nearby:
1. Four Dogs Tavern
If your travels bring you near West Chester around a mealtime, consider stopping by Four Dogs Tavern for some food and drinks. It's located in Marshallton, which is a historic district, and features a varied menu.
Local favorites include charred octopus, charcuterie, fondue, longhorn meatloaf, tostadas, and more. Additionally, your dog is welcome to join you at the outdoor tables on the spacious patio.
2. Redfin Blues
If your travels take you to Pittsburgh during the spring and summer and you like seafood, take some time to grab a bite at Redfin Blues. Although this waterfront bar and grill features plenty of seafood on the menu, they also offer plenty of other non-seafood options.
Local favorites include serval of the sandwiches and pizzas from the menu and seafood options like jumbo crab cakes, shrimp Florentine, spiced ahi tuna, and more. And, your dog is welcome to join you at the outside tables where you can enjoy the beautiful river views while you eat and relax.
3. Dog & Bull Brew & Music House
If you enjoy a good brew and your travels take you near Croydon, spend time relaxing at the Dog & Bull Brew & Music House. Not only does this bar and restaurant offer high-quality craft beers and a varied food menu, but they also feature local artists performing music.
The best part is that your dog is welcome to join you on the spacious outdoor patio. They even have a menu for dogs!
4. Sorrenti Family Estate
While your pup may not be able to taste each wine with you at Sorrenti Family Estate in Saylorsburg, they will definitely be able to appreciate the landscape and open spaces.
While you enjoy artisanal pizza and a vintage vino, your pooch will happily run around playing fetch or basking in the sun with the other visiting canines.
5. Sonic Drive-In
Sonic Drive-In can be a great place to stop for something to munch on and play a game of fetch. When you use the drive-thru, you can ask for a few doggie biscuits for your pup.
If you stop and stay awhile, they welcome you to walk your pup around the property to stretch their legs and get some energy out. They only ask that your dog stayed leashed at all times and that you clean up after your furry friend.
6. Shake Shack
This burger joint welcomes dogs with open arms and even offers a doggie menu! There's no doubt about them being dog-friendly and they even say, "We were born in a park after all!" to show they are happy to welcome bipedal individuals and their four-legged friends.
The Shake Shack menu for dogs includes tasty treats such as a "Bag O' Bones" and "Pooch-ini" while the human menu offers plenty of options for you. So, grab your leash and your appetite – you both definitely won't leave hungry!
7. Olive Garden
The outdoor sections of certain Olive Garden restaurants will allow dogs as long as they are on leashes. Before heading over, call ahead just in case. Make sure to ask if they allow dogs, and find out if there are any limitations.
While some servers may offer your dog a breadstick, they do not have a specific dog menu or any perks for your furry friend. So, be sure to bring some kibble and a leash.
8. Applebee's
If the Applebee's has a patio section, then they likely allow dogs on the patio. Be sure to ask before reserving a table, and have your dog leashed at all times while in the restaurant. Depending on the location, they may even have a "Yappy Hour" where you can bring your pup, have some apps, and enjoy the afternoon.
Vacationing with your dog can be a lot of fun for you both. You'll be thrilled to have such an eager travel companion, and they will be tickled to spend a few days with you. With a bit of planning, and patience, you will wonder why you didn't start vacationing with your dog sooner!
Although this Pennsylvania dog-friendly travel guide is a good start, it certainly doesn't cover everything. If you find something else you want to do or see, just check to make sure it's dog-friendly or you have a plan for your dog before it makes it onto your trip itinerary.
If you're headed somewhere else, take a look at the other dog-friendly travel guides available. Here's to safe travels and wagging tails, no matter where your adventures take you!