4 Fun Pinterest Crafts for Dogs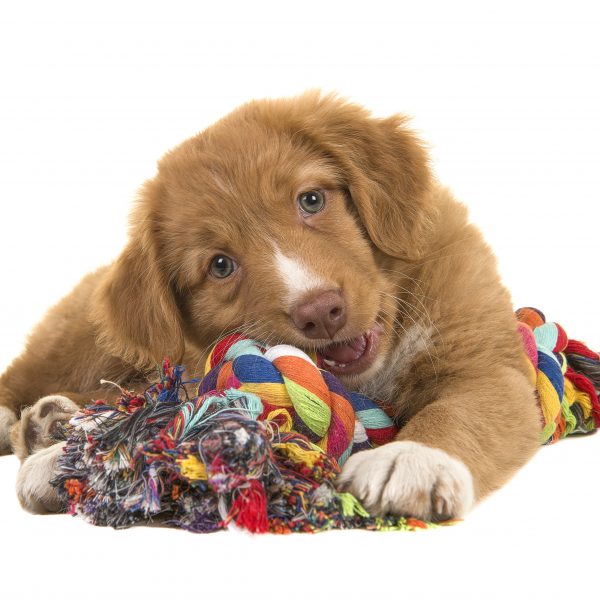 Arts and crafts are even more fun when you're getting creative for — or with — your puppy dog. If you find your hands idle this summer and want to get crafty, Pinterest is the go-to place for inspiration. You can find tons of original ideas for Pinterest crafts for dogs, and make your own variations on them according to your style.
Pinterest, with its many wonders, can be a little overwhelming, even if you are just focused on dog-friendly craft projects. So, here are a few fun Pinterest crafts for dogs to get you started:
1. Puppy Paw Print Flowers
These adorable paw print flowers provide a way to make a keepsake of your pup.
It's pretty simple: cover the pads of your dog's paws with non-toxic watercolor, or washable paint, and then press them onto paper. Then, paint in the other elements of the flowers — the paw prints are the petals. Make sure you wash your pup's paws thoroughly after using them as stamps.
2. DIY Frozen Dog Treats
This idea for frozen dog treats is too cool to pass up. It involves a Bundt cake mold and common ingredients you may already have in your pantry.
First, you'll want to scout around for your pup's favorite toys. These will be the "buried treasure" in the treat. Choose an assortment of big and little items to make it interesting for your puppy.
For the substance of the treat, you will use a half-and-half mix of water and chicken stock. You're basically just making your dog a giant, fun popsicle.
After you fill the mold up almost all the way, freeze for a few hours and then remove it from the mold and serve!
3. Woven Bone Rope Dog Toy
In this super cool and challenging rope dog toy project, you are making what is basically a giant knot in the shape of a bone. You can use a ⅜" rope to make the toy for a larger dog or a ⅛" rope to make a smaller rope bone.
To make the larger bone, you will need:
60 feet of 3/8″ cotton rope
Two lacrosse balls
Cardboard
Duct tape and maybe clear tape as well
T-pins
Very detailed instructions accompanied by images and charts are available, and even a few bonus (and perhaps easier) ideas are offered.
4. DIY Ball for Blind Dogs
Here is a creative and inexpensive answer to the question of how you can play "fetch" with a visually impaired dog.
To make the DIY ball toy that worked so well for one person's blind Golden Retriever, you will need a few things: a Kong brand "Air Dog" tennis ball toy, a pair of scissors or a knife, and a large-sized jingle bell.
You can experiment with the materials to make a toy that's perfect for your own pup.
Simply cut a hole in the ball, and be careful not to make it too large so that the bell will not fall out. Then put the jingle bell in. That's it!
If none of these Pinterest crafts for dogs satisfy your craving to get crafty for your dog, delve deeper into Pinterest. It won't disappoint and you're bound to find the perfect project for you and your pup!