4 Great Products to Protect Your Dog From Weather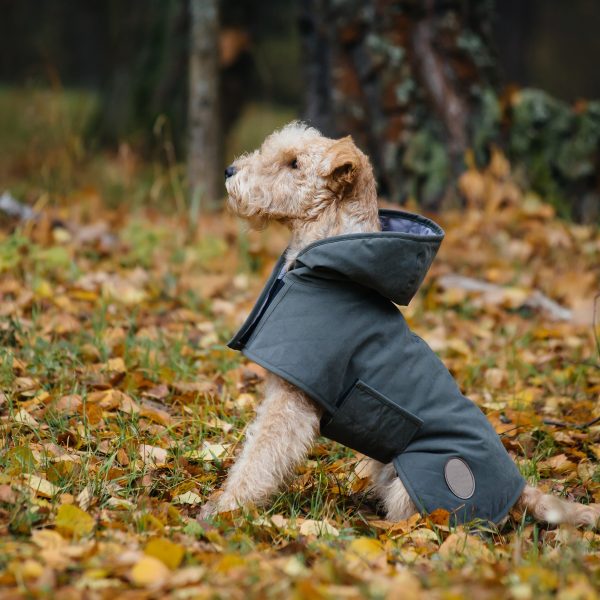 It can be fun to walk your dog despite all types of weather, but it may not be as fun for him. There are many reasons to protect your dog from the weather. The idea of clothing for pets may seem silly, but we outfit ourselves with tons of gear to protect our own bodies from the weather. So why not do the same for our dogs? Thankfully, there are plenty of available products to protect your dog from weather.
When considering buying clothes to weatherproof your pooch, think about his needs. Does he have a thick coat that keeps him warm all year round? Do you see him shivering at the slightest hint of an autumn chill? Do you constantly find yourself cleaning debris from between his paw pads especially in the wintertime?
Here are some ideas for great products you can buy to protect your dog from inclement weather:
1. A Classic Raincoat
A dog raincoat* (Amazon Affiliate Link) that is lightweight and waterproof is essential. Look for one with a waterproof shell that has reflective piping for night visibility. You can also look for a raincoat with an adjustable velcro belly strap for comfort.
2. Booties for Adventurous Paws
These Grip Trex booties* (Amazon Affiliate Link) from Ruff Wear are billed as "all-terrain paw wear". Perfect if you like to go to rugged places with your pup! They feature a breathable mesh, and Vibram produces their outsole. They should protect against debris as well as provide great traction – very important qualities for icy winter sidewalks. The company provides a sizing chart and advises customers to check the fit of the shoes. If necessary, you may adjust after your pup breaks them in.
3. Dog Goggles
A pair of protective, and stylish, dog goggles* (Amazon Affiliate Link) will guard your pup's peepers from harm. They shield against UV rays, debris, and environmental hazards in sizes large and small. They were designed with the "working dog" in mind and allow for freedom of movement.
4. A Winter Coat
A winter dog coat* (Amazon Affiliate Link) is very practical indeed. A vest design allows for freedom of movement and a waterproof opening allows for a leash. Getting a jacket with a waterproof fleece will help keep your dog dry and warm. Buckles and elasticity can help make a winter dog jacket convenient for you and comfortable for your dog. A coat that features reflective piping adds more safety at night.
If you're thinking about getting protective clothing for your dog, there are tons of high-quality products to protect your dog out there. Aside from making them look unbearably cute, the right coat or booties can really make your dog more comfortable when he ventures outside!
*Greenfield Puppies is a participant in the Amazon Services LLC Associates Program, an affiliate advertising program designed to provide a means for sites to earn advertising fees by advertising and linking to amazon.com. Greenfield Puppies may earn a commission for purchases made through Amazon affiliate links on our site.