6 Tips for RVing With Your Dog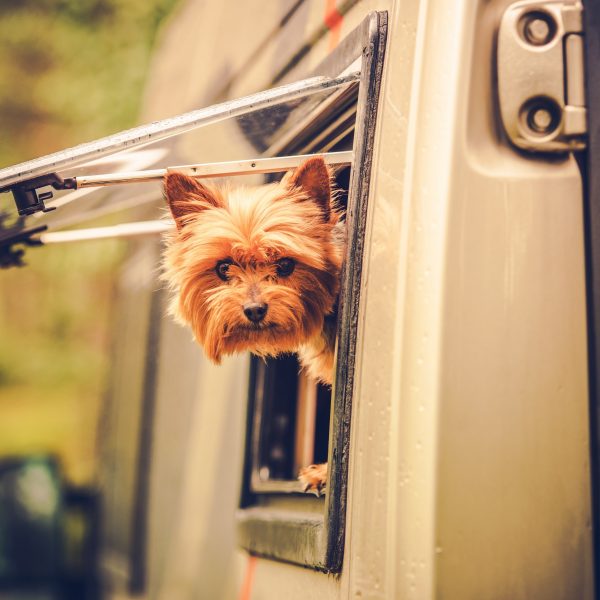 There is nothing better than being able to travel with your dog, especially when you are traveling in style in an RV. RVing with your dog can be a fun and fulfilling experience for you and your dog. However, just having your dog jump into the RV to take off into the great wide yonder without preparation can cause issues. Here are a few tips for RVing with your dog to help make sure the excursion is as smooth as possible:
1. Pack Plenty of Dog Supplies
This means packing fresh drinking water, toys, treats, food, and bags. Don't forget their bowl and leash. It's wise to pack more supplies than needed as unexpected things can happen while traveling with dogs. Engine problems, extended stays, detours, and other spurious moments that make travel as exciting as it is can all occur and you want to be as prepared as possible.
Make sure to pack their favorite toy, as trips can be long, and there will be many unfamiliar environments that may be stressful to the dog without some playful support. Don't forget their medication or any other essentials that might not be part of their normal routine. Also, it's a good idea to pack a copy of their medical records so you have proof of vaccinations and you have them in case your dog would need to visit a vet during your travels.
2. Figure Out Where They Will Stay During Non-Dog Friendly Activities
Skydiving and zip lining are activities that most dogs aren't able to participate in and often aren't allowed to participate in. In other experiences, maybe the only restaurant for miles doesn't have dog-friendly seating.
Or, the National Park trails don't allow dogs in order to maintain their fragile ecosystem. Even if you create dog-friendly travel plans, there will likely be some instances where your dog won't be welcome to join you and you will need to figure out where they stay.
Most dogs should be fine alone in an RV as long as it is climate-controlled so they do not overheat. Just pull down the blinds, draw the curtains, and perhaps play some relaxing music to suggest to the dog that this is a good time to sleep rather than wander.
Doing these things will also reduce external stimuli, which can help cut down on the anxiety of being in a foreign place with unfamiliar sensations. If this isn't an option for you, you will have to plan ahead enough in your trip so you can find a doggie daycare or kennel where you can board your dog for a few hours or for the day. If you'll need to do this, it's a good idea to research kennel ahead of time, make sure your dog handles it well, and other dog boarding tips to make sure it's a good experience for everyone.
3. Plan for Motion Sickness
If you have never gone on an extended trip with your furry friend, then it's a good idea to expect the unexpected. One of these things can be the discovery that your dog doesn't appreciate the long, winding roads of a mountain vista.
Minor sickness can be treated by simple things such as not feeding them a full meal before going on these trips. But, if this is a persistent problem, then consider medication. Not all OTC medications are suitable for dogs, so make sure to consult your vet.
They can provide you with comprehensive information such as over-the-counter medications that are safe for dogs and the proper dosing for your dog along with some techniques for easing motion sickness in dogs.
4. Have an Emergency Plan
While you should be fine, it's always good to be prepared for the unexpected. Do your research of the area beforehand, and take note of things like the number and location of the local vet. If your dog gets out of their leash, and jets off into the wilderness chasing unfamiliar wildlife, knowing what agencies in the area are at your disposal is a wise move and can help you get your dog back faster.
Part of a good emergency plan includes outfitting your dog with some outdoor adventure products for dogs. A sturdy harness, dog boots, an updated microchip, and a GPS tracker are all good ideas and can be a big help in preventing an emergency when you take your dog on an outdoor adventure.
5. Pay Attention to Your Dog
It can be easy to forget that your dog is in an unfamiliar situation, so their attitudes and behaviors may change. Make sure to take everything slow, and see how they respond, especially if this is your first extended trip with them. Make sure to get them plenty of exercise and frequent rest stops or parks to let them stretch their legs. This will help keep them calm.
6. Make Sure the RV Park is Pet-Friendly
Not all RV parks or campsites allow dogs. Make sure where you plan on staying has a defined policy about dogs, so there are no surprises when you get there. Even if a campground has dog-friendly campsites, sometimes they are limited and require advanced reservations.
Additionally, some RV parks may be dog-friendly, but provide no facilities for them. This can make it difficult to just take a casual stroll with them around the campground. Researching this ahead of time so you know what to expect is one of the tips for camping with your dog.
These are just a few tips for RVing with your dog. Keeping these in mind and planning well for your trip can help make sure both you and your dog stay safe and have a lot of fun together.