Texas Dog-Friendly Travel Guide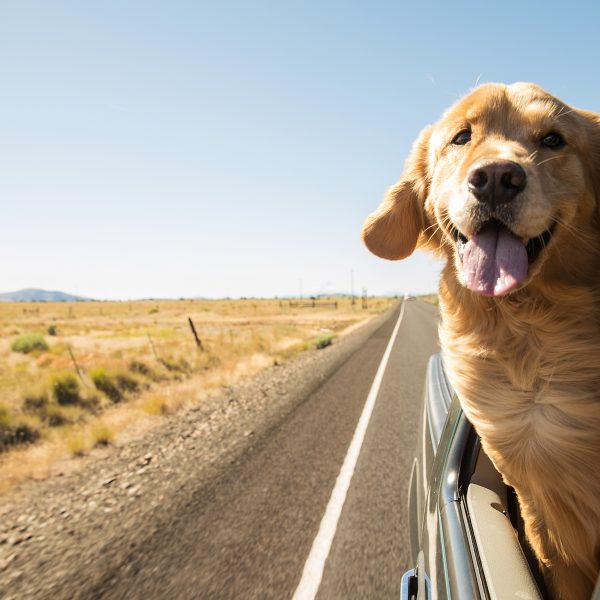 Traveling with your dog can add some extra complications, especially if you don't plan ahead. Not every place you go will welcome your dog. However, if you plan your trip ahead of time, you'll be sure to find some dog-friendly places you and your dog can enjoy together. If you're traveling to "The Lone Star State", use this Texas Dog-Friendly Travel Guide to start your research:
7 Dog-Friendly Activities in Texas
Leaving your pup alone in a hotel room all day is not fun; if your hotel even allows you to leave them unattended. Besides, how much better will your experience be if you get to do things together and bond with your dog? Here are some dog-friendly activities in Texas to consider for your trip:
1. Fort Worth Stockyards Historic District
Experience the Western heritage of the Texas livestock industry in the Fort Worth Stockyards Historic District. The original brick walkways and wooden corrals are still intact.
You can explore the historic district with your dog as long as they are well-trained and on a leash. There is even a longhorn cattle drive twice a day! It's the perfect exciting event for your pup as long as they're not phased by cattle.
2. Barking Springs Outside Barton Springs
Barton Springs Pool is located just outside of downtown Austin in the heart of Zilker's Park. This large, outdoor recreational area is great for a swim on a stroll around the ground. Dogs aren't allowed in Barton Springs.
However, "Barking Springs" is just outside of Barton Springs Pool and consists of the Barton Springs spillway. Barking Springs is free and allows your dog to run along the shore and swim to their heart's desire. Just be aware that there is no lifeguard on duty.
3. BayWatch Dolphin Tours
Located in Galveston, Texas, BayWatch Dolphin Tours takes you and your pup on a cruise to visit dolphins in their natural habitat. Dogs ride for free on these 45-minute boat tours and there is a covered interior on board.
In order to keep the dolphins safe, the boats have no propeller and are jet drive boats. It's open year-round, every day of the week, and boats leave every hour from 10 a.m. to 5 p.m. Tours are subject to seasonal and weather conditions though, so check the weather in advance before booking a ticket!
4. Dinosaur World
If you like dinosaurs and you'll be traveling near Glen Rose, carve out some time to stretch your legs and explore Dinosaur World. This outdoor museum features over 150 life-size dinosaurs along over a mile of outdoor walkways. Your leashed dog is welcome to join you on the dinosaur walk and in the indoor Prehistoric Museum.
5. Bad Wolf Ghost Tours
If ghost stories throughout history are your thing and you'll be in San Antonio at night, make a reservation for Bad Wolf Ghost Tours. Your dog is welcome to join you as long as they are leashed and friendly and tours are conducted every night.
You and your dog will be guided through the haunted areas of San Antonio. You'll visit the sites of notorious battles, murders, and untimely deaths and hear the stories behind them.
6. Sisters Grimm Ghost Tours
Also located in San Antonio is Sister Grimm Ghost Tours. This ghost tour runs every day but Sunday and starts at 8:30 p.m. in front of the Alamo. Your dog is welcome to join you as long as they are leashed, friendly, and well-behaved.
The 90-minute walking tour will take you to The Alamo, the Menger Hotel, and the Spanish Governor's Mansion. These are considered three of the most haunted areas in San Antonio and you'll hear all the spooky stories associated with them.
7. Houston Arboretum & Nature Center
If you need to stretch your legs, want to spend some time in nature, and are in Houston, check out the Houston Arboretum & Nature Center. This nature center is a 155-acre nature sanctuary with wetland, meadow, and forest habitats. There are five miles of walking trails available.
Plus, your leashed dog is welcome to join you. You just have to keep them on the trails and out of the water. They can even come in the building lobby with you as long as you stick to tiled areas. One of the favorite features of this nature center is the self-guided Habitat Hike.
Each habitat hike takes you past the educational field stations and the Nautralists' favorite spots in each habitat. You will see insect houses, ponds full of wildlife, trees with interesting backgrounds, and more.
5 Dog-Friendly Hotels in Texas
It can be difficult to find places to stay that are also pet-friendly while you are traveling. It's best to look up hotels and reserve a dog-friendly room ahead of time so you are guaranteed to have a place to stay. Here are a few dog-friendly hotels in Texas to consider for your reservation:
1. Stockyards Hotel
If you're already planning to visit the Fort Worth Stockyards Historic District, consider staying at the historic Stockyards Hotel. It's located in the heart of the district and is dog-friendly.
With a large selection of standard rooms and suites, the Stockyards Hotel offers comfort with an antique flair for you and your dog. Pets are welcome, but there is a $50 non-refundable pet fee.
2. Canyon of the Eagles Lodge and Nature Park
In Burnet, you can roll dog-friendly hotels and attractions into one with the Canyon of the Eagles Lodge and Nature Park. It's located on the shores of Lake Buchanan and is perfect for nature lovers. With plenty of trails and lakeshore for you and your pup to enjoy, there is no shortage of fun!
You can also stay in guest rooms at the lodge or go camping with your dog at one of their RV & camping sites. If you stay in the guest rooms at the lodge, there is a limit of two pets and a non-refundable pet fee of $15 per night, plus tax.
Your pup won't be allowed in the food facilities, swimming pool, or meeting spaces. However, as long as they are leashed and well-behaved, they are welcome in the other areas of the park.
3. Avenue O Bed & Breakfast
The Avenue O Bed & Breakfast is located in Galveston, Texas. There is no pet fee and big dogs are allowed. If you need to leave your pup in your room unattended, they will need to be crated. Other than that, they are free to stay with you and enjoy all the large hotel amenities Avenue O provides while still getting that "at-home" feel.
4. TownePlace Suites by Marriott
If you need a dog-friendly hotel with a beach view, look no further than TownePlace Suites by Marriott Galveston Island. Up to two dogs, up to 70 pounds are welcome to join you for your stay at this hotel. There is an additional pet fee, which is $100 per stay.
As long as your dog is quiet and well-behaved when you are not around, you can leave them in your room crated and unattended. In addition to the beachfront views, there are also several different mulched pet relief areas on-site.
5. The Westin Austin At The Domain
If you have big dogs and need to stay overnight in Austin, consider booking a room at The Westin Austin At The Domain. Up to two dogs of any size are welcome to join you for your stay at this dog-friendly hotel.
Plus, there is no additional pet fee! And, dog beds, waste bags, bowls, and treats are available at the front desk. Your dog cannot be left unattended in your room. There is a grassy relief area on-site with pet stations in case you forget waste bags in your room.
5 Dog-Friendly Restaurants in Texas
Aside from fast-food restaurants and gas stations, it's hard to determine where you can get food while traveling without leaving your dog behind. These dog-friendly restaurants in Texas are top-notch and welcome leashed dogs on their outdoor patios:
1. The Friendly Spot Ice House
This restaurant is known in San Antonio for its quesadillas, tacos, sandwiches, bacon-wrapped bratwurst, and, of course, beer. The Friendly Spot Ice House has a bar in the front and the back, is outdoor only, and welcomes dogs at their tables. Plus, they have water bowls available to help keep your pup hydrated while you eat.
2. Rails Cafe at the Depot
Rails Cafe at the Depot is a restaurant with a unique dining experience that is located in Kerrville. At Rails Cafe, you get to sample from a diverse menu and dine at a train depot from the early 1900s that has been restored. Local favorites range from bison burgers and wild mushroom quesadilla to strawberry bacon spinach salads, beef Marsala, shrimp creole, and more.
Plus, your dog is welcome to join you on the shaded outdoor patio. On top of that, there is a dedicated dog menu that features items like grilled chicken, grilled bison, bacon, and more in addition to gourmet treats. At this restaurant, you and your dog can truly have a meal together.
3. Woodshed Smokehouse
If a smokehouse atmosphere is what you like and your travels bring you to Fort Worth, consider grabbing some food from Woodshed Smokehouse. Their regular menu features a wide variety of tacos, smoked red fish en Papillote, brisket-stuff poblano chilies, and more. On top of that, they have fresh handmade tortillas that are made daily and camp bread served with classic "pitmaster fat".
It's an open-air eatery that is located right along the banks of the Trinity River. Not only do you get good food and great views, but your dog is also welcome to join you at a table in the outdoor gravel area. Plus, while you enjoy your meal, you can order something off of the dog menu just for them.
4. Kerby Lane Cafe
If you're looking for something more casual and you happen to be in Austin, consider relaxing for a meal at Kerby Lane Cafe. Tacos, sandwiches, queso, and so much more plus coffee and desserts like brownie fudge sundaes, Tootie's apple pie, and more are on the menu. They have a large covered outdoor patio where your dog is welcome to join you.
5. Krause's Cafe
Should your travels bring you near New Braunfels and you have a taste for German cuisine, take a break at Krause's Cafe. Local favorites include Vienna Schnitzel, Bratentaschen, and more. With plenty of options on the menu plus the Biergarten, there is something for everyone. Plus, your dog is welcome to join you at the outdoor tables.
Although this Texas dog-friendly travel guide is a good start, it doesn't cover everything. If you find something else you want to do or see, just make sure your dog can join you or you have a plan for them in place before it goes on your trip plan.
Experiencing new places is always more fun with your best friend along for the trip. With dog-friendly places and things to do on the itinerary, you can enjoy it all together! If you're traveling to other states, check out the other dog-friendly travel guides available. Here's to safe travels and wagging tails no matter where your adventures take you!