6 Tips for Flying with a Dog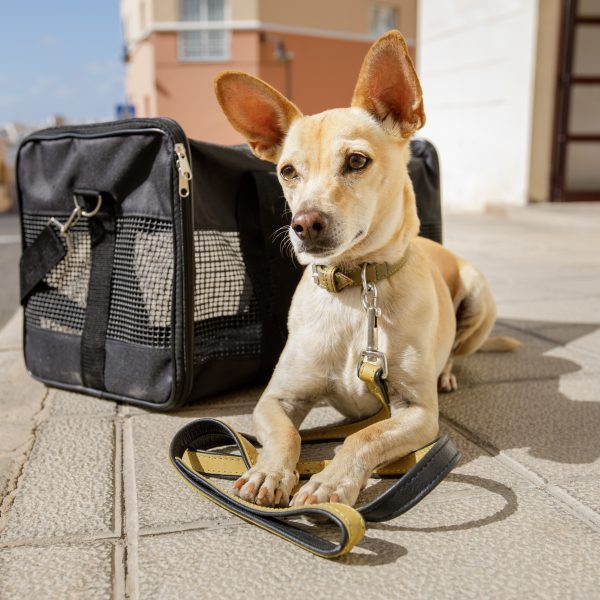 Traveling with your dog can get hectic and complicated, especially when you add elements like airports and airplanes into the mix. Whether traveling or moving, sometimes you have to fly with your dog. It can be a stressful experience for you both. Make it a little easier with these tips for flying with a dog:
1. Check Airline and Airport Restrictions
Policies may vary from airline to airline and in various airports. Start researching early before booking your flight and familiarize yourself with what resources are available, any restrictions, and the individual airline policies.
Some policies will change according to the airplane style or model. Some airports may let you walk your dog around the terminal while others will only permit them if they remain in a carrier.
Also, be aware that there may be breed restrictions on which dogs can fly in-cabin with you or can be checked. In addition, be sure to check regulations for your destination as well as your departure. Some destinations may not allow travel with pets and some airlines may impose temperature restrictions on when you can travel with a pet.
2. Consider Size and Temperament
To fly in-cabin, your dog needs to be comfortable in their carrier and the entire thing needs to fit under the seat in front of you. This limits in-cabin travel to smaller dog breeds. You also have to consider the temperament of your dog as many dogs are not a good fit for travel.
Flying is a stressful experience, especially for your pup. Dogs that are easily stressed or are prone to anxiety are not a good fit for flying. Airlines generally require your dog to be properly socialized, very well-trained, and quiet in order to fly.
3. Reserve Your Space Early
Once you've determined your dog is the right size and temperament for flight, you will need to call ahead to reserve your space and let the airline know you will be traveling with an animal. Book your flight early. Some airlines restrict the number of dogs on a flight and will do so on a first-come, first-served basis.
Try to get a window seat or a middle seat if you can and be prepared to pay potentially hefty extra fees for your dog. Also, keep the receipt for the pet fee within easy reach during boarding. They'll want to see it at the check-in desk and there's a chance other attendants along the way will also need to see it.
4. Pack the Right Materials
First, start with the pet carrier. Your dog must be absolutely comfortable in it. Many airlines also have regulations on the size of the carrier and the type, so make sure you check that ahead of time. Grab some pee pads as well. Your pup may be potty-trained, but accidents can happen in high-stress situations or on longer flights.
When flying in-cabin with you, your dog and their carrier count as a carry-on item, so be aware of that when you are packing for yourself. Choosing a carrier with exterior storage pockets can be a big help with packing. Then, make sure you bring all of your dog's necessities including enough food, treats, and toys for a couple of days after you land as well as a spill-proof water carrier.
Have a small cooling mat and a blanket on hand as well. Floor temperature can vary from day to day and from aircraft to aircraft. With a vent close to the floor, your dog may end up shivering from the cold. On the other hand, poor or slow floor air circulation could mean your dog gets too hot. You want to be prepared to help them remain comfortable either way.
Also, make sure you have all of the proper documentation. Make sure your dog has ID. You'll also need a health certificate from your veterinarian in order for your dog to fly. Even if it is not explicitly required by your airline, it is a good idea to have one in case things change and for peace of mind. Airlines can differ on policies and some require it to be issued within a certain time frame before your flight to be valid.
5. Prep Your Pup Before Flight
On the day of your flight, make sure you prepare your pup properly for the trip. Don't feed your dog the morning of the flight and stop their water intake a few hours before it. They likely won't be happy about it at the time, but it will keep them from having an accident during flight or being uncomfortable due to an upset stomach.
Before you leave for the airport, take your dog for a long walk. You want to get out as much pent-up energy as you can before your dog is stuck in a carrier for hours. Plus, if your pup is tired, they might sleep through the flight, which will make the trip a little more comfortable for them.
6. Avoid Sedatives
It's tempting to turn to sedatives to ensure your pup is calm during a flight, but avoid using them if you can. Sedatives should only be used a last resort and under the recommendation and direction of a vet. Sedatives can also have negative side effects like unsteadiness, nausea, or breathing problems. If your pup is too anxious to fly and can't do so without sedation, then consider leaving them with a dog sitter or with a kennel while you travel.
With these tips for traveling with your dog in hand, you and your dog are ready to fly to your next destination!