6 Tips to Get Your Dog Ready for Winter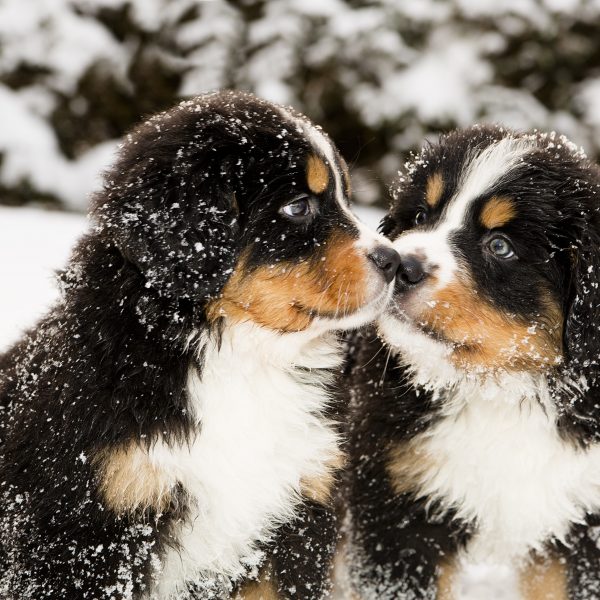 Whether your dog loves winter or seems to hate it, there are a few things you can do to help get them ready for colder temperatures and keep them safe, cozy, and happy. Here are some tips to get your dog ready for winter:
1. Update Contact Information to Keep Them Safe
Unfortunately, many dogs and other pets are lost during snowstorms. The best way to prevent losing your dog is by microchipping your dog and making sure their tag or microchip's contact information is up-to-date and legible.
So, if they do run off or you get separated during a snowstorm or any other time, it will be more likely that they will return home safe and sound. If you need to update your dog's tag, you can do so through your vet or you can update the microchip information online.
2. Maintain Their Winter Coat for Added Warmth
Depending on the breed and coat type, the winter dog grooming routine may vary. Arctic breeds with high-maintenance coats may still need a trim in the winter to keep their coat from becoming unruly.
Other breeds that require regular grooming may still need a trim, but may keep a longer coat length in the winter for some added insulation. Choosing the right dog groomer with experience for your breed's coat can be a big help in finding the perfect approach for the season.
3. Get the Right Winter Gear
One of the biggest tips to get your dog ready for winter is to get the right winter gear. If you have snow dog breeds or other thick-coated breeds that prefer the cold, you may not need to bundle them up in sweaters or coats like thinner-coated, warm-weather breeds.
Know your dog, know your breed, and then get the winter dog products they need to stay warm and comfortable while out on walks when temperatures drop. Here are a few basics to consider to get you started:
Booties Provide Paw Protection
You may not think your pup needs to protect their paws, but their feet are surprisingly sensitive. Booties help keep your pup's paws safe and protected from extreme heat, cold, and chemical exposure.
While they might not be happy during the first walk with their winter dog boots* (Amazon Affiliate Link), they will become used to it over time. Not only can protective waterproof boots protect your dog's paws during the winter, they can also come in handy for other activities like hiking.
Sweaters/Coats Help Them Stay Warm
If your dog is an arctic breed that is built for winter, they probably won't need a sweater or coat. If they need a little help to stay warm, a sweater or coat is a great product to have on hand in the winter.
If you want to purchase a sweater or jacket for your pup, be sure to measure around their belly, legs, shoulders and neck. By measuring, you won't need to worry about the sweater not fitting or being uncomfortable.This will ensure their winter dog sweaters* (Amazon Affiliate Link) fit well and are comfortable for them to wear.
4. Set Up a Post-Walk Care Station
With ice, snow, winter rain, and more, winter walks can get a little wet and messy. Before winter rolls in, set up a post-walk care station in your home. This could be just convenient by the front door, in a garage, in a mudroom, etc.
You want to get in the habit of drying off your dog's paws when you come in after a walk. This is a lot easier if they are wearing dog boots outside. In this case, you may not need to do much drying, but you should still regularly check your dog's paws.
You just want to make sure you have a shoe rack or mat where you can place wet shoes to dry. Having wipes and a towel on hand are good options for cleaning off dirty paws or snow-soaked bellies and legs. It's also not a bad idea to have some paw balm nearby in case your dog's paw pads are getting too dry. You can DIY paw balm at home or buy some premade from a store.
5. Consult With Your Vet on Winter Feeding
Depending on your dog and their activity levels, you may need to adjust the amount you feed them during the winter. It's important to talk to your vet about any change to their diet. They may not recommend a change, or they could recommend feeding more or less than normal.
It depends on your dog, their activity level, and several other factors; your vet can help you determine the right winter feeding routine for your dog to make sure they get the nutrients they need when they might be using more or less energy than in other seasons.
6. Make Sure They Have a Warm Winter Nest
Before temperatures start dropping and winter weather rolls in, check up on your dog's bed and sleeping area. Dogs love to have a safe nest to curl up and relax in and it's a good idea to make sure your dog has a bed and blankets that will create a warm winter nest for them.
Look over your dog's bed to make sure there is enough stuffing and it is in good shape. If it's time to replace it, get them a new dog bed. If their bed is fine, how about any extra blankets? Make sure they have enough bedding and thick enough blankets to stay warm while sleeping at night.
These are just a few tips to get your dog ready for winter; many of which also align with winter safety tips for dogs. With everything in place, you and your pup can sit back, relax, and enjoy watching the leaves turn and snow drift down as winter rolls in.
*Greenfield Puppies is a participant in the Amazon Services LLC Associates Program, an affiliate advertising program designed to provide a means for sites to earn advertising fees by advertising and linking to amazon.com. Greenfield Puppies may earn a commission for purchases made through Amazon affiliate links on our site.