Virginia Dog-Friendly Travel Guide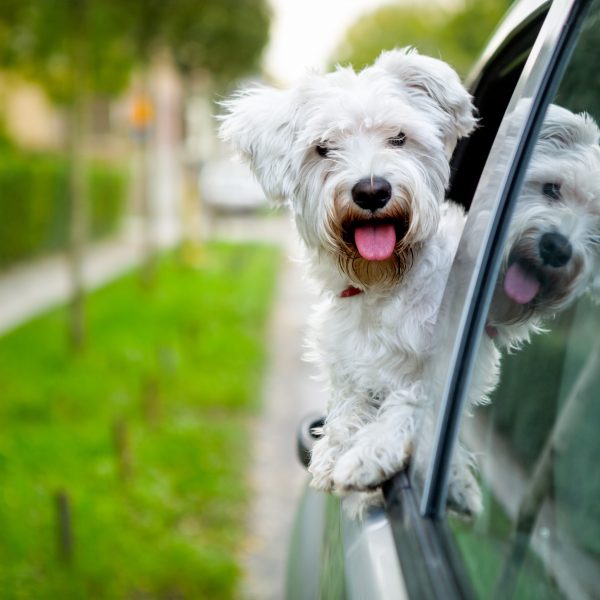 Traveling with your dog can be a lot of fun. It can also be stressful if you don't plan ahead as not everywhere you go will be pet-friendly. That's where dog-friendly travel guides can help! If you're planning to travel through "The Old Dominion" state, use this Virginia dog-friendly travel guide to plan a trip both you and your dog can enjoy.
16 Dog-Friendly Activities in Virginia
Dogs are permitted in all of Virginia's state parks provided they are well-behaved and on a leash no longer than 6 feet. Unfortunately, dogs are not permitted inside the state park buildings, but that won't stop you from enjoying plenty of things to do outside or enjoying other dog-friendly things to do. Depending on where you're traveling, consider stopping to enjoy some of these dog-friendly activities in Virginia:
1. Alexandria's Footsteps of the Past Walking Tours
If you happen to be in Alexandria and enjoy learning history, add Alexandria's Footsteps of the Past Walking Tours or other walking tours to your itinerary. This is the historic hometown of George Washington and Robert E. Lee, so there is a ton of history to learn about.
These walking tours are educational and entertaining. Plus, there are tons of variations to choose from. And, as long as they are well-behaved, leashed, and under your control at all times, your pooch is permitted to join you on all of them. If you opt for a different tour, just check to make sure they have similar pet policies.
2. Potomac Riverboat Company
While you explore Alexandria, be sure to book a cruise with the Potomac Riverboat Company. They have specific Canine Cruises available from April to October where your dog can join you at no extra charge for a 45-minute cruise around the Alexandria Seaport.
One dog is permitted per passenger and your dog must remain on a 6-foot leash at all times, but they're free to enjoy the adventure with you. Plus, there will be fresh water and treats available for them.
3. Crabtree Falls
Crabtree Falls is located in Charlottesville. This vertical-drop waterfall is cascading and is the highest waterfall of that type east of the Mississippi River. Five major cascades and several smaller ones fall for 1,200 feet. The trail to the first overlook is gentle and paved, just a short distance from the upper parking lot. For more adventurous travelers, you can hike the remaining 2.5 miles uphill to 4 other overlooks.
Your dog is welcome to hike with you if they are on a leash. If your dog is well-behaved and very well-trained, especially when off-leash, they're welcome to hike with you unleashed. It's open every day from dawn to dusk. If you happen to be traveling the Blue Ridge Parkway, it's near milepost 27, about six miles off of the parkway.
There is a $3 per person use fee. As a note, this can be a long hike, so make sure you pack plenty of water and snacks, dress comfortably, and follow tips to safely hike with your dog. It is imperative that you do not wander off the trail. Going off-trail or climbing on the waterfall itself is extremely dangerous and several deaths have occurred when people have ignored the posted warnings.
4. Colonial Williamsburg
If historical Williamsburg is on your list, enjoy touring Colonial Williamsburg with your pup. This 18th-century city is the largest living history museum in the world and your dog is welcome to join you if they are leashed. They won't be able to enter the buildings, but are welcome on all of the walking tours.
They can even ride with you on the shuttle from the Visitor's Center. Colonial Williamsburg features over forty sites and trades, 4 historic taverns, and 2 world-class art museums. Plus, you'll be able to see actors portraying historic Williamsburg residents and get to interact with them.
5. Daisey's Island Cruises
If your travels take you to Chincoteague Island, make sure one of Daisey's Island Cruises dog-friendly charter trips is on your list. You can go on Pony, Dolphin, Rocket Launch, and Sunset viewing trips and your dog is welcome to come along for the ride.
Tours run year-round and usually last two hours. They have been known to run a little longer every now and then if something really interesting happens. These charter trips are popular, so you'll want to book ahead to make sure you and your pup have a spot on the boat.
6. Potomac Point Vineyard & Winery
If wine is more your thing and you happen to be in Stafford, Virginia, plan to stop by the Potomac Point Vineyard & Winery. Reservations are required for on-site experiences, and your dog is welcome on the grounds and on the veranda.
Unfortunately, dogs are no longer allowed inside due to new statutes. However, the owners love dogs and will accommodate you and your pooch as much as possible. In addition to the events, you can stop by for wine tastings, Sunday brunch, or just to enjoy the bistro.
7. Manassas National Battlefield Park
This park is located north of Manassas and it preserves the site of major American Civil War Battles. The First Battle of Bull Run and the Second Battle of Bull Run, also referred to as the First and Second Battle of Manassas, occurred here in 1861 and 1862 respectively. There are a variety of trails you can explore with your dog as you read the signs describing the histories of landmarks.
Your dog is welcome to adventure with you in the Manassas National Battlefield Park as you delve into America's history. This park is 5,073 acres and trails run through open meadows and dense woods. So, you'll want to dress for exploring in the woods, bring plenty of water for you and your pup, some snacks, and plenty of bug protection. Make sure you and your dog have plenty of protection from ticks as you're likely to come across some as you wander the historic trails.
8. Petersburg National Battlefield
Petersburg is home to the Petersburg National Battlefield. Your dog is welcome to join you for the adventure as long as they are leashed and the leash is no longer than 6 feet.
There are plenty of trails to choose from and history to learn as you explore. You can walk the grounds yourself, take a Ranger-guided tour, or take the 16-stop driving tour. With 2,700 acres to explore, you have plenty of options.
9. Natural Bridge
The Natural Bridge is located in Rockbridge County, Virginia. It is a designated National Historic Landmark and is certainly a sight to see. This limestone gorge is 215 feet tall and was carved out by Cedar Creek.
Several dog-friendly trails are available for hiking and your dog is welcome as long as they are leashed. There are trails leading to the Monacan Indian Village and Lace Falls in addition to living history programs and more.
10. Shenandoah National Park
Explore the Blue Ridge Mountains with your pooch in Shenandoah National Park. Your pup is permitted on almost all of the trails provided they are leashed and the leash is no longer than 6 feet. Unfortunately, dogs are not permitted on the lake or waterfall trails.
But, these only account for approximately 20 miles of the total 500 miles of trails available. Thankfully, there are plenty of other trails and 75 scenic overlooks to enjoy along the Skyline Drive National Scenic Byway.
The byway runs from Front Royal to Waynesboro and will cost you $30 per vehicle to enter Skyline Drive, which gives you and your passengers entry to it for 7 consecutive days.
11. Three Fox Vineyards
Should your travels bring your near Delaplane and you enjoy wine, consider stopping by Three Fox Vineyards. In addition to tastings, pairings, and tours, you can also hang out on their four-season deck where you can see views overlooking rolling hills and Crooked Run Creek. Plus, your dog is welcome to join you in the tasting rooms and out around the vineyard. Water and treats are often available.
12. Williamsburg Antique Mall
If you love antiques and vintage items and you happen to be in Williamsburg, consider spending some time exploring the Williamsburg Antique Mall. With 45,000 square feet and over 300 dealers, there is plenty to see.
From collectibles and jewelry to furniture and more, you're bound to find something that interests you. And, your leashed and well-behaved dog is welcome to join you. You can even pick up some food and drinks from the cafe and relax at the outdoor tables with your dog.
13. Maggie Malick Wine Caves
Maggie Malick Wine Caves is located in Purcellville and is an award-winning winery that is also dog-friendly. In addition to 15 varieties of Sangria and wine, there are also two dogs on the property.
Not only do they offer canine events throughout the year, but there are also three off-leash areas with ponds on the property for visiting dogs to enjoy. Make sure you bring a towel if your dog loves the water!
14. Torpedo Factory Art Center
If you're in Alexandria and you like interesting places and art, check out the Torpedo Factory Art Center. This art center is located in an old munitions plant and was founded in 1974.
This art studio is known for having the largest amount of working artists in one place and it is dog-friendly. Your dog is welcome to join you as you explore and enjoy viewing photography, painting, sculpture, printmaking, fiber work, stained glass, jewelry, and more.
15. C&O Railway Heritage Center
If you like history and trains, and you're near Clifton Forge, the C&O Railway Heritage Center is the stop for you. Although your dog is not allowed in the museum or on the rolling stock, they are allowed to join you on a leash to explore the outdoor areas of the museum. This place is only open seasonally, so make sure it's open if you want to stop by and see it.
16. Assateague Adventures
If you love to take your dog paddling and your travels bring you to Chincoteague, consider spending some time on the water with Assateague Adventures. This outfit offers kayak and paddle board rentals and guided tours where your dog is welcome to join you.
The Assateague Adventures guided tours provide historical narrative and folklore while you paddle around coves and marshy waters. You'll see plenty of marine life and may even catch a glimpse of the wild Chincoteague ponies.
8 Dog-Friendly Hotels in Virginia
After exploring and running around all day, you and your dog will need a place you can rest. Not all hotels have dog-friendly rooms, and those that are available tend to fill up fast. To make sure you have a place to stay that will welcome your dog, it's important to plan ahead and book a room early. Start your planning with these dog-friendly hotels in Virginia to make things a little easier:
1. Mainstay Suites
The Mainstay Suites in Williamsburg is pet-friendly. You are permitted to bring two pets up to 65 pounds. Plus, there is no additional pet fee!
There is also a large grassy area at the back of the hotel perfect for walking your pooch. It is also located just around the corner from Colonial Williamsburg, which makes it the perfect place to rest after you spend the day traveling through history.
2. Snug Harbor Marina and Hotel
If your travels take you to Chincoteague Island and you need a place to stay, the Snug Harbor Marina and Hotel is pet-friendly and is a tropical paradise open from May through October. You can stay in a cottage right next to the water.
Plus, you're right by the marina in case you want to rent a kayak, canoe, or boat to explore. You might even catch a glance of the famous wild Chincoteague ponies during your stay.
An additional fee of $40 per night applies to your pets and you are welcome to bring two pets of any size along with you for your stay. You'll want to make sure you book ahead to ensure you have a pet-friendly room available.
3. The Alexandrian Autograph Collection
This historic hotel is located in Alexandria and is right across the river from the National Harbor. It's named after the city's founders, Philip and John Alexander. The Alexandrian Autograph Collection is historic, elegant, and pet-friendly.
They have a beautiful, dog-friendly interior courtyard and plenty of amenities for a luxurious stay. For an additional $25 fee per pet, per night, you can bring two pets up to 85 pounds along with you. When you make your reservations, a dedicated Canine Concierge will make sure a pet-friendly room is set aside for you.
4. The Clifton Inn
The Clifton Inn is located in Charlottesville. It is a hotel, restaurant, and wedding venue all rolled into one. It's also close to Thomas Jefferson's Monticello Estate.
Best of all, it's pet-friendly. You are welcome to bring pets of any size and there is a $75 pet fee per stay. You will want to book your stay here early as pet-friendly rooms are limited.
5. Quality Inn Petersburg
If Petersburg is where you'll be spending the night, make sure you include the Quality Inn Petersburg in your hotel research. It sits a short 3 miles from historic Petersburg, is close to several attractions, and offers many amenities to make your stay comfortable.
Plus, it's pet-friendly. This dog-friendly hotel permits up to three pets of any size and charges a pet fee of $10 per pet, per night. They do have a limited number of pet-friendly rooms available, so you'll want to call ahead and book early to reserve your room.
6. The Jefferson Hotel
The Jefferson Hotel is located in Richmond and is a good option if you're interested in a little luxury and historic charm. This hotel is known as one of the finest hotels in America and has been considered one of Richmond's grandest since its opening in 1895.
On top of plenty of amenities and activities within and around the hotel, there are also dog-friendly rooms available. Up to two dogs of any size are welcome to join you for your stay. There is an additional pet fee, which is $50 per dog, per night.
There is a grassy area on the property for convenience. Also, your dog is permitted to be left alone in your room unattended provided they are quiet and well-behaved when you are not around.
7. Sheraton Norfolk Waterside Hotel
If you'll need to stay overnight in Norfolk and want a view of the water, consider making a reservation at the Sheraton Norfolk Waterside Hotel. Although there are dog-friendly rooms available, there is a weight limit.
Up to two dogs of up to 70 pounds are welcome to join you for your stay. There is an additional pet fee, which is $150 per stay. If you have a larger dog and would really like to stay here, you may be able to talk to the hotel manager to see if they would be willing to make an exception.
8. Williamsburg Lodge
If you'll be exploring historic Williamsburg and would need to stay overnight, look into the Williamsburg Lodge. Not only is the hotel part of the Autograph Collection Hotels, but it is also a renovated Colonial-era manor with a ton of luxurious details and amenities.
Although you will need to book a Premium Room that has 1 King or 2 Queen beds because you are traveling with a dog, they do have dog-friendly rooms available. Up to two dogs of any size are welcome to join you for your stay at this hotel. There is an additional pet fee, which is $75 per stay.
8 Dog-Friendly Restaurants in Virginia
You'll be needing to chow down during your travels. Fast food or convenience stores can get boring quickly for you and your pup. Why not add some local cuisine to your diet with some of these dog-friendly restaurants in Virginia?
1. Acacia
For fresh seasonal fare in Richmond, Acacia is the place to go. Their menu features delicious entrees like crab cakes, oysters, ribeye, and more. It has an upscale midtown setting and features dog-friendly outdoor seating.
It's a classy dining experience with delicious food and a welcoming atmosphere. Your dog will even get a water bowl to go with their chow.
2. Le Refuge Restaurant
Le Refuge Restaurant is located in Alexandria. It is dog-friendly and is also the oldest French Restaurant in Old Town. You and your pup can take a break on the outdoor patio and chow down on some delicious food.
They don't have dog food on the menu, so you may have to bring your own snacks for your pooch or order some food you know you'll be able to share with them.
3. Lost Dog Cafe
Also located in Alexandria is the Lost Dog Cafe. In addition to their extensive menu and dog-friendly back patio, they also work closely with the Lost Dog & Cat Rescue Foundation.
This is a non-profit organization formed to continue the mission of the first Lost Dog Cafe – to find homes for stray pets. Take a break and recharge during your travels with the good food, good beer, great customer service, and love for animals that the Lost Dog Cafe is known for.
4. Aromas World Coffeehouse & Bakery
This restaurant has locations in Williamsburg, Newport News, and in the Swem Library on the College of William & Mary campus. Aromas World Coffeehouse & Bakery offers a full menu in addition to their delicious pastries, cakes, pies, and coffees.
Their outdoor seating is dog-friendly. Plus, you know your furry pal is welcome when the entrance is guarded by metal dog statues and water bowls are available. It's a great place for a quick snack and a drink or for a full meal.
5. Foster's Grille
If your travels bring you through Manassas during meal times, be sure to check out Foster's Grille. In addition to delicious food and a comfortable atmosphere, it's also dog-friendly.
Your pooch is welcome to join you in the outdoor seating area and will be provided with a water bowl. They also have locations throughout Virginia, including Alexandria, Bristow, Chantilly, Warrenton, and more.
6. Sweet Treats Bakery
Sweet Treats Bakery is located in Lexington. It's a great place to satisfy your sweet tooth and also for grabbing breakfast or lunch. In addition to bakery items and desserts, you can also find pancakes, omelets, French toast, burgers and sandwiches, soups and salads, and more on their menu.
They also offer vegetarian options. Plus, they are dog-friendly. You have options to explore the quaint shop and get bakery items to go, or you can dine inside or dine outside on the patio. And, your dog is welcome to join you wherever you go.
7. Citrus
If you find yourself in Virginia Beach around breakfast or lunch, consider grabbing some food at Citrus. Located just two blocks from the Chesapeake Bay, this restaurant specializes in daily breakfast and lunch offerings made fresh and from scratch using locally-sourced ingredients. Plus, their specials change every weekend.
Local favorites include blueberry pancakes made with their signature batter, steak and eggs, sweet potato biscuits, multiple types of French toast, tuna melts, corn beef Reubens, citrus chicken sandwiches, shrimp and crab Benedict, and more. Not only is your dog welcome to join you in outdoor seating on the patio, but there is even a special dog menu available.
8. Fire Works Pizza
If you're a fan of pizza and happen to be in Leesburg, make sure you stop by Fire Works Pizza. This pizzeria and bar is located in the historic downtown section of Leesburg. The outdoor patio is dog-friendly. There are other locations in Arington and Sterling if your travels bring you to those areas instead.
Along with craft beer and plenty of wood-fired pizzas, soups, salads, and other options on the menu, they also have a Food For Fido menu just for dogs. In addition to water, you can also choose from homemade dog biscuits, meatballs, chicken, and more for your dog. There is even a dog "beer" that is non-alcoholic and made from pork bone broth. On top of that, it comes served cold in a free Fire Works dog bowl that you can take home with you!
With dog-friendly travel guides on your side, planning a trip you and your dog can enjoy together becomes a lot easier. This Virginia dog-friendly travel guide is a good start, but it certainly doesn't cover everything. If you find somewhere else you want to visit, just make sure it's dog-friendly or you have a plan for your dog before it makes it onto your trip plan. Here's to safe travels, wagging tails, and a lot of fun with your furry friend!