Washington DC Dog-Friendly Travel Guide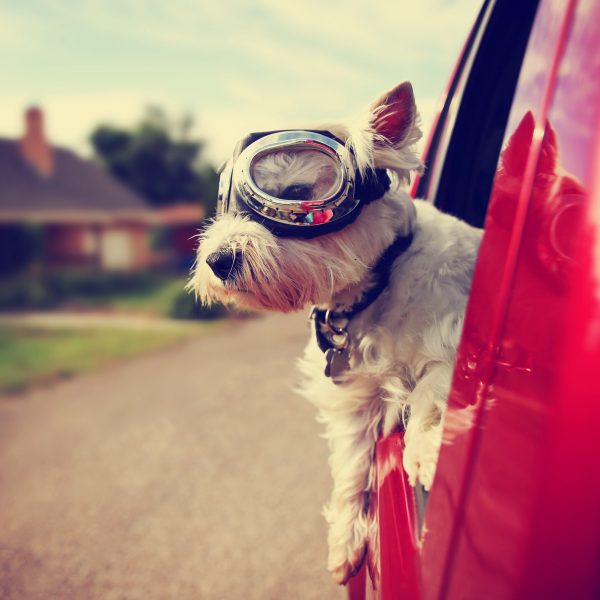 If you like to travel and have a dog, it can be challenging to make sure they can come with you; not all places are dog-friendly, after all. If you're heading to Washington D.C., there are plenty of attractions that are perfectly amenable to pet plus-ones. To make trip planning easier, this Washington, D.C. dog-friendly travel guide has some things to do, places to stay, and places to eat for both you and your dog in D.C.!
8 Dog-Friendly Activities in Washington, D.C.
If you don't plan ahead, you can't guarantee everywhere you go will be dog-friendly. Take a look at these dog-friendly activities in Washington, D.C. to see if any should make it onto your trip itinerary:
1. DC By Foot
DC By Foot is a walking tour that shows off everything DC has to offer. Capitol Hill, Arlington Cemetery, and the National Mall are just a few of the incredible sights along this tour!
Unfortunately, public tours are not pet-friendly. On the bright side, when you make a reservation for a private tour, you and your pup will get to see the sights with quality guide time!
2. East City Bookshop
You can browse with your pooch at East City Bookshop! This cute little bookstore welcomes dogs. They can trot alongside you and sniff around the shelves as long as your dog is leashed and well-behaved. They may even give your pup some treats!
3. Founders Park
Give your dog some much-needed freedom in Founders Park. This park has an entire area where dogs are free to run off-leash. You can have a picnic, take a hike with your dog, and play fetch to your dog's heart's content at this scenic spot.
4. DC Pedicab
Pedicab tours are an eco-friendly way to explore the city. DC Pedicab is one of the original pedicab sightseeing services, but there are plenty to choose from. This one, in particular, is dog-friendly and your dog is welcome to join you in the pedicab. If there's a different pedicab tour you're considering, just make sure they will welcome your dog before you put it on your trip plan.
5. Key Bridge Boathouse
If you love being out on the water and want to take your dog paddling with you, you have options in Washington DC. At Key Bridge Boathouse, you can rent a kayak by the hour, half-day, or full-day. You can even book a tour. And, your dog is welcome to join you. The Boathouse even has life jackets for dogs available.
6. DC Ghosts
If you love scary stories after dark, ghost stories, and the paranormal, set aside some time for DC Ghosts. This guided tour will take you on a historic ghost walk around the city. You'll see the sites and hear the real history behind the haunting of the capital.
Your leashed dog is welcome to join you as long as they are friendly, quiet, and well-behaved. Be aware that the after-dark tours will cover potentially sensitive topics like suicide, despair, woe, assassination, and straight-up murder.
7. DC Military Tours
If history and military history are your things, consider DC Military Tours. This veteran-owned tour company is located in Alexandria. Tours are reserved in advance and can be customized to the length and sites you need.
A resident historian will guide you through Old Town Alexandria with behind-the-scenes access while they share stories from its rich military history. Plus, your dog is welcome to join you as long as they are leashed, well-behaved, friendly to others, and relatively quiet on the tour.
8. Potomac Riverboat Company Canine Cruises
If you and your dog enjoy being out on the water and want to spend some time with other people and their dogs, consider one of the canine cruises with the Potomac Riverboat Company in Alexandria.
Canine cruises are 45-minute boat tours around the Alexandria Seaport that are offered from April to October. You can bring one dog with you and you have to keep them leashed at all times. The leash cannot be longer than six feet. While enjoying the trip out on the water, treats and fresh water will be available for your pup.
5 Dog-Friendly Hotels in Washington, D.C.
After a day full of fun, you want to make sure you have a place to stay where your dog will be welcome. Start your research with these dog-friendly hotels in Washington, D.C.:
1. Capitol Hill Hotel
If you'll need to stay overnight in DC, consider booking a room on the first floor of the Capitol Hill Hotel. Up to two dogs of any size are welcome to join you for your stay. There is an additional pet fee, which is $150 per dog, per stay.
There is a grassy pet relief area on-site. Also, as long as your dog is well-behaved and quiet when you are not around, you can leave them crated and unattended in your room. Plus, there are treats available at the front desk.
2. Kimpton Hotels
Kimpton Hotels tend to be some of the dog-friendliest hotels. They are known for offering many pet-friendly complementary initiatives. These tend to include a choice of dog beds in various sizes, eating bowls, bags for dog walking, a list of dog-friendly places to go, separate pet floors, and more. Individual offerings, pet fees, etc. may vary from hotel to hotel, so make sure you check into those details before booking a room.
3. Hotel Washington
Hotel Washington is only a stone's throw away from the White House! This hotel is also pet-friendly with amenities like toys, clean-up bags, treats, beds, bowls, leashes, and even grooming services. It does, however, charge $25 extra per day as well as a $100 cleaning fee.
4. Viceroy Washington DC
If you prefer to stay somewhere near Rhode Island Ave, consider reserving a room at the Viceroy Washington DC. Up to two dogs of any size are welcome to join you for your stay. And, there is no additional pet fee!
If your dog is quiet and well-behaved when you are not around, you can leave them unattended in your room; you just need to leave a phone number with the front desk before you leave. There is a grassy pet relief area on-site.
On top of that, the hotel provides a guest basket for four-legged guests that includes beds, bowls, treats, waste bags, and Pet-in-Room door hangers.
5. Hotel Hive
Hotel Hive is DC's first micro-hotel and is another dog-friendly hotel option in Washington DC. Up to two dogs of any size can join you for your stay.
You cannot leave your dog unattended in the room, but there is no additional pet fee at this hotel. Plus, it's only a half-mile from the National Mall.
7 Dog-Friendly Restaurants in Washington, D.C.
Although you can always rely on the food you packed, fast food, and convenience stores, that can get boring. And, it can make you miss out on the local flavor. Instead, grab a bite to eat at one of these dog-friendly restaurants in Washington, D.C. if you end up nearby:
1. Chef Geoff's
Chef Geoff's is a local spot known for its American cuisine and Sunday jazz brunches. It also has a large and spacious outdoor dining area where your leashed and well-behaved dog is welcome to join you.
Plus, there's something on the menu for everyone. From salads, pasta, and wings to sandwiches, crab cakes, pizza, and more, there are plenty of delicious options to choose from.
2. Bayou Bakery
Located on Capitol Hill, the Bayou Bakery is perfect to have a bite and take your dog along. There is ample outdoor seating so your furry companion is also comfortable. As an added bonus, they provide dog bowls so your pup can have some water and eat with you.
3. Art & Soul
Art & Soul is a true feast of the sensations for you as well as your dog. You can pick your choice of the famed Southern cuisine, while your dog enjoys a choice feast out on the patio.
In fact, they even offer a "Pooch Patio Menu" with select items just for them! From the Peanut-Banana Pupsicles to the Hungry Dawg and more, these items will enthrall and refresh your furry friend.
4. Flavio Restaurant
If you love Italian food, consider grabbing a meal at Flavio Restaurant. It's located in DC's Georgetown neighborhood and is a local favorite. The menu features classic Italian dishes with a modern twist.
From bruschetta, lobster Diavolo pizza, and seafood pizza to filet mignon and more, there is plenty to explore on this menu. Plus, your dog is welcome to join you at one of the outdoor sidewalk tables.
5. Logan Tavern
Logan Tavern is a local favorite at Logan Circle. Their menu features American comfort food and some options with a twist like baked meatballs, ginger calamari, bison burgers, Cajun-rubbed salmon, chipotle fried chicken, and more. Your dog is welcome to join you at the outdoor tables.
6. The Lounge
The The Lounge is an upscale lounge located at the Salamander Hotel. In addition to artisan cocktails, champagne, and other drinks, you can also get a bite to eat. Shrimp cocktails, sushi rolls, burgers, cheese plates, desserts, and more are all on the menu.
Your dog is welcome to join you at the outdoor patio tables as long as they remain leashed and are well-behaved. The Lounge even offers Afternoon Tea on the weekends, but you need a reservation to attend.
7. Baked & Wired
Baked & Wired is on Thomas Jefferson St NW and is a great stop for you and your dog. In addition to delicious baked goods and coffee for humans, this bakery also makes dog treats. Your dog is welcome to join you in the outdoor seating area.
You can order a variety of coffee and espresso drinks and baked bread, pastries, cookies, muffins, or quiche for you. And, you can also order something for your dog. Dog treat flavors include Bacon & Cheese, Peanut Butter Krunch, and more.
Although this Washington DC dog-friendly travel guide doesn't cover everything, it's a good place to start your research. Whether going for a day or staying for a longer visit, this travel guide can help ensure you and your pooch have a great time.
If you're heading somewhere else, take a look at other dog-friendly travel guides. Here's to safe travels and wagging tails no matter where your adventures lead!