7 Ways to Thank Your Veterinarian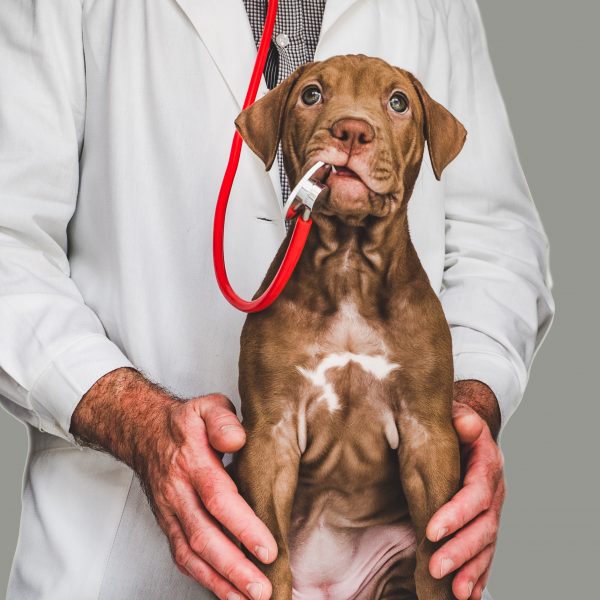 When you decide to add a dog to your family, you're also adding a lot of visits to the veterinarian. Even if your dog is perfectly healthy throughout their whole life, you should still be seeing your vet on a regular basis for regular checkups. Vets and vet techs do a lot to help you and your dog. And, with celebrations like World Veterinary Day, National Veterinary Technician Week, and more, there are plenty of reasons to thank them and times to do so. Here are a few ways to thank your veterinarian:
1. Write Them a Note
A handwritten thank you note or a note in a card is a great way to let your vet and everyone in their office know that you appreciate them. You can take things a step further by sharing your love on social media and in online reviews for their office. Not only will this put a smile on their face when they see it, but it can also help boost their business and help other pet parents decide whether your vet is the right fit for them.
2. Offer to Volunteer
Depending on the policies at your veterinarian's office, you may be able to volunteer there. Volunteering at your local vet can be a huge help and can give the vest techs a break that they seriously need. You may be able to clean kennels, feed the pets, or help out around the office.
If you have some sort of specialized training, you may be able to offer some of your professional time pro bono to help them out in some way. It may not be as fun as rubbing puppy bellies, but it could still help the entire veterinary practice and give the staff more time to tackle higher priority items.
If you can't volunteer at the office, your vet may have a shelter they work in or like to support. You can still thank them by spending some time volunteering there or by making a donation in their name.
3. Sponsor a Coffee Break
Everyone can use a coffee break during their workday, even if they don't drink coffee. And, sometimes, the best pick-me-up can be the smallest gesture. If you have some time and money, you can go to your local coffee shop and get a gallon or two of fresh coffee, some cream and sugar, and maybe a selection of bagels, muffins, or donuts to drop off at your vet's office.
The staff will be incredibly grateful, and you will have definitely brightened up their day. If you want to go a step further, you can stop in before going to the coffee shop and get a personal order from everyone. This will let them know that you appreciate them and will likely make them smile.
4. Feed Them for a Day
Food brings people together. You can bet that your vet's office is busy and there are probably days people don't get to eat lunch in a timely manner. When they get swamped, they may not have time to leave to grab lunch if they didn't bring anything in.
Similar to bringing in coffee, you can also drop off food. Whether it's something for breakfast or for lunch, having some delicious free food in the office can help put a smile on everyone's face. Plus, if you choose something that's easy to grab and eat quickly, you could provide just what your vet's office needed that day and also make sure no one goes hungry because they're too busy to grab a snack.
5. Make a Donation
While it may not be the most creative idea, one of the best things you can do is make a donation. Some vet offices have an emergency fund set up for pet parents who can't afford a necessary treatment or for stray animals that are brought in. Donating some money to this fund can be a great way to thank your veterinarian and help them out.
Some vet offices may also have a wishlist of items that they need, which can help you identify some good donations to make. If your local veterinary practice does not take donations, they probably have a local shelter or charity in mind that could definitely use some. Whether it's money, supplies, or time, making a donation in honor of your vet's office can be a great way to thank them.
6. Create a Kit
If you're more creative and you have the time, you can also create some sort of kit for your vet and their staff. It could be a simple thank you kit that includes a selection of snacks, gift cards, and a thank you note. You could also create a kit with a theme like relaxation or humor. Depending on the type of kit you're making, you'll likely get bonus points for making it animal-themed.
7. Be a Good Customer
You may have a great family-like relationship with your veterinarian, but they are still running a business. A great way to show your thanks is to be a good customer. If you make an appointment, do your best to show up for it on time or early. If you have to cancel an appointment or reschedule, give them as much notice as you can.
While you are at the appointment, make sure you listen to them, are open to suggestions, and follow their recommendations after the visit. Also, pay your bills on time. If there are financial issues, be upfront about them. Your vet may not be able to make the bill disappear completely, but they should be able to work with you on creating a payment plan.
These are just a few ways to thank your veterinarian. Since you'll be seeing them relatively regularly with your dog, it makes sense to spend time to choose the right veterinarian for you and your dog and to build a good relationship with them.