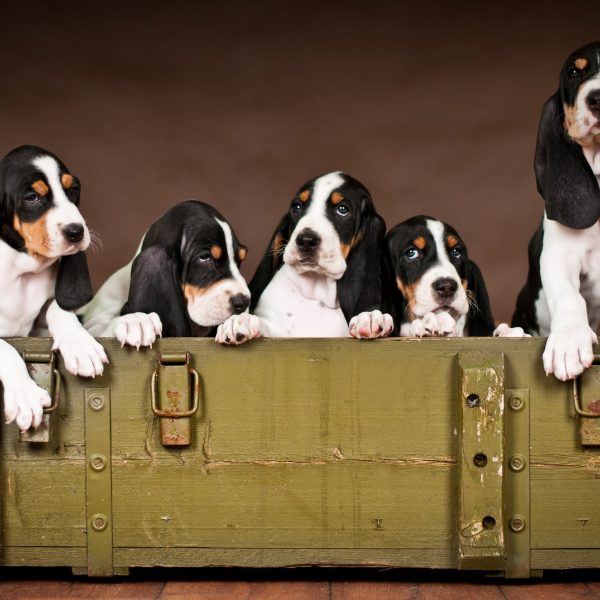 When talking about dogs, there are plenty of terms to describe specialized dog breeds or specific traits. Terriers, bulldogs, hounds, and more. Sometimes, it's not clear exactly what these broad terms or group descriptions mean. What is a hound dog? Here's what you need to know:
What is a Hound Dog?
A hound dog is a term typically used to describe a type of hunting dog that was bred specifically to chase or track prey. Essentially, dogs that are considered hound dogs all share hunting origins. Their ancestors were hunters and they were bred specifically for traits that would help them on a hunt.
Hounds usually have an excellent sense of smell, they are determined and focused while on a trail, and they usually have a lot of stamina and endurance for tracking and chasing prey for a long time. But, "hound" is also a term that describes a large and diverse group of dogs.
3 Main Types of Hound Dogs
Hound dogs are a diverse group, but they can usually be loosely categorized into three main types – sighthounds, scenthounds, and dogs that are a combination of both.
1. Sighthound
Sighthounds, which are also sometimes called gazehounds, are hound dogs that are uniquely skilled at chasing down their prey. They are capable of keeping up with prey so that it is always within their sight. They also tend to be skilled at overtaking their prey using their incredible speed, dexterity, and stamina.
Hound dogs that are considered sighthounds possess the ability to sense motion and act on it quickly. Their vision is considered some of the finest in the canine world, which allows them to track prey that is considered too agile for another dog to pursue.
Common examples of prey a sighthound might excel at chasing are deer, elk, fox, rabbits, hares, and more. The Afghan Hound, Greyhound, Irish Wolfhound, Whippet, Scottish Deerhound, and more are all considered sighthounds.
2. Scent Hound
Scent hounds track their prey using their nose rather than their sight. These dogs are known for having the most powerful senses of smell of the canine world, but aren't necessarily known for their speed like sighthounds are. Normally, a scent hound's sense of smell is more powerful than their sense of sight.
Scent hounds are known for being able to identify scents that are several days old. They have the endurance and focus necessary to identify a specific scent trail and follow it for days. The Bloodhound, Basset Hound, Beagle, Bluetick Coonhound, Treeing Walker Coonhound, and more are all considered scent hounds.
3. Combination Hound
Although the combination hound is not an official type like sighthound and scent hound, it does cover a lot of dogs that would fall into the hound dog category. These dogs have hunting origins, but use a combination of sight and scent to track and chase their prey.
Because they follow their prey using both, it is difficult to classify them as a scent hound or a sighthound. These dogs often have the stamina, endurance, and focus that all hound dogs are known for. Any dogs in this "group" are hound dogs that are not classified officially as a sighthound or a scent hound.
When it comes to "what is a hound dog?", there's a lot of ground to cover and a lot of dog breeds that fall into the hound dog type. Although there are differences between the breeds and individual variations among specific dogs, there are some generalizations you can apply to the group.
Overall, a hound tends to have a high prey drive, determination, endurance, high energy, and a working dog attitude where they are happiest with a job to do. They also tend to be loyal and devoted to their families. If you think a hound dog could be the perfect addition to your family, take the time to learn more about different hound dog breeds to figure out which one could be the perfect fit for you!