When Do Puppies Finish Growing?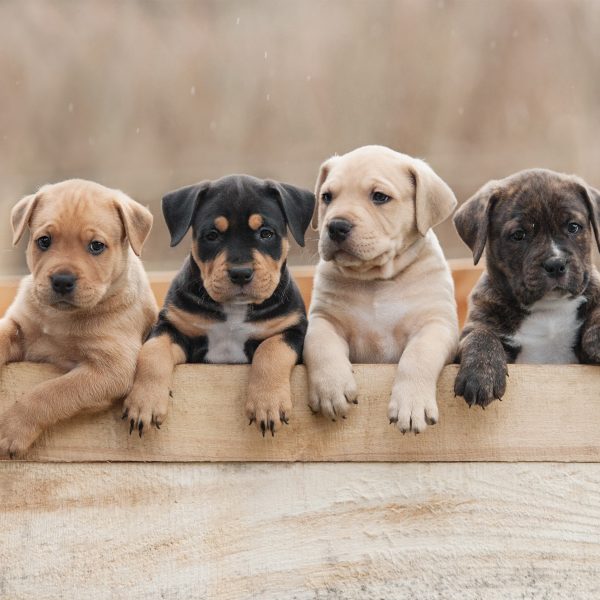 It may seem like puppies grow up fast, but they don't all "grow up" at the same rate. When your puppy finishes growing depends on several factors like their size, breed, nutrition, and more. Here's what you need to know to answer the question "when do puppies finish growing?":
When Do Puppies Finish Growing?
All puppies are considered adult dogs when they are one year old. However, puppies will also continue to grow in both size and height as long as their bones are developing. This can take 6-24 months depending on the dog.
A puppy's skeletal growth will determine how tall they will become as an adult dog. But, muscles and fat can still fill in once their bones are done developing, which can also affect their overall size even if it doesn't necessarily affect their height.
Smaller Dog Breeds Tend to Finish Growing Faster Than Large Breeds
Small dog breeds, and even medium-sized dog breeds, tend to finish developing more quickly than larger breeds. Because they tend to stay small, they don't typically require as much time to develop.
Many small dog breeds tend to stop growing when they are 6-8 months old. Medium dog breeds tend to take a bit longer and, on average, reach their adult size when they are around one year old.
Larger Dog Breeds Tend to Need More Time to Finish Growing
It takes time to grow into those longer and bigger bones! Larger dog breeds tend to continue to grow until they are 12-18 months of age. However, this depends completely on the size of your dog. If your dog breed is a giant breed that tends to weigh more than 70 pounds as an adult, they may continue growing until they are 2 years old.
Purebred Dogs are Easier to Predict Than Mixed Breeds
Purebred dogs are more predictable when it comes to their traits and characteristics while mixed-breed dogs are more variable and unpredictable. Because we have a better idea of what to expect in the overall size, temperament, etc. in a purebred dog, it's easier to estimate a range of when they will finish growing as puppies.
The final size and development timeline are more difficult to predict in a mixed-breed dog. You can work with your vet to determine when your mixed-breed puppy is done growing. If you can still feel the "knobs" of the ribs when you run your hands down a puppy's rib case, you are feeling the growth plates of the ribs. This means your puppy is still growing and their bones are still developing. Your vet will know what these feel like and can help you determine whether your puppy's bones are still developing during their puppy checkups.
Avoid Too Much Exercise While Your Puppy is Growing
You want to make sure your puppy is getting enough exercise and is eating right because good nutrition is essential to a growing puppy. Plus, obesity in puppies can lead to joint issues, like hip dysplasia, later in life, so you also want to avoid that. However, you want to be careful and avoid too much exercise when your puppy is still growing.
Too much exercise and high-impact exercise while your puppy's bones are still developing can cause damage to the joints and bones. A prolonged activity like jogging or running, especially on hard surfaces, is generally not a good idea for dogs younger than 14-18 months. With large or giant breeds, this should be extended to 2 years.
Basically, you want to make sure your puppy's growth plates are done developing and have hardened into their adult bones before you take on rigorous exercise activities. If your dog is a mixed-breed and you're not sure when they'll be done growing, make sure you consult with your vet before taking on high-impact or prolonged exercise with your dog. Even with a purebred dog, it's still a good idea to run things by your vet before you start a new, more intense activity with your dog.
So, when do puppies finish growing? As with a lot of things when it comes to your dog, it depends on your dog. If you aren't sure about the size or growth timeline to expect in a puppy, talking to the breeder before purchase and then following up with your vet are good ways to narrow it down and get the information you need.