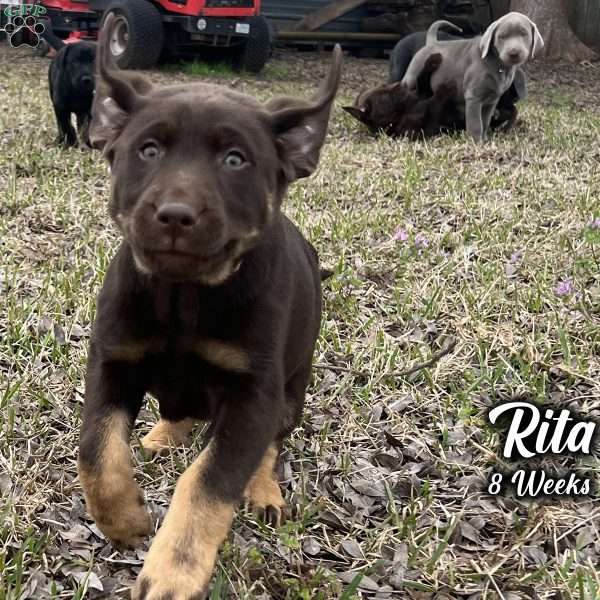 Rita is what is known as a Tan Point Lab. A recessive genetic gene that shows up rarely in labs, but it is there! She is absolutely 100% PureBred lab and AKC registered. She is an incredibly smart and darling puppy. She is the first one to come to the couch and want to come up and snuggle (along with her sister Mojito!). She'll lay there for as long as you allow her to! She loves to be near you at all times.
A very smart puppy, she is familiar with Potty Bells and she alerts to go outside. Well on her way to becoming house trained! You do have to be quick, but she knows what to do! She loves to play tug with rope toys and crunching on a water bottle is where you'll mostly find her – or chewing on a deer antler! I provide lots of love and attention to the pups and they live in our house as part of the family from birth until they find their FurEver homes!
I OFFER TO PERSONALLY DELIVER YOUR PUPPY.
The pups are very well socialized with all ages from very young to old. I have provided Super Dog training, and we do daily enrichment activities and introduction to different experiences such as loud noise introduction, scent introduction (wild game), leash introduction, different surfaces and environments, and have played with many different types of toys and have been introduced to a "Puppy Playground" from 2 weeks of age equipped with enrichment toys. They are on a schedule currently and can easily adapt to the schedule you set for them.
It is important to me to find the right puppy for your family. I love to share my knowledge to provide you with the support you need to raise a beautiful, well-rounded dog.
The pups have been dewormed at 2, 4 and 6 weeks, and are current on all shots. They have also been vet checked. I also offer a generous health guarantee. They have been provided the best food and environment.
The pups' daddy Gauge is the happiest dog I have ever met and very gentle with kids and everyone he meets. Eager to please and ready to do whatever you wish at the drop of a hat. He is a gorgeous Lab with a perfect otter tail and is a large dog at 115 pounds. Beaux is a smart Silver lab with a vibrant personality who is happy to play or snuggle, weighing 71 pounds. She is quite honestly the smartest dog I have ever had. Easily trained and she always passes this intelligence to her babies.
Gauge (Sire) and Beaux (Dam) are clear of all genetic disorders and has been DNA tested. They are clear of 16 breed specific disorders and clear of all other genetic conditions tested for. Clear of PRA, Centronuclear Myopathy, Congenital Muscular Distrophy, Hereditary Nasal Paraketosis, Skeletal Dysplasia and more.
Our pups live in our home and are part of the family along with our 5 adult labs who have taught the pups boundaries and plenty of lessons. We also have cats, so they are familiar with small animals also. During puppy rearing, I dedicate all my time to ensuring our dogs are ready to be a part of your family and have the best start to life to easily integrate into your schedule.
Both parents are our dogs and are smart and loving. They love to retrieve and are eager to please.
I have reference numbers of all previous families who are more than willing to offer their positive experience with our previous litters and the puppies themselves!
Gender: Female

Sire: Gauge
Dam: Beaux
DOB: December 29th, 2022
Age: 11 Weeks
Available: Available Now
AKC Registered
Vet Checked
Vaccinated
Dewormed
Family Raised
Socialized
Health Guarantee
Our puppies are given the best treatment from the beginning of life.  They are given Super Dog training to make a better, more adaptable dog in the future.  They live in our home and are part of the family and daily life, so exposure to life sounds (vacuum, TV, visitors, etc).  I make sure to socialize the pups and have many visitors of varying walks of life and ages, and they are very well socialized.  This will serve them well as they get older. The babies get nail trimmings and baths to ensure that they are not too much of a handful for their Furever Parents. Daily, I do enrichment activities and are exposed to a multitude of loud noises and environmental factors.  Along with being socialized with people, they are among our 5 adult labs who are able to "teach them manners" and set boundaries.  We also have 3 cats and the pups definitely have boundaries with them from the beginning! My pups are not just left to their own devices to wander around with one another.  We have a Puppy Playground with different sounds and toys attached to it, which they play with daily and love it! I take great pride in raising pups to easily and seamlessly integrate with their Furever Parents.   The parents are all on site and are family dogs. They are fed the best food and so is their mom so they receive top notch nutrition.  This is definitely a joy for me to do! Parents of this litter are a Brindle Black Lab (Male) and a Silver (Female).  They are both DNA tested and 100% labs.  Tan points and Brindle just come from recessive genes that both parents have to have to cause the tan points – called Mismarks. Please remember that these pups are LABS.  Please research the breed before making your decision on picking a pup.