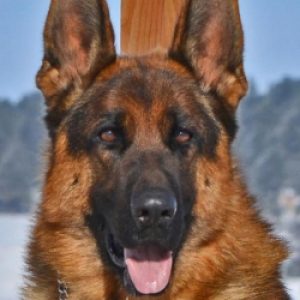 Ben Kauffman
German Shepherd-Cavapoo
Ben Kauffman operates a small kennel in Atglen, his primary focus being on high-end German Shepherds with true German Bloodlines. The Kauffman's German Shepherd Sire, Putin Vom Amur (see below), is a top end dog that was bred and imported from Germany.  The focus at L-Valley Kennels is on the care and proper breeding of our puppies, as well as our sires and dams. We have a great relationship with our dogs, and take great pride in finding them the right forever home. Our breeding program is the main focus of our family, and we enjoy connecting people with their new family pet. Please feel free contact us about current or future litters as we are open to advance deposits.
Putin Vom Amur is of Champion Bloodlines imported from Germany and currently lives in Pennsylvania. He has IPO/1 working title. His hips are recorded in Germany as A2, his elbows being normal. He has the pedigree of top showing dogs in Germany, with some VA1 & V ranked and/or Schutzhund titled individuals. Putin is registered with the German SV, has his "pink papers", and is also registered with the AKC. This Sire has a gorgeous black and red color, with a dark face. His red is a deep mahogany red and his hair coat is the short stock coat. His personality is super, as Putin is intelligent and friendly, while still having his protective instincts.
Ben Kauffman has achieved the status of Greenfield Certified Breeder for his quality breeding practices.