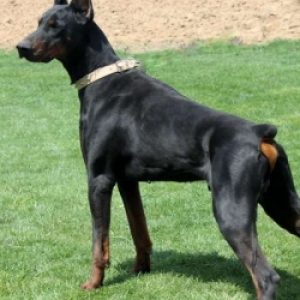 John J. & Elizabeth King
Doberman Pinscher-Rottweiler-Belgian Malinois
John King is a Dog Breeder and owns a USDA licensed kennel which he operates with the highest of quality in mind! While his speciality breeds are the Rottweiler (25 years experience) and the Doberman Pinscher (10 years experience), he also has quality Bernese Mountain Dog bloodlines he works with. All puppies from the King family spend lots of time socializing with the King children and are even acclimated to the leash while still in the King's care. The goal of John King as an Expert Dog Breeder is to bring the highest quality puppies to his customers that will become great family pets!
John King has achieved the status of Greenfield Certified Breeder for his quality breeding practices.
John begins a puppy vaccination schedule at 4 weeks old and continues until the puppy is adopted.
John begins a leash training program at a young age with his puppies.
Mr King accepts deposits for puppies prior to adoption and will keep and train the puppy until an adoptable age.
Breeder Qualifications
Achievement for:
Quality Breeding Practices
Recognized as a:
USDA-Licensed Dog Breeder