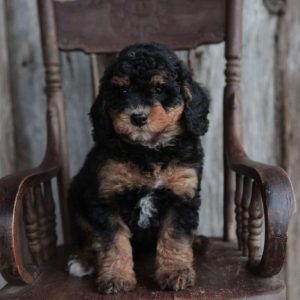 John Yoder is a dog breeder from Flat Rock, IL who loves to raise puppies and make peoples lives better while providing a great family pet. It is a family effort for the Yoders since John, his wife Virginia, and his 3 children all help raise the puppies. As a result, the Yoders offer only the most well-socialized pups. John puts customer experience in the highest regard, therefore receiving great feedback from his adopting puppy parents! "Raising puppies is not just about what we get out of it, we are doing this for our customers. Giving our customers the puppy they want is why we do this", Mr. Yoder said.
John and his family's primary breeding focus is on perfecting the Mini-Bernedoodle designer breed. It is a cross between the Bernese Mountain Dog and the Miniature or Toy Poodle. The Yoder family uses the Miniature Poodle rather than the Toy, therefore making puppies weigh between 20 and 30 pounds full grown generally. Finally, to learn more about Yoder Family Family Puppies, call John and Virginia directly and view their puppies below!
All Yoder family Puppies are covered by a 1-year genetic health guarantee by Mr. Yoder. Please inquire for more details.