Reviews for
Steven & Ruthie Fisher
Average based on
1 Reviews
Steven was very pleasant to work with and answered all of our questions very quickly. He allowed me to visit his home and to see the puppy we had planned to get. The puppy was in a nice environment and was well socialized with his other dogs, which were very well mannered. We have had our sheepadoodle for 2 weeks now and she is fantastic.
- Sean Parker,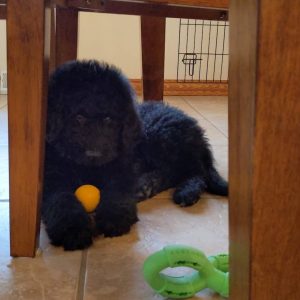 We adopted our sweet Newfiepoo, Rufus, in May 2022 from Steven Fisher in Strasburg, PA. Rufus is a jet black F1 Newfoundland Standard Poodle cross with a wavy coat, a truly gorgeous dog who displays the best traits of each of his parents. The adoption process was stress free, which was such a blessing after being given the runaround from an unrelated breeder in another state. Mr. Fischer was professional and responsive to all our questions, and within one week of purchase, Rufus was delivered to our front door in rural Wisconsin in perfect health, appropriately dewormed and vaccinated, well socialized, and straight up adorable. Rufus got the gold star of approval from our vet and groomer. He has a kind, calm, and protective disposition and is particularly fond of children. He is extremely mellow, and is intelligent and food motivated and so we've found him to be very trainable. I would recommend Steven Fisher to anyone needing to adopt a low-allergen dog, regardless of how much or how little dog experience you have.
Megan Smith
Share your thoughts on this breeder!
Have you purchased a puppy from Steven & Ruthie Fisher?