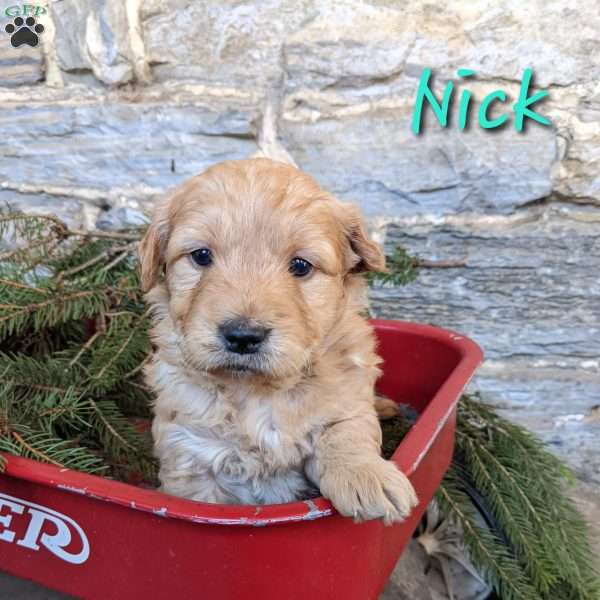 Breeder:
Jeff & Lucinda Newswanger
To contact the breeder about this puppy, click on the "View Breeder Info" tab above.
...We offer a one year genetic health guarantee
.... this puppy is a first generation miniature goldendoodle where the mom is a Golden Retriever and the dad is a 10 lb.toy poodle. For this reason we cannot guarantee size, weight, or coloring, since any given pup can favor the dad or the mom more.
.... come pick yours today and you will receive a free blanket, a toy, a bag of food, and all the pups vaccination and deworming records.

Gender: Male

Sire: Chase
Dam: Roxie
DOB: October 20th, 2022
Age: 7 Weeks
Available: December 15th, 2022
Vet Checked
Vaccinated
Dewormed
Family Raised
Socialized
Kid-Friendly
Health Guarantee
Extended Health Guarantee
We area family of dog lovers striving to raise happy, healthy, puppies. We specialize in raising Miniature Goldendoodles and have found they are a great low shedding option for people who love the Golden Retriever personality. Our puppies are family raised, and our children help with a daily play routine, making our puppies very well socialized. For more information on available puppies for sale, contact us today. Our goal is to fill that spot in your heart and home that only a puppy can!