Greenfield Puppies Reviews
We love dogs and people and people with dogs.
We adopted Brooke from Elam and Rebecca Huyard in Coatesville, PA. Rebecca was wonderful to deal with from the start. We drove 4 1/2 hours to go get her. She was perfect on the long drive back. She is a wonderful puppy!!! We couldn't be happier with her. I would highly recommend getting a Golden Retriever from her. The place was clean and beautiful. All the puppies were healthy, clean, and happy. Best decision we ever made!!

Tracy U.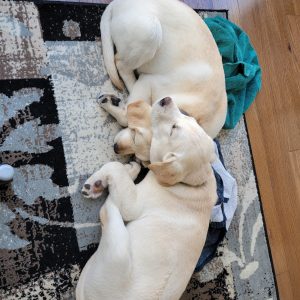 We purchased 2 yellow lab puppies from Levi stolzfus in Leola PA we could not be happier with out new additions.

Kelly H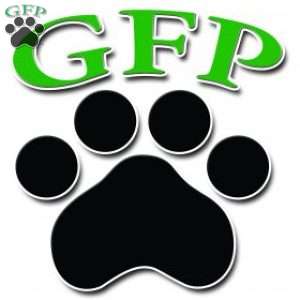 I can't thank you enough for making my search for a Cavapoo puppy so easy! The pictures were true to actual and the video too. I must have watched it a 100 times! Ephraim and Ruth Fisher were wonderful. They were responsive and answered all my questions during the process. They allowed us to meet the momma and the rest of the litter which was a true joy. Our little Mimzy is happy, healthy, and SMART! In less than a week she's already figured out potty training. Such a great experience and I highly recommend puppies from Ephraim and Ruth!

Sharon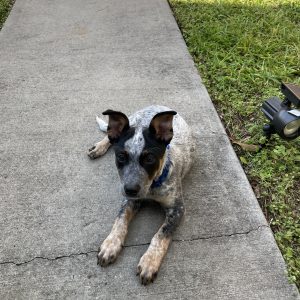 Me and my wife got a Australian Blue Heeler Cattle Dog from Levi Beiler in Pa. Levi was awesome to deal with and arranged for the pup to be delivered to us in Fl The pup is very healthy and was very sociable and playful from the first minute he arrived. It was obvious he had been well taken care of! Ranger is a very intelligent pup just had him for two weeks and he is already obeying verbal commands and house broke. If your looking for a awesome pup I highly recommend Levi Beiler.

Ray D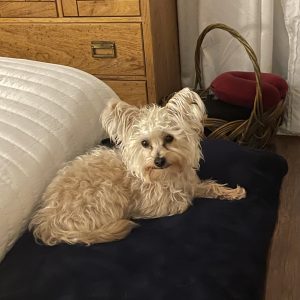 This is my precious Nugget he is a yorki poo that we bought from Lucy Martin who is the breeder. My Nugget is 5 lbs of love and affection, he's 10 months old now he's such a good little boy we love him so much, Barbie explained everything to me on the phone about Nugget and what to feed him, and also when my husband and son went to pick him up the Martins home is very clean and the Martin are extremely nice.

Maria P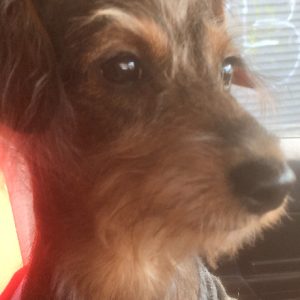 The folks at the place are nice people but i feel that fraud was committed in my case. i purchased what i believed and was advertised as a poodle mix. i picked up dandy , was given paperwork. i get this puppy and believe it will eventually grow into its looks. but it never happened- i don't know what kind of dog this is. when i'm asked i say it's a dog !!! this place sold me a fake poodle mix, me and my family out of a dog.

Fanny A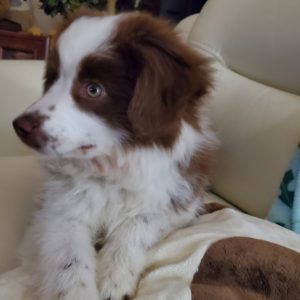 On March 14th, my 60th Birthday, my brother sent me a link to Ginger, an adorable mini aussie. I had lost my 14 year old pup ( that I had since she was 8 weeks old) in October and didn't think my heart was ready for another dog. When I opened the link and saw this sweet girl I knew she was meant to be mine. I contacted Joe Hostetler about her, made the arrangements to have her delivered to me in Florida from Ohio. He was wonderful to work with. He sent me a pic of her after giving her a bath the night before her travels. She arrived late at night on March 23rd and I fell in love instantly. She has been home for 4 days now and I can't say enough about how sweet and smart she is. She came with the name Ginger but I changed it to Willow because she is as fluffy as a pussy willow…and she already knows her new name. She loves to go for walks and to play fetch. Not to mention she has only had a couple of accidents in the house (which were more my fault then hers because I didn't get my shoes on quick enough) she goes to the door and whines when she has to go potty. She is just a sweet , sweet girl and I feel so blessed to have her as mine. I see many years of joy ahead of us. I recommend Joe Hostetler in Lancaster Ohio to anyone looking for Australian Shephard pups. I couldn't be more happy!! Thank you Joe!!

Kate F.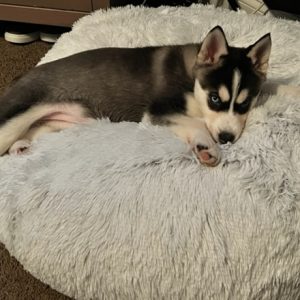 Just last week, I logged on to this platform to find the Siberian Husky I've always wanted. It was 12 midnight as we were scrolling through the dogs we immediately saw ( Lisa) whom have since changed her name to Scarlet. It was rally LOVE at first sight. We looked and other dogs and and saw that she has a sister Lila that we were also interested in. However when I called Rebecca the very next morning she let us know that only Lisa was available. I was still excited and drove 3 1/2 hours that same day to pick her up through rain and thunderstorm we were super excited to finally have the dog we've always wanted. Rebecca was amazing and worked with us, as she was so understanding with the travel and delay. Upon handing me my forever pup so handled the pup with so much love and care and even seemed sad to let her go. My pup is healthy, happy, playful and lovable and we were so excite to show her off that we are made another trip to Rebecca and Reuben to pick up their last edition, Lester for our brother. I will continue to follow Rebecca and Reuben and plan to get another one possibly later this year. Rebecca and her family are fine people and I really recommend them. Thank you

Zoraida & Gabriel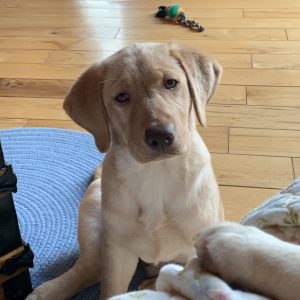 We were searching for a female yellow Lab and came across Greenfield puppies on the internet. I found two adorable Dudley Lab pups located in
Christiana PA belonging to a Samuel Stolzfus. We made the 4 hour trip a few weeks ago and brought our little girl home. The litter of 11 looked healthy and were very active, the mother was well kept also.
Our first experience with Mr Stolzfus was very pleasant, we would not hesitate to purchase another puppy from him in the future.
Maisie is helping our 6 yr old very fearful rescue Lab mix to come out of her shell, they are getting along great ! We are very much in love with her!

Stacy C.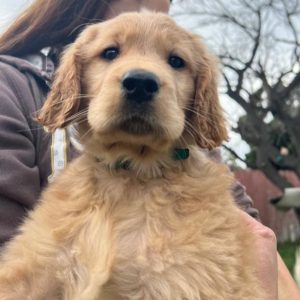 I have been looking for a golden Irish puppy for a while and found one on Greenfield Puppies and contacted the breeder Mr. Dannie Lapp in Pennsylvania. I live in California so I needed a shipping service and he found a great shipping company for me and shipped him to California with Health certificate and vaccine record. He is adorable, super playful and healthy. I am very happy that I got the puppy from Mr. Lapp. When I was talking to him over the phone I had a feeling that he really cared about his puppies and was taking good care of them. Thank you very much to bring such a wonderful puppy to the world! I highly recommend purchasing from Mr. Lapp.

Alexis Y.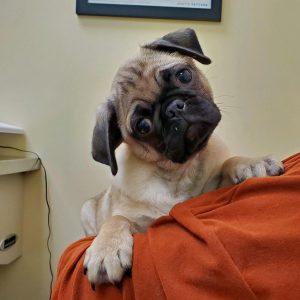 On February 11, 2022, I purchased my pug, Odie, from Samuel and Anna King in Farmville, VA. He is absolutely wonderful, and I couldn't be happier. My vet said he was probably the healthiest pug baby she'd ever seen and didn't expect him to have the medical problems associated with a lot of pugs. Odie is smart, learning so fast, sweet as he can be and I highly recommend purchasing from Sam King in Farmville, VA. The attached picture was actually taken at my vet's office and posted on their Facebook page.

Edie C.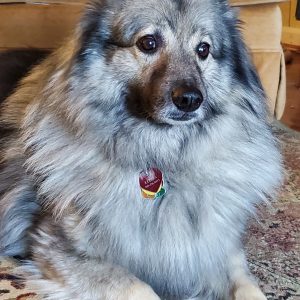 Ten years ago, we acquired a Keeshond pup from Mr. Lapp of Greenfield. She has been the best of all dogs. Perfect health, great friendly disposition. She is our second Kees and I would have no other breed, thank you for bringing her to the world.

Donald K.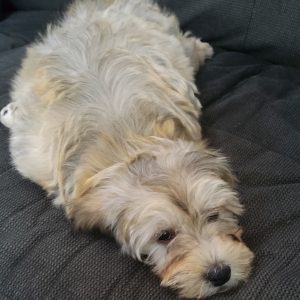 How we got here… We lost our Lab mix over a year ago and our Boxer nine months ago. We both love dogs, were undecided about starting over, especially with a puppy and didn't want a large dog. Thanksgiving Day we were watching the National Dog Show. We saw a Havanese, which reminded Jay of a Sheepdog he had years ago. This Havanese was stunning! We started looking casually noting there were not alot of Havanese available locally. We found Greenfield Puppies site which lead us to a beautiful female named Alice. We called the breeder, Stephen Beiler in Lancaster, PA. We had a very informative conversation with Mr. Beiler, made an appointment to meet Alice and she came home with us the same day. Alice has been renamed to Maggie. Maggie is a wonderful pup, is doing very well and had a perfect vet check. We would recommend Mr. Beiler to anyone looking for a healthy pup.

Kathy and Jay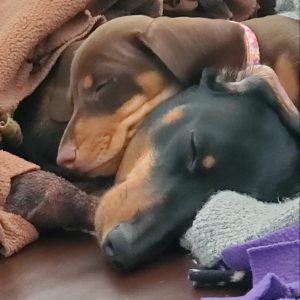 Found a Dachshund breeder Susan Doherty & got my baby girl last year, then just picked up another puppy from her, so now I have sisters!!! Her puppies are so pretty & have a very happy disposition I would highly recommend her if your looking for a Dachshund
Great breeder for Dachshund Susan Doherty

Penny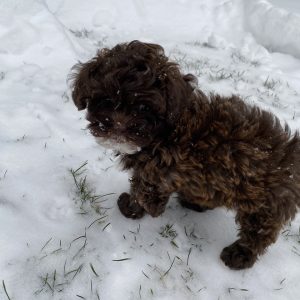 Testimonial for LouAnn Martin ~ After spending so much time searching websites and local pet stores for pups, when I saw Heidi on greenfieldpuppies I called the breeder almost immediately. We got our sweet puppy from LouAnn Martin, and she was incredible throughout the whole process. Easy to contact, very kind and honest, and helpful from the time we first contacted her to when we picked Heidi up and brought her home. We got Heidi at eight weeks and at her first check up with our vet she's totally healthy. She's a shihpoo, just like our other 1.5 year old dog Piper. Heidi has brought so much joy to our home and has such a sweet and sassy personality and keeps our other dog on her toes! Thank you so much to LouAnn for bringing Heidi into our lives, we are so grateful!

Susan E.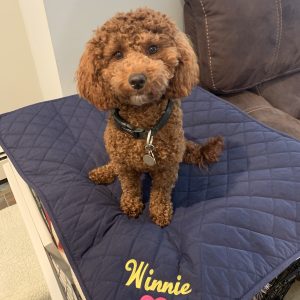 This testimonial is for Ben Speicher. We couldn't ask for a better experience as we chose our new member of the family. Ben was extremely receptive, immediately calling back when I had questions leading up to the day we picked up our girl. Ben has a beautiful house with a large yard where the puppies can run around. Winnie, our pup, is extremely loving and playful. We have two sons, so it was very important to us that she be good with kids. It was apparent that Winnie was regularly exposed to Ben's children. I highly recommend Ben at Greenfield Puppies. His honesty, attention, patience and love for his pups is second to none.

Cassie M.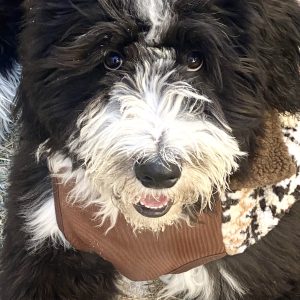 can't even believe it myself but this bernedoodle is the best dog! Very social and SMART! At 4 months she was using doggie door, fetching, sitting, shaking paws, and never chewing on anything but a bone and her toys, which she Loves! I just moved to Colorado, and she has been a blast in the snow and hiking and walking trails! Stubborn just like me, so it was meant to be!!! She is four months close to five months old and is about 48 lbs!

Claudia J.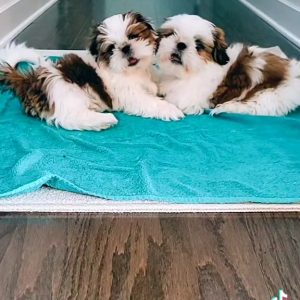 We bought Coco and Charlie as a Christmas present for our kids on 12/24/21 from breeder Joan Brechbill. Coco is a feisty little girl, full of energy. Charlie is a mellow fellow, the sweetest little boy. Both are healthy pups. Joan was amazing! Always so responsive to my text messages and my questions. At first, I was apprehensive buying pups from an online site. But let me reassure you, it was a decision we will never regret. If you are looking for healthy pups and a safe and easy transaction, then look no further. Greenfieldpuppies.com is the way to go.

Angela T.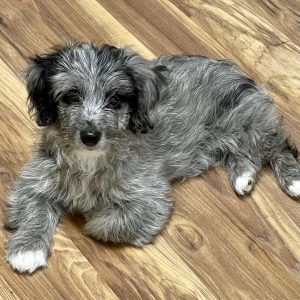 We got are sweet girl Elsa from Sam and Anna in GORDONVILLE, Pa and we couldn't be happier. Always have been Leary of buying an animal online but he was amazing to work with from start to finish. We went to get the puppy and you can tell they were very well taken care of. She is amazing and we love her so much! Would highly recommend Sam and their puppies.

Stephanie S.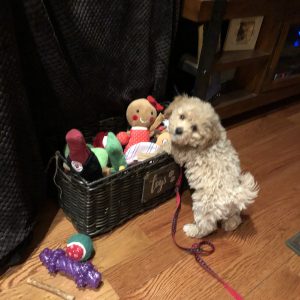 I purchased my Bishon Poo on October 23, 2001. The Stoltzfooz family were most welcoming and returned my phone call the same day i called. Stephen was very pleasant and informative. I named my fur baby Bella, and she is now 4 months old and doing great. We have a lot of training to do, but the potty training is doing very good. Bella is a well-adjusted, fun puppy, that is bringing me joy every day. Having a daily routine is assisting her well with all aspects of training.
She is beautiful and eager to learn.

Marie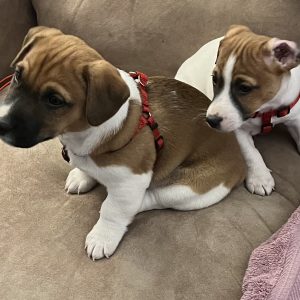 We were able to get 2 beautiful puppies from Melvin and Ruth Fisher. It was a wonderful experience and has really brightened our lives. They puppies are sweet natured and healthy little boys. They are certainly keeping us busy ! I would highly recommend the Fishers and enjoyed meeting Melvin and Ruth who are wonderful people. I would like to thank them so much for their kindness and I highly recommend them.

Martha Smith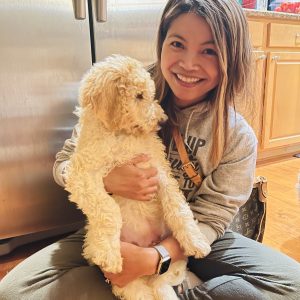 We got Ace from a Breeder in Fort Plain, New York. Ace is a male Goldendoodle. He is such a well behaved puppy. He listens and loves to follow his big brother, King around who is a Pitbull. He loves to play, cuddle, and is a very energetic little puppy. He is the perfect addition to our family.
We want to thank, Amos King for the quick response and friendly service. Very professional process meeting my Ace for the first time. Ace was playing with his siblings and I got to play with all of them too. It was a very nice experience to have all the puppies jumping on you with so much joy in their eyes. I ended up taking Ace and one of his brother home for a friend. Amos King helped with getting the puppies situated for the 3.5 ride home. I couldn't have asked for a better experience. Thank You.

Samone Lynch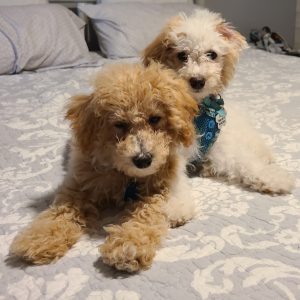 We love our sweet Bich Poos! Emma and Gracie have been an amazing addition to our families. We have had them for 3 months now, and could not love them more!
Stephen was excellent to work with and his kennel was spotless. I would highly recommend Greenfield puppies to anyone!
Emma needed a strong Pennsylvania Dutch name since she is from some of the most beautiful country ever! (and my father was Pennsylvania Dutch). They are both healthy and smart. We couldn't be happier!
Thank you Stephen and Greenfield Puppies!

Cheryl Lewis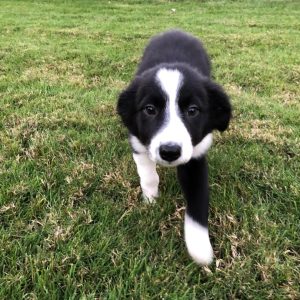 We got Shadow from Benuel Fisher in Narvon, Pa. Shadow is a female Border Collie who is a loving, healthy, playful and very active puppy. My son and I are both delighted with the joy she has brought to our family and are sincerely grateful to the Breeder, Benuel Fisher, for our new puppy. Thank you.

Brian McGuire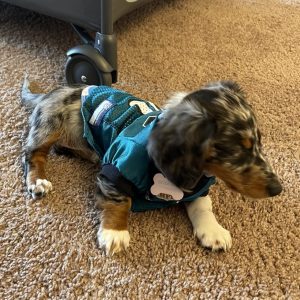 I got Delta Rose from the Weaver Family in Denver , Pa. Shr is a silver dapple, mini dauchshund. She is a very sweet loving puppy and very active! It is a great joy to be her puppy mommy, she is a loving little girl. She brought a big joy to our family.

Sharon