Greenfield Puppies Reviews
We love dogs and people and people with dogs.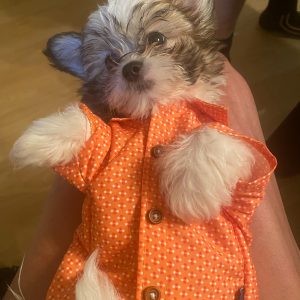 We got Teddy (shichon) from Wendy Rust and I can not say enough good things about him. Hes very good, loves everyone potty trained and the cutest pup ever. He is the perfect addition to out family. Wendy was wonderful to deal with and I would highly recommend her and Greenfield puppies. Thank you so much.

Katie B.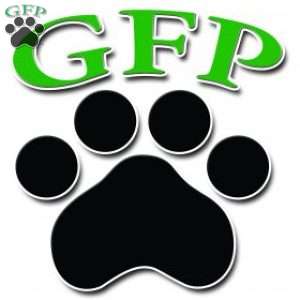 I would like to Thank Greenfield for the wonderful breeder I worked with. We got a Boston terrier from Leroy Stoltzfus. He is a very kind person and was very helpful. His home is nice his kennel is very clean. The puppies he has is very taken care of. Every thing is very clean. He is a very good breeder. We got a very sweet and smart little girl. Call Leroy in Gap, Pa. thank you very much.

Roy S.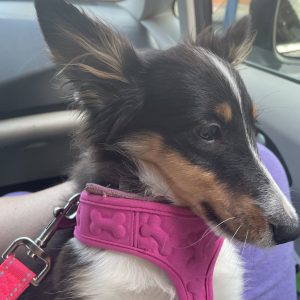 I purchased a beautiful Shelty from Steven and Katie Riesling through you! Our puppy is not only healthy but so smart loving and funny! She is now only 15 weeks old and sits gives us her paw and obeys to stay! She opens up the cover over her food and water! She loves taking my shoes to keep them next to her in her bed! The day I purchased her she learned right away to walk on her leash! She loves children! The Riehls are excellent breeders and super sweet! She loves my 2 year old male shelty they play together and share their food! She's been vet checked and she's completely healthy! I just want to say thank you to the Riehl family and to Greenfield Puppies! Nancy Eugene Spencer CHAYTON and Beauty Epps!

Nancy Epps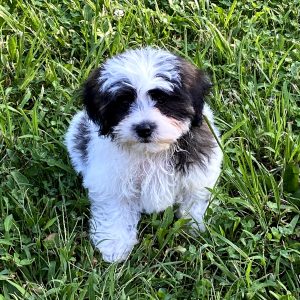 On August 25, 2021 we bought a female Shichon from Stephen Stoltzfoos in Ephrata, Pa. We cannot say enough nice things about our experience. First of all, Missy is delightful! She is very smart, friendly, and a very gentle puppy who loves everyone she meets. Stephen is an excellent breeder. Missy was very well socialized and in excellent health. We just had our first vet checkup (it takes awhile to get an appointment!) and she did great! She is already about 80% housebroken. Stephen's farm is beautiful and immaculate and he has a very nice family. A great experience!!

George and Karen Ross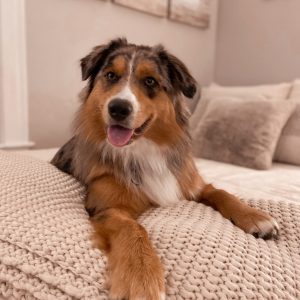 I was able to find my puppy Crue through this site and could not have been happier with the outcome. Greenfield Puppies provides amazing resources that makes it so easy and simple to contact the breeder and find your forever pup! We got Crue almost a year ago and he is the absolute perfect dog I could've asked for. Super easy process, would highly recommend to anyone looking for a new addition to their fam! Will definitely be coming back here when its time for Crue to have a new sibling!

Lindsey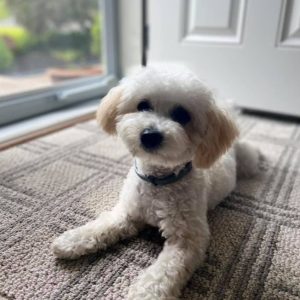 Greenfield Puppies is an awesome site to find puppies! We were a little skeptical of buying a pup online, but the process was super easy and fast. The puppies are healthy and happy. We got our bich-poo, Joy, from Stephen Stoltzfoos in Ephrata, PA. He's a excellent breeder, and we recommend him highly if you're looking for small hypoallergenic/non shedding dogs!

The Kim Family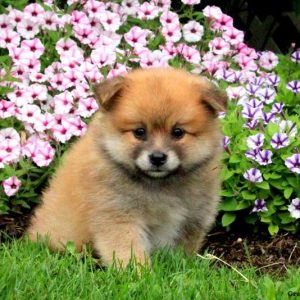 Great adventure found Koda on your site and decided to drive 2,000 miles to pick him up. First what a beautiful trip the mountains around Pa were quite a site. After arriving Monday morning and visiting we were impressed with how clean and picturesque the puppies and the surrounding area were. Koda was with his 5 sisters in the front yard, what a treat. He just turned 8 wks what a exciting time. Met the breeders and there children, what special people, there love and respect for God and there animals and children was a treat. Koda was a great addittion we were replacing a long time child, Tenuki that had just passed. Long story short version the entire trip home to Colorado was filled with great experiences and a lot of laughter. Thank you for the great puppy.

Tom & Claudia McDaniel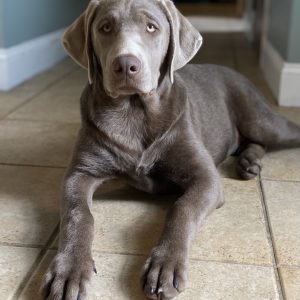 My husband and I are empty nesters. We found greenfield pups and treated ourselves to 2 beautiful silver lab puppies. We absolutely adore them and they bring us so much joy! The breeder was very friendly and informative. We'd definitely do it all over again , they are wonderful

Kim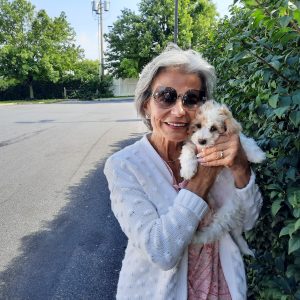 I would like to tell everyone who reads this what a Wonderful man Steven Stoltzfoo of Ephrata Pa. is. I am going through Cancer treatment right now and I needed to find a special little puppy, since I had lost my Precious Dog Daisey several weeks ago due to age. I was so afraid I would never find another sweet companion to help me through this terrible time in my life. Looking on Greenfield Puppies website I found "Precious Angel". Steven and his wife were so kind and compassionate to my husband and myself. His facilities are Immaculate! I would HIGHLY recommend if you are looking for your special companion, please go to Steven. I promise you that you will love the experience of having someone who truly cares about you and your new companion.

Louise J Gerosa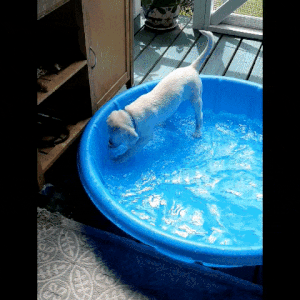 My experience was AWESOME!
I don't know if I just got lucky, but my puppy is so gorgeous, and also SO good.
So far she seems so laid back and I love it!
She is so beautiful it's like she isn't real.
I tried to do a rescue, but it was a massive hassle. They wanted so much information and they took a long time.
I called Ada Smucker and everything went incredibly smoothly. Excellent to deal with!
I got my English Cream Lab and I could NOT be happier!

Julie Stevens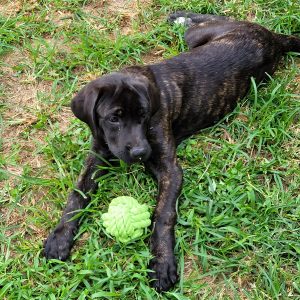 I've owed Rottweilers for the past 11 years and after losing my last one, I just didn't have the heart to get another one. I knew I still wanted a X-Large breed, so I looked at a English Mastiff. Luckily I found one browsing on Greenfield Puppies. I contacted, Calvin Stolzfus (Breeder) and I was able to get my new puppy the same day. Thank you, it makes me happy having a puppy running around the house again.

Robert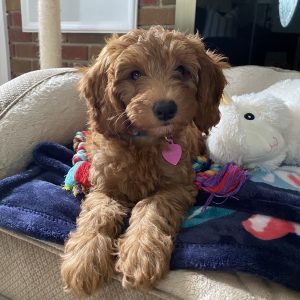 We recently lost our Golden Retriever of 11 years. Heartbroken over this sudden loss, I knew I needed to find a new companion but in no way wanted to replace our sweet golden. I spent hours searching Greenfield Puppies for a Mini Golden Doodle and made a few calls. I reached out to Amos & Naomi Zook who promptly returned my calls. Naomi even worked with us with scheduling a visit, due to my husband's crazy work schedule. She had my puppy waiting, freshly bathed and her paperwork ready. She introduced us to the momma dog and the rest of the litter. Kaycee is the sweetest girl and has filled such a huge hole in my heart. I can't thank the Zooks and Greenfield Puppies enough.

Kim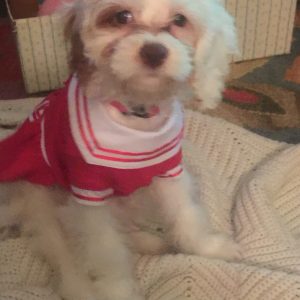 After losing my 14 yr old Pomchi I decided to get a puppy to help relieve my grief. I'v Had a Cockapoo before and she was a sheer joy. Well after almost being scammed 4 times and feeling defeated I found Greenfield puppies and my puppy Gloria now (Baby).Her breeder Elam King was wonderful through the whole process, always immediately returning my calls and and answering any questions I had. So off I went to Coatesville, Pa, a two and a half hour drive to get my new baby. We were greeted by Elams wife Verna and children and my puppy.In short a very smooth and enjoyable experience.Baby was freshly bathed, well socialized, and calm all the way home. She's very smart and eager to learn, and Speads her love to everyone.I can't express the amount of happiness and love she's given me. I highly recommend Elam & Verna King, I am so great full to them and Greenfield Puppies.

Mary Bockler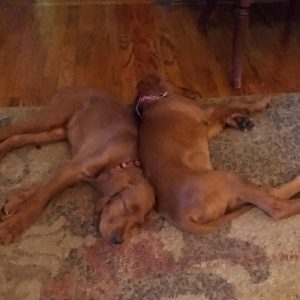 We purchased two Irish Setter puppies from Ephraim Lapp, what a joy they are to our family. They are beautiful healthy and rambunctious little ones displaying their early socialization that they experienced before coming to live with us. Ephraim was very helpful in helping me make my selections and the puppies were exactly as he said they would be. The purchasing arrangement was perfect. The delivery team, Jessica and Nate, were right on time and it was evident that the puppies had received TLC enroute because when Jessica left they ran to the door as if to say "don't leave me" and this was a very positive message. As you can see in the picture they are inseparable. Thanks again Ephraim.

Jo
We got our Puppy, Izzy (Mini Labradoodle), from Henry Stoltzfus in Lititz, PA. I spoke mainly with his wife, Marian, and she is wonderful. They live on a nice big farm and their animals are well cared for. We met a happy & healthy family pet (Mini Labradoodle) while we were there. Our puppy is very healthy and she is super happy. I was really relieved that everything went great because I was nervous about purchasing a puppy off of a website.

Jean Marie Scarborough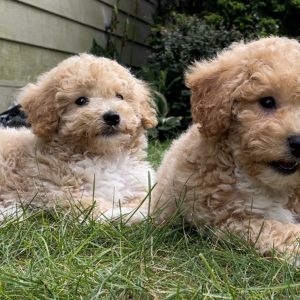 My family and I decided to get 2 brothers (Bichpoos) from Stephen Stoltzfus (after reading the positive reviews he had as a breeder, and I am SO HAPPY we did! Our puppies are perfect! They have great temperament and are, somehow, nearly potty trained even though we have only had them several days. Not only was Stephen very nice and friendly and professional, but his house and barn type structure where the puppies are raised was immaculate. He clearly is a great breeder and thus his puppies are awesome. I never met him before picking my puppies up and am truly impartial when I say this website and finding my puppies from Stephen was the best thing that has happened to me all year! I love them and they love each other and they clearly started life off right in his care.
I would tell anyone I know who is looking for a puppy to get one from Stephen Stoltzfus!

Slava Winters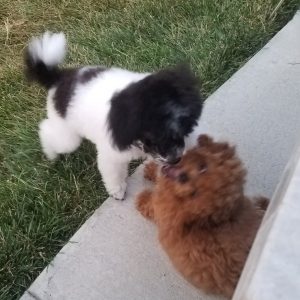 I purchased both of my puppies through Greenfield puppies: One from the Beilers (Riley – white and black) and the other from the Stoltzfus' (Ginger – Red). They are getting along just fine. Only 3 weeks difference in age. A joy to have!

Carole Robertson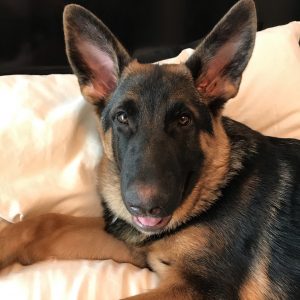 Zeus arrived with my son in 2/21 as he had been looking for a German Shepherd for some time. Well… this little guy arrived and he's is simply perfect in ever way. He was trained from day one!!!! I don't know if it's genetic or we simply got lucky… he's perfect in ever way. Zeus did arrive to two older dogs but has been a great companion for us all!!!! Thank you to the breeders for allowing us to have the " perfect puppy!"

Giulio and Linda Santorio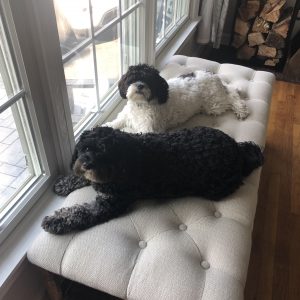 We purchased both of our Cavapoo's from Lillian and Marc Stoltzfus in Gap Pennsylvania. We couldn't have been happy with both babies. Lillian and Marc were wonderful to deal with and very accommodating. We highly recommend them and their puppies..

Lynn Grasso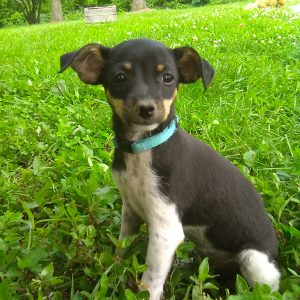 Greenfield worked hard to get our puppy to us in North Carolina. Puppy arrived on time. I recommend Greenfield wholeheartedly!

Harold Bumby
We recently purchased Rusty (Tucker) from Amanda Zook in Dornsife, Pa. Such a beautiful, intelligent, alert, and loving puppy. Such a cuddly sweetheart. Our Vet said he is very healthy and handsome. Even took his picture. We highly recommend Amanda Zook. Her Havapoo puppies are so wonderful and healthy!

Vicki Mason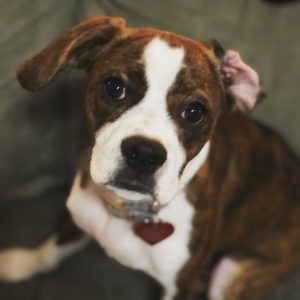 We absolutely love our new puppy! It was very evident that these puppies were loved from the beginning. Thank you Ruth for entrusting Pepper (Scamp) with our family

Tricia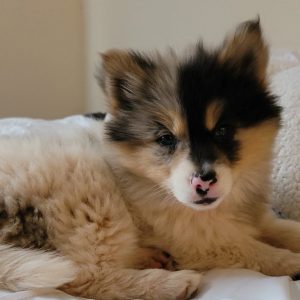 Nyla (aka Hudson) is the sweetest Pomsky! I love her so much and am so grateful to have found GFP, after long months of searching for the perfect baby I really feel like Nelson & Rosalyn Zimmerman helped me find a puppy who matches my personality so well. They are breeders located in East Earl, PA.

Gabrielle Concepcion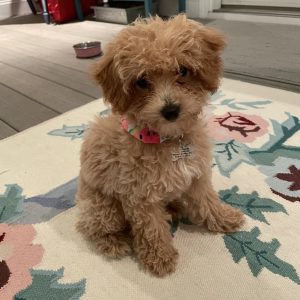 We got our Bichpoo puppy Shanrock from Amos Beiler and family in Ronks, PA. Whatever this family did to socialize and care for this puppy was beyond amazing. She is happy, calm and slept through the night the very first night she was in her new home. She was clearly loved from the get-go and Amos was more than accommodating with us. He even allowed us to pick her up a few weeks after she was available so that we could prepare for her arrival.
I cannot say enough good things about Amos and the experience we had with Greenfield Puppies. I highly recommend. Thank you for helping us to add such a fun little being to our family.

Victoria Lynch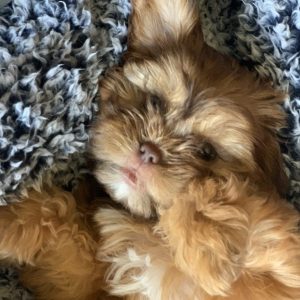 We purchased Sydney (formerly Kelly) from John and Anna Esh. They have a beautiful litter of shih-poo puppies that have been raised with their children and are well socialized. They were great providing us with everything we had asked for, coordinating with us, and making sure we had everything we needed to get our puppy home. Sydney is a happy healthy little girl that is doing great in her new home. She is doing well with potty training and starts puppy training classes soon. She is everything we were hoping for and more. There are still a few of her litter mates available, who are absolutely adorable. Get them while you can.

Julie and Ronda