Greenfield Puppies Reviews
We love dogs and people and people with dogs.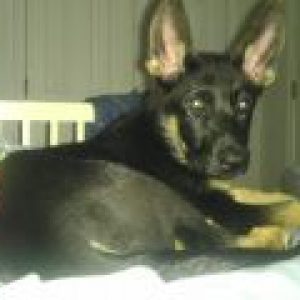 I just wanted to thank you guys for the service you provide! We found Gary (formerly Butch) and contacted Mr. Esch and his wife to reserve him.  A week later, we went to pick him up and were amazed!  Gary was such a big, playful pup, as was his brother.  We took him to the vet the next day, and he is the picture of health!  He is the absolute best puppy we could ever hope for!  He has such a great personality, and along with a perfect vet check, is the best puppy ever.  He's very intelligent and learned how to sit, stay, and come on day we brought him home.  Thank you, Greenfield Puppies, for our newest family member!

Rachel, Edwin, and Gary Robles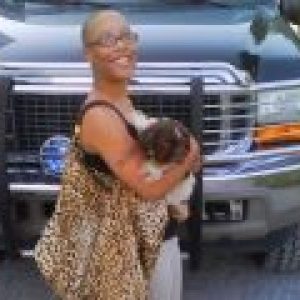 I have had Gizmo(was Dario) since July 31,2011 from the Beilers. He attached to our family right away. At his first Vet visit he weighs a healthy 9lbs at 19 wks, just as healthy as he can be. He just lays right under me my husband and our 3 yr old richie. There are pictures attached. We would like to thank greenfield for getting us in contact with Simeon &Linda Beiler in Paradise Pennsylvania. They were very professional and informative. Their family was very inviting and we even fell in love with their Boxer and Shiba that were walking around. Thanks again

MarQuisha,Richard,and Richie Waites (Chester,Pennsylvania)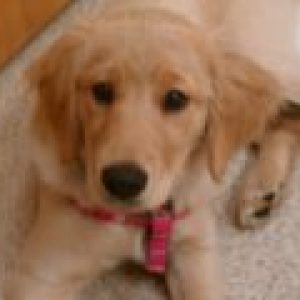 Last November, we lost our beloved friend Zeke. He was our beautiful 13 1/2 yr. old Dalmatian (we had hime since he was three months). In March 2011, we decided to adopt another puppy. I saw your billboard on Rte 30 (Greenfield Exit). We decided that we wanted to adopt a Golden Retriever since we had cats, and a 2 year old daughter. After looking at the dogs listed, we found one named "Strawberry". My daughter is a big fan of Strawberry Shortcake. We clicked on the adorable puppy's picture and saw that she was raised with three young girls. I contacted Elam King, and went to see him in Christiana. We instantly fell in love with Strawberry. We adopted her. The King residence was clean, the mother dog was there, and two siblings were left. They raised beautiful puppies. Strawberry has been a joy since we brought her home. Our veterinarian is impressed by her. She has had no health problems. I would like to thank you for uniting us with our new best friend!

Christelle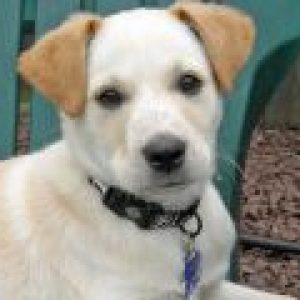 I want to thank greenfield puppies for bringing Booker into our home! Our experience has been wonderful! We lost our beloved golden retriever Katie to lymphoma. We decided that our house felt empty. We decided to search for a puppy! I found greenfield and immediately found Booker! My experience with the breeder (the Hurst family was fantastic). Booker is a lab mix with red heeler. Booker is in perfect health and he has a great temperament. I would definitely use greenfield puppies again when we decide to get Booker a playmate. Booker is such an amazing puppy he was chosen to be a featured puppy on the dailypuppy.com! Thank you greenfield puppies and the Hurst family for bringing so much joy into my family!

Corinna Rowe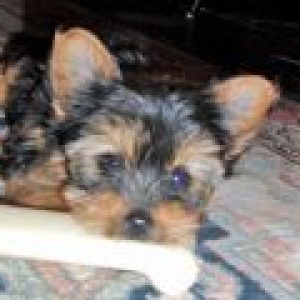 We wanted to let the Burkholder family and Greenfield group know of our experience. We bought the former Bubbles and arrived home with Zoey. The Burkholders, in Robesonia Pa. , were most gracious and receptive to my visit to their home. I  liked that there were children that play with the new puppies and the patience Mrs. Burkholder showed as I visited with them. In the end, I stuck with my internet choice. Our new family member, Zoey, passed her first vet exam with flying colors. These last few days have been so enjoyable with our fun loving puppy. Thank you all very much as your website was most helpful in our decision as to where we should buy, not to mention the ethics and personal touch you communicate to the public.

Bob & Patti West Chester, Pa.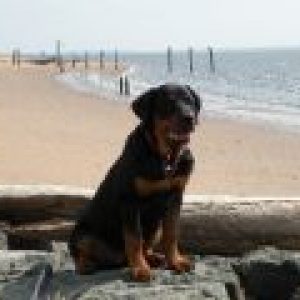 This is my currently five month old Rottweiller puppy.Yes, he is a very large five month old, weighing about 75 lbs. He was my early Christmas present this past year. I stumbled upon Greenfield Puppies and browsed through their listed Rottweiler puppies.  My attention was caught by a puppy listed in Paradise, PA.  Captain, renamed JAX was bred by Michael Miller and his family.  The Millers are wonderful breeders and their female Rottweiler Sheila IV is one of the most well mannered, beautiful female rottweilers I have ever encountered. Not only did my Vet fall head over heels in love with JAX'S conformation, his temperament is also a 10+.  I have never met such a smart puppy. I brought JAX home the day he turned eight weeks and that same day he learned to scratch on the door to go out.  He has never done anything wrong in his crate and is not destructive. By 10 weeks he knew sit, stay, lay down, speak, rollover, play dead, high five, and paw. The Millers are producing impeccable breed standard puppies and I recommend their litters to anyone looking for a quality bred dog at a reasonable price.  Greenfield Puppies are representing breeders of a higher standard, and I am confident that their standards carry over to all breeds represented on their site.

Dana Delfino - Staten Island NY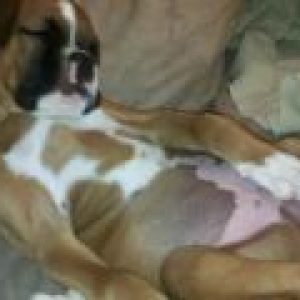 We purchased Dixie from the Zimmerman's in Leola in November of 2010 and we are very happy. Dixie is beautiful and healthy, and has turned into one of the friendliest, happiest dogs. Greenfield puppies has been wonderful in answering any questions or helping me with any concerns I had. Dean is wonderful.  We drove 3 1/2 hours to get her and I do not regret it one bit!!  She is the new joy of our lives and if we ever get another boxer (which we will) we will go through Greenfield Puppies again.

Cait - Muttontown, Long Island, New York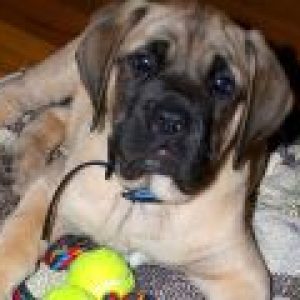 I wanted a big dog all my life but living in NYC in a one bedroom apt i was never able own one, i just purchased a home in Jersey City with a huge yard so now i'm ready for a new family member, i encounter Greenfield Puppies and i was amazed with the selection of reputable breeders they have, i contacted the breeder i chose and within a day i had complete information on the puppy i chose,  pictures and videos of the puppy, i immediately send the breeder a deposit and this past weekend i picked up my bundle of joy, he is now 9 weeks old and very healthy as the breeder said he was, i took him to my vet to make sure he healthy and he passed all tests.
If you are looking for an English Mastiff pure breed you can contact Isaac King i totally recommend him as a breeder, he is very professional and a very nice person.
I looked around before i found Greenfield puppies and no one made me feel as comfortable as Greenfield Puppies did.
THANK YOU GREENFIELD PUPPIES FOR HELPING MAKE A BIG DECISION IN MY LIFE.

Jay Cruz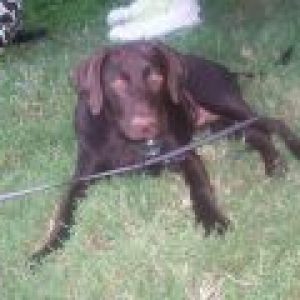 My boyfriend & I got a chocolate lab puppy from Mr. and Mrs. Esch in Coatesville back in Aug 2010. We named him, Fogo (its a lacrosse term) and have been enjoying every single day with him. He is a well tempered and easy loving pup. His goofiness brings us constant entertainment. He just turned nine months and is over 80 pounds! He gets along with other dogs- we take him to the dog park every week. Fogo loves people and is currently the unofficial mascot of the Cabrini Men's Lacrosse team.
We are more than satisfied with the Fogs & how he is developing. I have recommended Greenfield Puppies to several friends looking into getting a dog. We plan on getting Fogo a playmate in the next couple of years & will be using Greenfield Puppies as our search engine.
Thank you for helping us find our Fogo-puppy!

Mark & Kate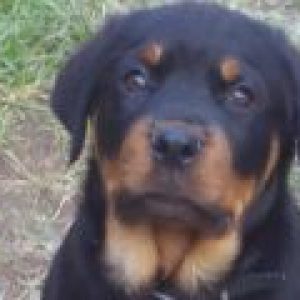 Dear Gideon and Rhonda, Just wanted to share some pictures with you and tell you how happy we are…When taken to the Vet he was 26 pounds and as of last night he is 38..He is a good boy and growing fast

Doug
I recently got a puppy from Mr & Mrs Esch in Coatesville PA. They were so nice and polite, very social people. I knew when choosing a puppy that I would have a amazing pup. I made the decision on this little girl, Dixie is 2 months old and is so active. She loves my kids and loved the snow (when it was here) and she has a awesome personality. The best of the best thing is she is already potty trained and I have only had her 1 week!. She hits the bell on the door when she needs to go out & keeps hitting it till you take her out. The Esch family really is a great breeder to get a puppy from. Dixie is awesome with the camera since I love it as well and decided to pose for the family and say HAPPY VALENTINES DAY :-). Thanks so much for this beautiful, amazing puppy and I will for sure keep you updated in the future. Thank you GreenFieldPuppies 🙂

Jennifer Lynn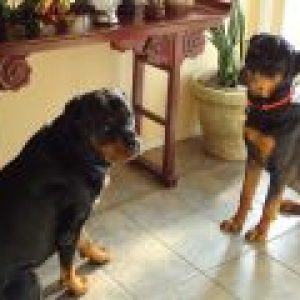 Hi Guys:  Faith….. She is the love of our life, and in turn she give us love abundantly, never gets tired of loves. The two of you as breeders do a great job as far as health and beauty of your litters, that being said, the pics tell the real truth. Faith is now 130lb. and Bruno is 98. They eat the same amt. as well as brand. You figure it out. We will be looking soon for another one so keep us informed as to new litters.  Thank you

Bob & Francie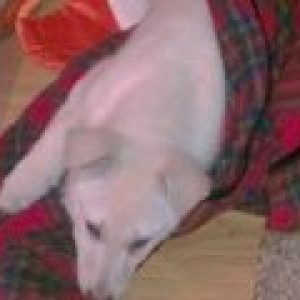 We purchased a white German Shepherd puppy from Harry Fisher in Oxford, Pa after finding your website at Greenfield puppies. We were impressed to see the cleanliness and homey setting our puppy was coming from and are thrilled with him. Our vet advised he is a calm, friendly, happy and healthy puppy. Thank you for listing this highly recommended breeder.

Phyll & Bob Granito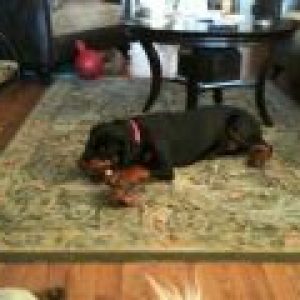 Hi Rhonda and Gid. I just wanted to let you all know how happy we are Rottweiler puppy,  Sasha. After our previous rotty, Sheba, died we thought that the feeling of loss and sadness in our house would last forever. Then I saw your advertisement on Greenfield Puppies and sent you an email about future litters. My wife and I agreed that it was too soon to get another puppy but we wanted to establish a relationship with a Rottweiler breeder for when we decided that we are ready. When we entered your farm your puppies had us at "hello". My wife and I did not know which one to choose. We finally decided on Sasha. My wife's biggest worry was that I would expect Sasha to be just like Sheba (the rotty that recently died) and therefore my expectations would be hi. Well I could not be happier. Sasha has our bundle of joy. At 4 months old she has already completed one 6 week puppy training class and has started her second series. She is the star of the class. She is also the star of the building and the neighborhood that I live in. Everyone (especially kids) loves her and she loves everyone. As soon as I sit on the floor to pet her she lounges in my lap like a cat (not sure how I will handle this when she weighs 100 pounds). I give a lot of credit to Gid and Rhonda Lapp for breeding such good natured family dogs. They made the process of getting a Rottweiler really enjoyable and their follow-up is really, really good.If I had enough room I would buy another one from them. Enjoy the pictures of our little (soon to be big) star.

Kirk & Susie Miller - Brooklyn, NY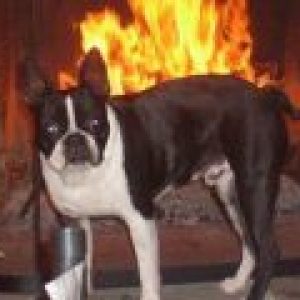 We picked up our boston terrier almost a year ago and he is certainly part of the family now.  We searched all the local shelters first with no luck.  Then we remembered this site after purchasing a boston for my husband's parents a few years ago.  Let me just say our dog Chase is such a good dog and full of energy and personality.  He's the kind of dog where you could leave a steak on the coffee table all day and he wouldn't touch it.  He was potty trained almost instantly and never chews on anything but his own toys and believe me (with a toddler) there is plenty he could tear apart if he wanted to.  He's great with my son too.  He greets me everyday after work with such enthusiasm and when company comes over he shakes his whole butt.  He's funny little loyal dog and we love him!  The other dog we purchased for my husband's parents was also a success.  We bought Chase from Silvia Stoltzfus.

Ann (West Chester, PA)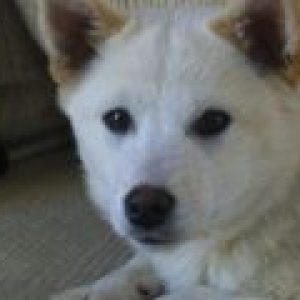 I wanted to take the time to say how happy that my family and I are about receiving our new puppy this Christmas!!! I had never purchased a puppy via the web so I was rather worried about how it would work out.I could not believe how smooth it went with Greenfield Puppies!!!!!,Shawn had all the details worked out,our little gal came into the Airport right on time and in perfect condition!!.This was the best Christmas gift that my family ever had!!
God Bless Greenfield Puppies you folks are GREAT!!

Mark Mears - East Granby, CT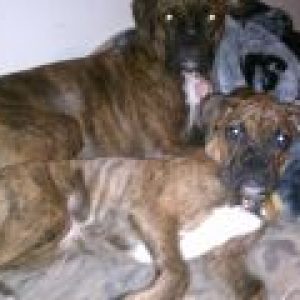 Hello! My fiance adopted a new puppy for me for christmas. Abram Stoltzfus is the breeder of the puppy we picked, Norris (now named Jarvus). Before we went to pick up Jarvus, we spoke with Abram on the phone, he was so sweet and answered all our questions very honestly. When we went to pick him up, Abram was equally as nice and allowed to play with the puppy for awhile, and meet the mom and dad before we left. Jarvus checked out at the vet perfectly and is growing like crazy! His new best friend is our 2 1/2 year old boxer, Hunter; they are so funny together, and LOVE the snow. I'm so thankful for greenfieldpuppies and Abram Stoltzfus!

Thanks again!

JoAnn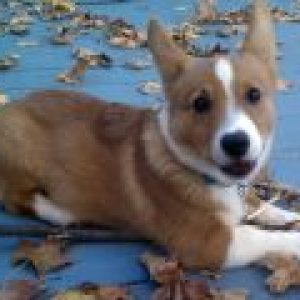 We took home our little corgi, Kerby (formerly Heath) from Daniel Stoltzfus' farm four months ago and couldn't be happier. Daniel was so kind, patient and helpful with us throughout the entire process and afterward as well, even answering questions for us months after we brought Kerby home. His farm was so beautiful – the perfect place for puppies – and you could tell that the puppies were raised in a happy, loving home. The drive from our home in Upstate New York was absolutely worth it – Kerby brings us so much joy every day as a healthy, happy puppy who is growing like a weed! We now refer all of our friends to your site who are looking for quality companions. Thank you Greenfield Puppies!

Laura Facchin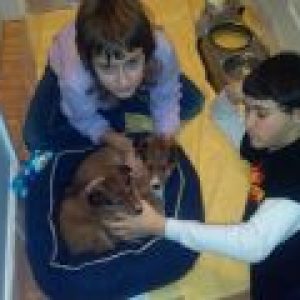 Thanks to you and your group.  We drove to Honeybrook and adopted two Shelties.  They are fitting right into our family.  Clean bills of health and very quick to learn.  We met Levi Kauffman and adopted our puppies at his farm.  It was a very nice family trip and some good memories to go with these lovable puppies.

Judy Buonocore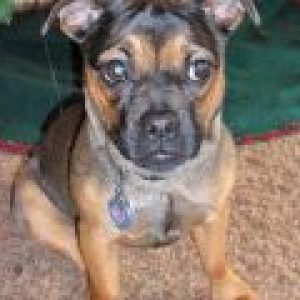 Just wanted to let you know how much we are enjoying our new Jug puppy.  We actually got her on Labor Day weekend from a breeder in Strasburg.  He couldn't have been nicer.  She is our third dog so we wanted to make sure she fit in the family.  He let us take her home for the weekend and we fell in love.  She is full of energy and keeps our 2 year old Sheltie on her toes.  She is also good with our 11 year old Pom.  She is still on the website as Dreamer but my son renamed her Chooch.  Love your site.

Dave, Pat, Craig and Adam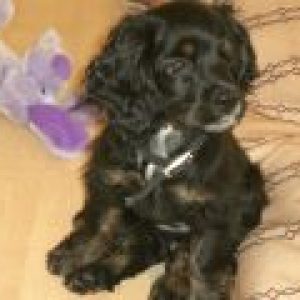 I traveled to Narvon and adopted a Cocker Spaniel puppy from Samuel Fisher. Registered name Star Gazer Lily; call name Lily is  a BEAUTIFUL, loving and smart puppy.  We are well on our way to house breaking her and she has learned to sit and is sleeping all night. This is my 4th Cocker Spaniel and I couldn't be happier. Thank you.

Kay Knox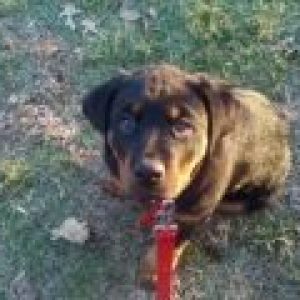 We are just writing to commend Mr. Michael Miller and his wife, Mrs. Sarah Miller of Paradise, Pa, on breeding simply exquisite Rottweilers.
When we decided to get another Rottweiler (we previously owned a Rottie/ Newfoundland mix), we had very specific traits and characteristics that we were looking for. However, we made a great decision in choosing to go with the litter that the Millers had bred, and we picked him up on December 29, 2010.
"Charger", now "Beorn", is the perfect Rottweiler puppy; strong and confident, yet affectionate and very sensitive. His intelligence is also startling. He is always watching, always listening, and always doing as he is told, even though we've only had him home for a little over a week.
Upon bringing him to the vet today, our doctor also ensured us that "Beorn" was in fantastic health, and beautifully bred.
So if you are looking for a handsome, healthy, well-mannered Rottweiler, please consider the litters bred by Mr. and Mrs. Miller. The Millers are very pleasant people with a love for the breed, a talent for breeding them, and extremely reasonable prices.
You can also tell how well they treat their animals. The Millers cared very much about their dam and the puppies, and the Rotties lived in very good conditions on the Millers' land. Also, their dam, Shiela IV, was the most stunning female we have ever come across.
Thank you so much for everything, Mr. and Mrs. Miller! This puppy is more than we ever expected and we feel that both such fantastic breeding and your generosity should be commended publicly through this testimonial.
We'd also like to thank Greenfield Puppies for connecting us to the Millers.
We would suggest the Millers and Greenfield Puppies to anyone, and will in the future.

The Cavalli Family, Philadelphia PA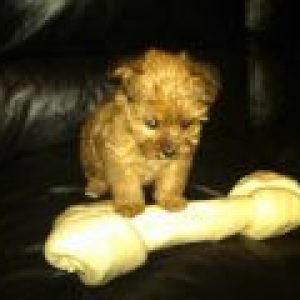 This testimonial is in regards to my wonderful experience with breeder Levi Kauffman. My wife has wanted a puppy for the longest time, and so I decided to surprise her with a puppy for Christmas. I wanted to be as sure as I could that I was purchasing a healthy puppy from a reputable breeder. I researched online, and found Greenfield Puppies. After reading their website and testimonials, I decided to search for my puppy through them. During my search, I saw a very cute yorkie poo, and contacted it's breeder, Mr. Kauffman, to discuss the puppy. I asked Mr. Kauffman many questions, because again, I wanted to make sure that he was not running an inhumane operation. Mr. Kauffman assured me he cared for his puppies, and that he was not an inhumane mill, and talked about many positive things he does for his puppies. He sounded very reputable, so I decided to go and check him out. In the meantime, I called the veterinarian my Mother uses for her English Springer Spaniel. I asked the vet very candidly to tell me what to look for when determining if the breeder was humane or inhumane. She asked me where I was going for the puppy, and I told her Honey Brook, to a breeder named Levi Kauffman. She started laughing, becuase as it turns out, Mr. Kauffman has this very same veterinarian come to his home to take care of all of his puppies. The vet assured me that Mr. Kauffaman is extremely humane, and as she put it, "is one of the good guys". She said Mr. Kauffman takes every recommendation she makes on his facility, and follows up promptly with her as the changes are made. She told me he has gone above and beyond to make sure his facility is not just in line with PA standards for breeders, but much better than what the state minimums for care are. She administers checks on all of his dogs, and provides many with necessary shots. She told me to go ahead with my purchase from Mr. Kauffman, and that I would receive a healthy and happy puppy. Some of the positives of Mr. Kauffman's operation are that his children play with the puppies everyday, and the puppies play with eachother everyday. They are very assimilated to other animals and humans. Also, the puppies are up to date on shots. We have had our dog LuLu now for 2 weeks. She is healthy, happy, and tremendously smart. She is already fully crate trained, mostly potty trained, and is wonderful with kids and other dogs. This is a direct result of the love and care Mr. Kauffman shows for his puppies. I highly recommend Levi Kauffman to anyone looking for a puppy. He cares about his animals, and they in turn make wonderful additions to anyone's family.

Michael Odorisio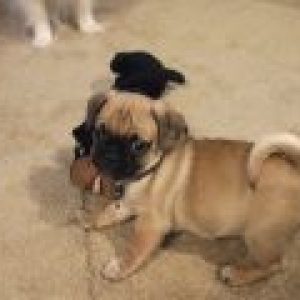 I would like to take a moment to thank you for helping me find my little love, Mason. He is a Jug and I brought him home about 2 weeks ago. I absolutely love him! I found him on your website, called the breeder, and went to see him the same day. Mr. King and his family were great to work with. Mrs. King allowed me to spend time with all the Jug puppies to see which one I bonded with the most. I would recommend the King family and your website to any one looking to add another member to their family. Thank you!!

Ashley Cassidy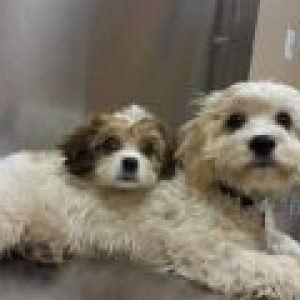 My husband and i had been looking for a cavachon pup to complete our family. we already had one Bella Rose a year old. i had been looking on line and called and spoke to Lizzy Stoltzfus she had Rutger  whom was 17 weeks old and a litter in which our Molly came from which her sister and brothers are HUDSON,HOPE,HEAVEN,HAMPTON ON THEIR WEB. PAGE. Lizzy was so kind and answered all the questions i asked her about the parents of Molly and Rutger . I brought them home and to the vet they were healthy and very loving dogs. the vet stated their health was excellent . we would get another pet from greenfield.

The Prodells, Clementon NJ