Greenfield Puppies Reviews
We love dogs and people and people with dogs.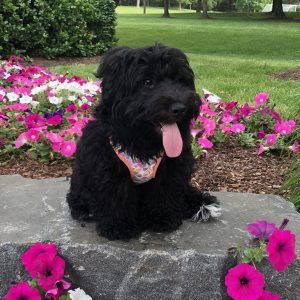 This is Willow, originally known as Rachel I got her when she was 3 months on April 19, 2019. I love everything about my Mini Goldendoodle! She completes me & she loves people
Thanks Greenfieldpuppies & Henry & Naomi Stoltzfus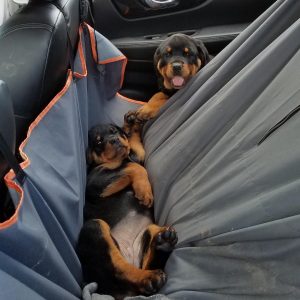 I was concerned about getting dogs online, but I picked up 9 week old Alpha (formerly Easton) & Omega (formerly Eva) Rottweiler puppies, from breeder Amos at Christiana, PA. I drove from DC (about 2 hrs), down early on Saturday rainy morning.

My last dogs died late last year, (I had four) even though Alpha and Omega are my contraband here in DC I'm hoping to return home back to California soon.

I took them to the vet when they have been given good bill of health. I totally forgot what its like having puppies, the crying, ripping, mess Haha! Omega seems smarter but Alpha picked up potty training/ obedience training quicker.

Trying to get them on my schedule has been a challenge, good thing I'm temporarily working on an office, instead of the field – the lack of sleep ugh! It's been over a month, I've more scratches, bites than I usually get from people I arrest.

Since they haven't had their shots I push them around in shopping cart, everyone wants to have their picture with them!

I've tons of trails picked out for walking, but every thing is brand new, basic things like walking downstairs has to be taught, and brings with it joy & laughter.

My experience has been good so far and I hold heartily recommend Greenfield and going/meeting Amish was interesting experience!

My puppies are big & healthy and even though the pass Month I've barely slept its being a joy having Alpha & Omega in my life.

I couldn't decide what pictures I have so many?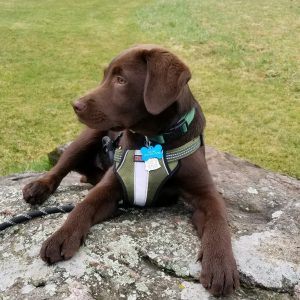 Greenfield Puppies is excellent! I found my puppy, Archie, on the site, reached out to the breeder and brought an amazing new life into my home. Archie is wonderful, healthy as can be and as smart as a whip! Thank you so much for a wonderful experience and a wonderful new best friend!

Diane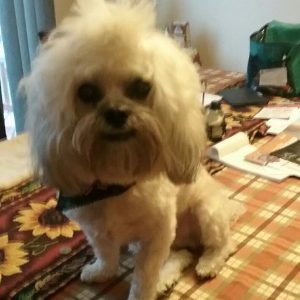 I got Tristen when he was 3 months from Sam Zook. Tristen has always been very healthy and happy. We love him so much. I continue to revisit Sam and his family twice a year with Tristen. He loves to run around on their farm. And I enjoy having Sam see Tristen again. Tristen has turned out to be a great watch puppy. He is a Shichon Teddybear. He is a beautiful furbaby and is very intelligent.

Thank you Sam for my beautiful little boy. I take him for rides in the car, he loves going out on the town! I am always looking for a different experience for him. He is very mature.

Linda Singh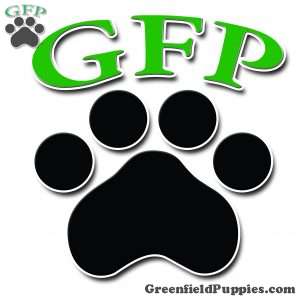 I got my Soft Coated Wheaten about 4 months ago and have the greatest puppy. The breeder named John from Honey Brook PA had a few puppies and the one I picked is the greatest. I changed his name to Farley and after a few times he started answering. My pup is smart and cunning and will steal the towels whenever he can. House training was ok and he learned very quickly. I love my puppy and cannot think of life without him.

Thank you John for a wonderful life companion. I bring him to work with me and everyone is amazed how great he is. He has opened me up to life again. JUST AMAZING.

Oh and he is absolutely beautiful. After his first haircut he looks like a little clown looking for his little clown car. He has big black hair all around his mouth and nose. Just the cutest puppy(as is every puppy).

Thanks for my best friend.

David Rubin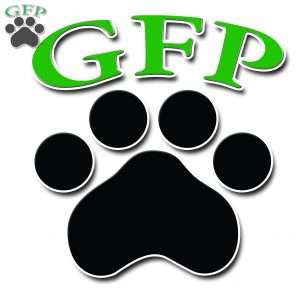 Would like to comment on one for your breeders, Chris Esh, We had fallen in love with Niko (Formally Lance) by his picture on your website. Called Chris to talk about Purchasing Niko was devastated to learn from Chris that Niko had a health problem. Chris was very upfront about the issue and explained that he couldn't sell Niko at that time until he went to the Vet again in three weeks. After talking it over with family we decided that we would go ahead and commit to Chris that we would take Lance even with the heart mummer. After 3 more weeks I talked to Chris again and ask if he would mind if I talked to his vet personally and he had no objections at all so I called his vet and talked to him and again the information was very forth coming with the info about Lance. Anyway, after a few days we got Lance home and he is doing great. Was very pleased with my interaction with Chris and his vet. They are good people and we are very happy with our new family member.

Ron Shelton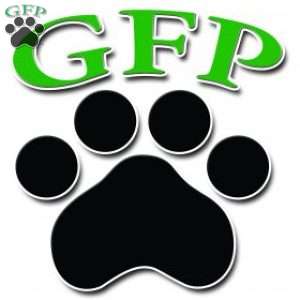 So Thankful I found Greenfield puppies, I found our new Golden Retriever on this web site, The breeder was wonderful to work with had several phone conversations with them, What a beautiful puppy we have, Took her to the Vet within a week and she is very healthy. She is sweet, calm and very lovable, and raised with great care & love. I would highly recommend this web site you deal directly with the breeder. Also I was able to secure ground transportation thru Greenfield worth every penny, Driver kept in contact to let me know when he would be arriving.

Cheryl S.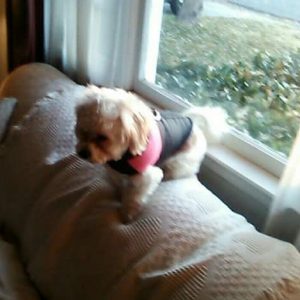 After having the most heartbreaking experience from a truly horrible place, Charm City Puppies, we found Levi. He was fantastic! The puppies were clean, well nourished, happy, playful, ECT… Bandit has been a member of the family for 2 years now. She is simply the best!

Jennifer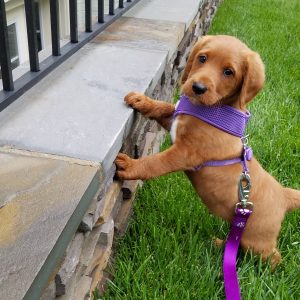 I purchased Riley last Saturday from a beautiful farm in Pennsylvania. He is so cute and healthy. He is crazy smart and is only 8 weeks old! He understood the doggy door to the outside the first time we showed him. He is beautiful and every where we go people want to feel is soft fur. I am so happy I found Greenfield Puppies!

Meg Albright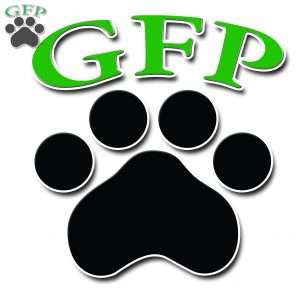 Purchased my English Mastiff from John & Maryann Stoltzfus of Atglen, Pa.
He was 10 weeks old when we got him and is now 22 weeks and 100 lb healthy and happy terrific puppy. Could not be any happier with our addition.

A big thank you to the Stoltzfus family and Greenfield Puppies!

Gerald Pointing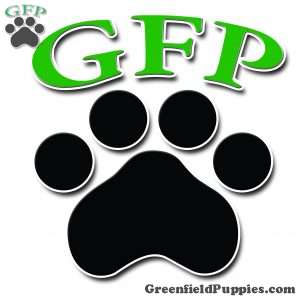 My wife and I drove 980 miles to New Providence to purchase an Irish Setter from Christian Blank. Just wanted everyone to know that it was worth the drive… really!
Brody is my 7th Irish Setter in my lifetime. I was very impressed with how the Blanks take excellent care of all of their animals and are outstanding ambassadors for the Amish community. My wife and I love our new puppy… His temperament is exactly what we wanted. Thank you Chris for a great job… all of your dogs are the best mannered I've seen in quite a while.
All you others interested in an Irish Setter… Go see the Blank's puppies… you won't regret it.

David R.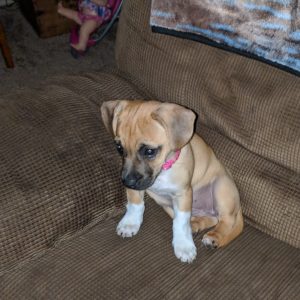 This is the second puppy we have adopted threw Greenfield puppies! The first was a boxer who lived nearly 17 years. This time around we decided to go with a smaller puppy for my 4 yr old daughter. We couldn't be more pleased with our jug puppy we got from Eunice Hoover. She kept in constant contact threw email and messages, phone calls until we were ready to take the 3 hr trip from n.y. to pick her up. Her home was immaculate and the puppies are well cared for. Her and her family made us feel super welcome and gave us time to choose which puppy we were going to take home! We couldn't be happier choosing Greenfield puppies and our breeder

Tara McCann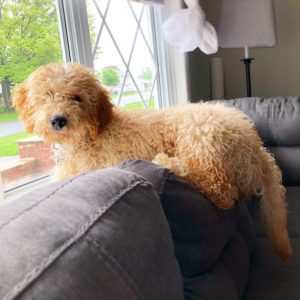 About a month ago, my husband and I brought Noah home to Lancaster as a family dog for our 6 year old daughter. He has been a tremendous joy! Noah (previously Owen) is a Mini Goldendoodle from Gap PA, and he's 20 weeks old. He is healthy, and settled in to our family quite well. He's full of energy, is always prancing around with total happiness, and has fallen in love with our daughter. It's like he was meant for us. Thank you, Greenfield Puppies and Susan Schultz!

Jennifer S.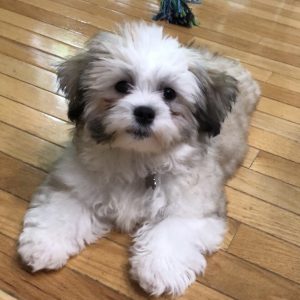 We absolutely adore our rambunctious Shih Tzu/Maltese baby boy!
He is so sweet and friendly when meeting new people, children, and other dogs. It is hard not to fall in love with him. It was our first time purchasing a puppy, and Moses Glick was kind and helpful throughout the adopting process. Thank you Moses and Greenfield, for the wonderful addition to our family!

Truong Family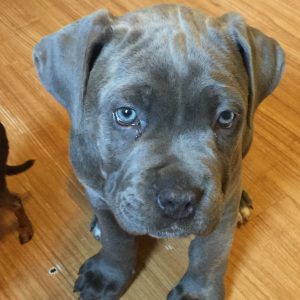 I looked for about 5 months before finding Greenfield Puppies and I'm glad I did we lost our Cane Corso in Oct 2018 and he was my best friend so me and my family had been looking for another one. We found the perfect little man his name was scout its now Bandit, we took him to the vet and he was in perfect health and gained about 30 lbs so far he is 16 weeks and weighs 55 pounds he is solid. I would recommend anyone looking for a Cane Corso to buy from the Smuckers they are the breeder we went through and I would do it again they were very nice and explained everything about the adoption process to registering him. Thanks again!

Kristen & Mark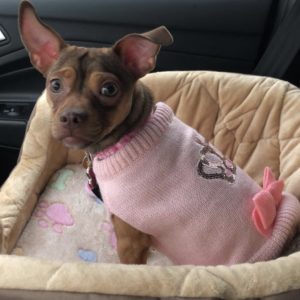 I adopted "Candy" now Rosie from Chris and Mary Zook in Spring Glen, PA. I loved that they kept the puppies indoors and they were all very sweet, clean puppies. The Zook Family was wonderful to work with. I would definitely go to them again and recommend anyone to them. Rosie is my first dog and I have no words about how much I've fallen in love with her. I always say she does no wrong in my eyes LOL! THANK YOU to the Zook Family and Greenfield Puppies

Debbie Martini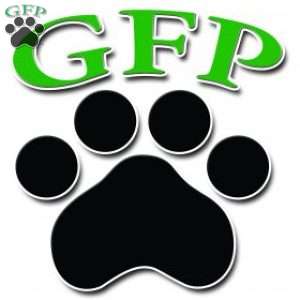 I searched for days and kept coming back to Greenfield Puppies website because Abigail seemed like THE one. It was worth the drive from NC to PA for this puppy
It was immediately clear that Ruth Ann had taken great care of the animals. Abigail's coat was so healthy and shiny, and she had a lot of love. She is super sweet and gets along great with my other family members/pets. I am beyond pleased with the whole experience.

Marie Wilson-Howell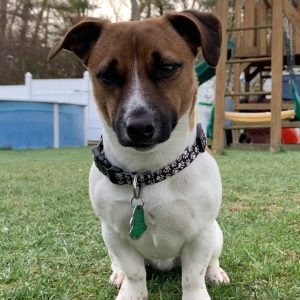 This is my second testimonial. It has only been 9 months since we made the trip to Pa for our beloved Jack Russell Terrier Apollo and will be making that trip once again. Beautiful country, beautiful people and beautiful puppies . I am hooked and couldn't be happier with my choice of breeders.

Ellen Nicholson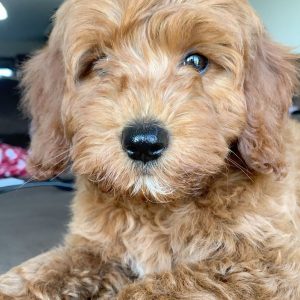 My husband and I were very leary to buy a puppy we didn't get to meet… But we fell in love with " Weston" a mini golden doodle from PA. My husband contacted the breeder numerous times and he always got back to us within a day. I worked with Greenfield communicating through e mail, they answered all my questions, again same day!! They reached out to me yesterday to make sure our pick up of our new puppy went great. When we took him out if his crate he hugged me so tight! He also looked clean and well taken care of. I would highly recommend Greenfield!!! We love our boy ?

Alyssa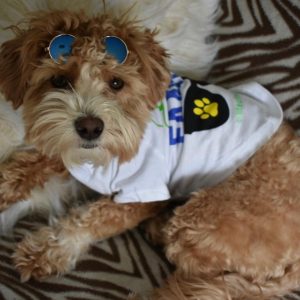 I waited a year to write my review. Tomorrow our sweet, fun, and loving Cody turns one year old. We bought him from the sweet lady, Rachel in New Holland, PA. The sale went smoothly and Cody is a healthy boy. Cody is so smart and picked up the training very quickly.

Cody was a spur of the moment decision at my daughter's junior high graduation luncheon on June 2018. In her card was a picture of a bike telling her she can pick one out since she outgrew it but she said it was seasonal. I told her she could get something else. Of course, her eyes lit up and she said a dog. She has wanted a dog for about seven years. It turned out to be her lucky year! Hubby agreed we should finally get her one and we were on a hunt for a dog. I looked up breeds and decided a maltipoo would fit our family.

At first, we searched the internet to see where we could find a shelter with a maltipoo. We filled out this lengthy application for one to later find out they only give them to people who have another dog at home. We needed one fast so that we could train it in the summer while my daughter was home from school. Fortunately, I remembered the place where a Facebook friend had got her cavapoo dog from and I searched Greenfield Puppies. I loved the idea that we could get a dog that is just 3 months old. Greenfield Puppies made the search so easy, Cody came home with us on the Fourth of July. We traveled from New York to New Holland, PA and back (about 6 hours total).

We are so in love with Cody and have made him Insta Famous. Cody has almost 4,000 followers in just two months on Instagram. Come join the fun and learn more about Cody's life story on Instagram at lifeofmaltipoocody. It would be fun to find Cody's siblings some day.

Helena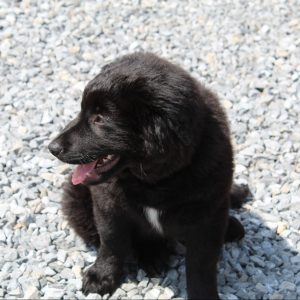 We've been wanting to get a lab mix for a while and when we saw Winnie on Green Field Puppies we just had to make the call! The breeders called us back right away and in less than 72 hours we had Winnie! She has found a place in all our hearts and is making friends with everyone! She's almost 12 weeks old and is a border collie/black lab from a farm in Paxinos, PA…she is sweet and calm and has followed us around everywhere! Thanks, Leon and Linda for taking us good care of her and being so helpful and friendly!

Abby G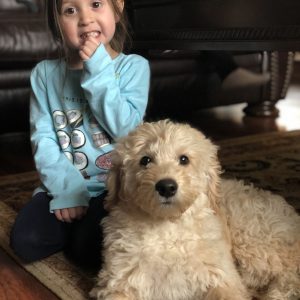 A year and a half after the passing of our nearly 16 year old Silky Terrier my wife and I decided to finally look for another dog. The minute we saw Duke, a mini Labradoodle, we fell in love with him. After speaking with Colleen Beiler from Strasburg we knew Duke was right for our family. Any questions or concerns we had were fully addressed by Colleen. Communicating via phone was easy and any messages we left were returned within a very reasonable amount of time. Her and her family raise great puppies that are well socialized and truly loved. We couldn't be happier with our choice to purchase Duke from Colleen Beiler.

We don't live close to PA so we arranged for Greenfield to ship Duke via air cargo. Greenfield took care of everything, communicated often through the process and were very responsive to emails. Duke was placed onto a flight with the least amount of travel time and arrived in perfect condition. Colleen even sent along a blanket with the mothers scent, a bottle of water, a bag of food and a chew toy. Greenfield even reached out a day or two later to ensure everything went fine.

Duke had his first Vet visit yesterday where our Vet said he was a healthy puppy.

Thank you Collen Beiler and Greenfield Puppies, it was truly a great experience.

Jason Deslauriers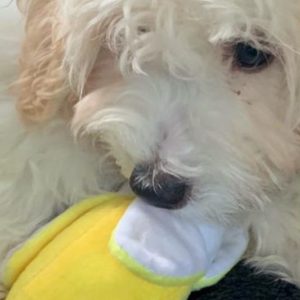 So, We Purchased Our Dog, Which Was Amazing. Our Breeder Was Great, Puppies Were Great. 10/10 Would Recommend!

Phyllis O'Neil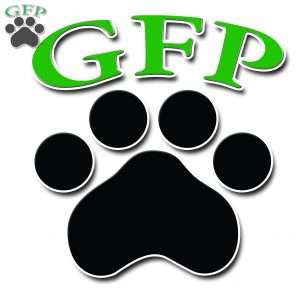 I would first like to begin with, yes some of the breeders on greenfield are Amish.. for that I am happy for, I for one think they're hard working, and very pleasant.. I have had workers come to my house that we're Amish, great experience!! So therefore, I seek out Amish persons when looking for a new pup to bring home, we have now purchased 2 pups from greenfield over the years.. both wonderful dogs & what beautiful farms they came from!! My daughter also got her Labrador from greenfield.. she's wonderful!! I know friends who have also gotten a pup from here as well, so for me & my family we have had great experiences, and will always use Greenfield for any future pups, & will let all our family & friends know about it as well! We just got a cockapoo recently and we love him so much.. Thank you to the Amish family who took such care.

Tammie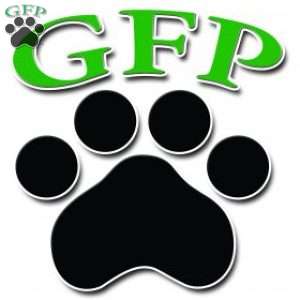 We lost our 14 yr-old Silky Terrier in the fall. Heartbroken, we decided to take some time to heal and think about a new pup in Spring. We found Greenfield Puppies and began reading a lot about different breeds of dogs. We decided on a Mini Goldendoodle as we needed a non-shedding dog. We found the sweetest pup and called Amos Fisher from Strasburg. He was very nice and agreed to meet with us the day we had hoped for. His dairy farm is beautiful. We met our pup and she is beautiful. We drove home with her which was a 6 hr drive. She was so good, slept mostly but always went when we stopped to potty her. She has been here over a week now, just the sweetest and very healthy girl. She adapted very well and loves to play fetch and be outside with us or wherever we are. We could not be happier and are thankful to Amos Fisher and Greenfield Puppies for such a loving pup.

D Farleigh