Greenfield Puppies Reviews
We love dogs and people and people with dogs.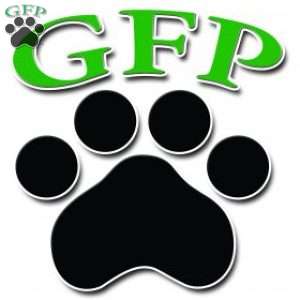 My wife and I after extensive research adopted a Corgi puppy from David Lapp. David and his family live in New Holland, Pa. The entire purchase experience went extremely well. David answered all our questions and welcomed us to his farm to pick up our lovable puppy. We couldn't be happier with the adoption process or the new member of our family. This is an absolutely wonderful puppy, that is loving, cute, and extremely smart. If you are looking for a wonderful pet, I would recommend David Lapp and his Pembroke Welsh Corgi puppies.

Bob H.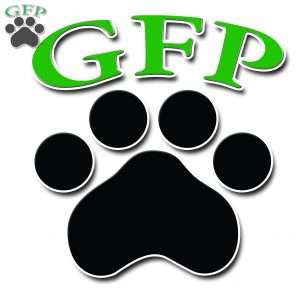 My husband and I had been looking for a puppy for some time and just not finding what we wanted until we came upon your website and breeders. Our experience has been wonderful and I would highly recommend your site and breeder David Fisher to everyone looking for a puppy. The web site broken down by breed and the individual pictures write-ups and especially the videos are immensely helpful in determining what breed we really wanted. Additionally the description of the characteristics of each breed, especially when looking at the mixed breeds was what really helped us define what breed was best for us. Again the videos of the puppies and individual pictures and write ups helped us define which puppy was right for us.
Once decided we contacted David Fisher who immediately got back to me and made arrangements for us to come see the puppies at me first requested date and time. David's establishment was very clean, the puppies were obviously very well cared for and playing in an outdoor area when we arrived. David allowed us to play with all the puppies and was able to describe some distinguishing characteristics of each puppy. David and his wife were generous with their time, very friendly, and clearly cared for the puppies and their mother. In fact we were able to meet the puppies mother which was very nice to see her wonderful temperament and size.
David made the adoption process very easy. When we took our new puppy to our vet he stated the puppy had clearly been very well cared for as she was strong, had a strong heart, no worms and was in great shape.
Again we could not be happier with our puppy, with your website, and with the breeder David Fisher. It really has been a wonderful experience.

Mar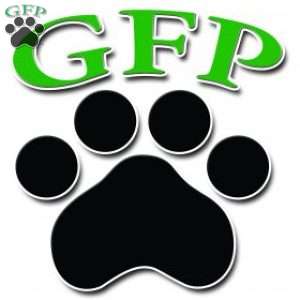 We drove up from Norfolk, VA to Lancaster PA to pick up Arrow (renamed Sherlock) from the Lapp Family (Daniel Lapp). We were greeted by his wife and Arrow….we had my 3 year old grand daughter with us. It was a great experience, very lovely puppy and we could see they were all loved and cared for. Arrow's mother was about the property and didn't cause any issues as some will when their pups are leaving the litter. Beautiful, well kept farm and grounds and the pups had already had interactions with small children which is HUGE plus since I have two grand kids that will be around the puppy as well. He did wonderfully on the 6 1/2 hour drive home ( had to add several stops for breaks for us and the pup). Should we decide to add another Aussie we will definitely reach out to the Lapp family and Greenfield puppies again!

Jacqueline Andra & Christopher Moses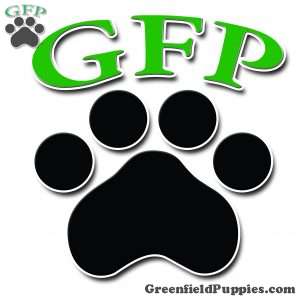 We drove up from Norfolk, VA to Lancaster PA to pick up Arrow (renamed Sherlock) from the Lapp Family (Daniel Lapp). We were greeted by his wife and Arrow….we had my 3 year old grand daughter with us. It was a great experience, very lovely puppy and we could see they were all loved and cared for. Arrow's mother was about the property and didn't cause any issues as some will when their pups are leaving the litter. Beautiful, well kept farm and grounds and the pups had already had interactions with small children which is HUGE plus since I have two grand kids that will be around the puppy as well. He did wonderfully on the 6 1/2 hour drive home (had to add several stops for breaks for us and the pup). Should we decide to add another Aussie we will definitely reach out to the Lapp family and Greenfield puppies again!

Jacqueline Andra and Christopher Moses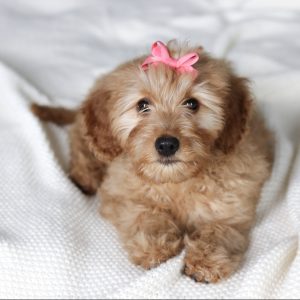 My husband and I were looking for a Miniature Goldendoodle to add to our family. Melvin Beiler from Lancaster,PA provided us with the most loving puppy we could have imagined! She has become a part of the family and loves going everywhere with us! So glad we found our sweet girl through Greenfield Puppies! 🙂

Adrianna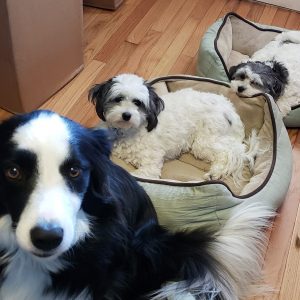 We adopted two Havanese from Greenfield three years ago. They are brother and sister. They are healthy and playful and adorable. They have great personalities – the girl just wants to be held and the boy is playful. We have never had a problem with them at all. We absolutely LOVE them and the breed! So incredibly happy !!
We also adopted a Boarder Collie mix from Greenfield the same day (yes, three in one day.) He is a fantastic family dog. He protects the little Havanese and I have no fear of the foxes or chicken hawks getting them when he is next to them, which he always is! He is incredibly protective of our yard and an amazing early warning of anyone approaching the house. He play so gently with the Havanese, probably because we got them all the say day as puppies and he thinks they are his siblings. He is beautiful and sweet. He is never more than 3 feet from any of us. They are all GREAT family dogs. We love them !!!

Susanna Ruspi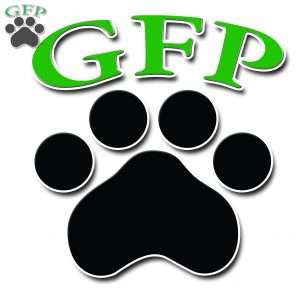 We adopted a wonderful puppy yesterday that I found on the Greenfield site. From the moment I contacted Fran from Flutterby Farms I knew she had the pup for me! A short ride to Scranton Pa to meet her beautiful double doodles which are so loved and cared for. Puppies live in the house with their doggie parents and human parents, and are well socialized and ready for their permanent homes. Keebler will continue to be spoiled! Thank you Fran!

Ellen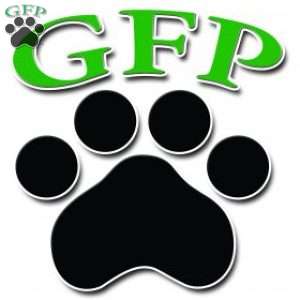 I adopted "Candy" now Rosie from Chris and Mary Zook in Spring Glen, PA. I loved that they kept the puppies indoors and they were all very sweet, clean puppies. The Zook Family was wonderful to work with. I would definitely go to them again and recommend anyone to them. Rosie is my first dog and I have no words about how much I've fallen in love with her. I always say she does no wrong in my eyes LOL! THANK YOU to the Zook Family and Greenfield Puppies

Debbie Martini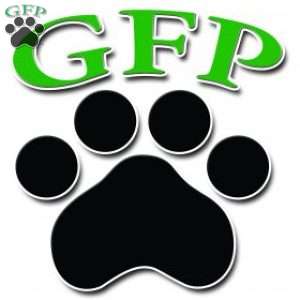 I found my new baby, so happy thank you Ben King and greenfield puppies!

Blanche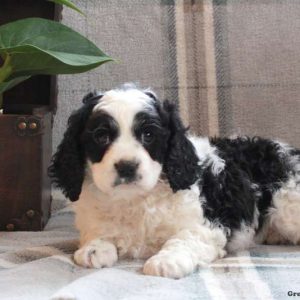 After having lost my 10 year old Pekingese to congestive heart failure, I was heartbroken, as he was my constant companion. I knew I could never replace him, but I needed that unconditional love that only a dog can give. I found Greenfield Puppies via an internet search and located the perfect Cavachon puppy. I contacted the breeders, Ervin and Suzanne Zook of Paradise, PA. Suzanne was so sweet and answered all my questions regarding the puppy, as well as, the procedures for purchasing and shipping the puppy. I knew immediately these were the breeders for me. I felt really comfortable knowing that these puppies were raised with their family and played with by their children. During the entire process they helped with any question that came up and even recommended a pet courier service to bring my puppy from PA to FL (I couldn't bear the thought of her flying home in the cargo bay of a plane). In fact, the service only lived 5 minutes from my home and provided texts and pictures for the entire trip home. Of course, the best part about the entire process was my sweet baby girl, Gracie. She is a healthy, happy, perfectly beautiful puppy. In just a week, she has won our hearts over and I can't imagine life without her. Thanks so much for Suzanne and Ervin and the time they took to lead me through, what was a seamless process, to get my sweet Gracie. I would highly recommend them to anyone wanting to add a new member to their family!

Rosemary Lee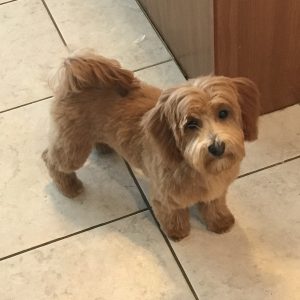 We love our new puppy Teddy(formerly "Louie")! Andrew Beiler was so helpful with answering all of our questions. He and GFP even made all of the airline arrangements. Everything went very smoothly. Teddy is a very healthy, happy, and very smart bundle of love. I would recommend GFP and Andrew Beiler for anyone looking for a quality Havapoo puppy!

Heather Bos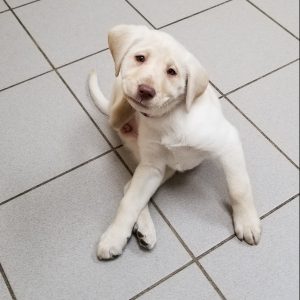 On March 18th my husband Mike had oral surgery, you might wonder why I start our story that way… most people get a lollipop or a sticker or money from the tooth fairy, but He got a long awaited blessing of a new puppy lol. And he told people we know I convinced him to go on a road trip while he was still recovering from medicine because hes not a fan of driving long distances hahaha.
On March 19th we drove from Massachusetts down to PA. We visited 2 breeders we saw from the website. Both were very nice. We decided to go with Jacob and Lizzy in New Holland PA. They were very accommodating and the puppies all looked great, very social, and healthy adorable furry friends. We really wanted to see "Faith" but Jacob was very helpful and had all the female pups running around with us to get familiar. Faith was still the one that held our hearts so she said goodbye to her Mom and litter mates and off we went back to MA. She met her big brother Pecan our English Mastiff and won him over immediately ? We serve people who have disabilities and plan to train Faith as a Therapy Dog. She is having so much fun getting to go lots of places and making lots of friends wherever she goes ? thank you Greenfield Puppies and Many thanks to Jake and Lizzy Ebersol..!!!

Mike and Kim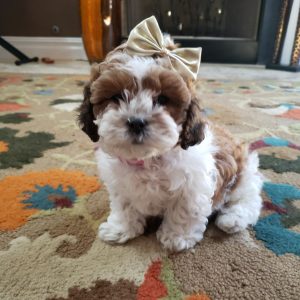 Thank you Mr Fisher Benuel for our puppy. You were very helpful with this transition. We our very Happy with Bella, she is very healthy and a sweet Puppy.

Martisabel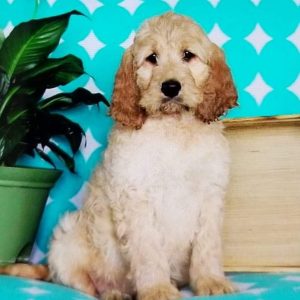 We lost our Cockapoo a little over 2 years ago. We decided we were finally ready for a new puppy. We searched for a couple months and decided on our little girl. She is a wonderful loving puppy. We took her to the vet right away and had a clear bill of health. We love her so much and brings us so much joy. We took her today to get pictures with the Easter bunny. The family we got her from was really nice.

Edward Brown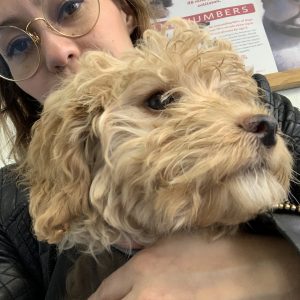 After been looking for the perfect puppy for our family I came across this website and im so glad I did.. we got our cockapoo from Martha Stoltzfus our baby is a healthy and happy puppy, very smart and obedient, Martha was really nice and clear she explained to me all I needed to know about the puppy, the parents, prices food everything i can thank her enough for holding Carmelo for us we drove 3 hrs from brooklyn ny to PA but it was so worth it… if you ever want to buy a puppy get it from Martha she is the most sweet and nice person i have ever met and she has beautiful puppies you wont regret it, we defenitely love carmelo and we are forever thankful for this website and: Martha thank you thank you

Leslie Flores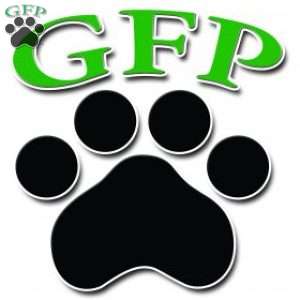 We adopted our Shichon from this site and are in love with him. He has the best temperament, loves everyone, doesn't shed, rarely barks, is not overly hyper, keeps me company all day long while I'm working. I'd also refer to him as a therapy dog. I bring him to a special needs class in the summer and the kids adore him. He's our first dog. We adopted him when he was 3 months old. The only trouble we've experienced was potty training him. That seemed to take a long time, but as I said, he's our first dog, so we aren't very experienced at training. Great breed and this is a great site.

Camille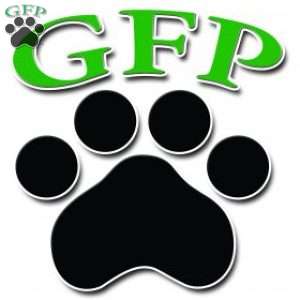 I purchased Daphne from Elmer Esh and Ruth Esh on 3 14 19. We took her to the vet on 3 15 19. She is perfect. Ruth and her husband have a friend that will drive your puppy to you. And believe me it was great. I will be looking for another Boxer next year I will call them first. Other then being 4 pounds under weight which the vet is not concerned about she is perfect thank you for our new addition to the family.

Courtlynn Rivers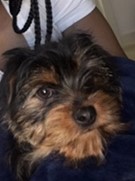 We traveled from Baltimore to Lancaster, PA to pickup our newest member to the family, Ace.
He has been the light and joy to our family since loosing my dad last January. I want to thank the King family for saying "yes he is still available" via telephone. We absolutely adored and love Ace!!!

P.S. Ace is a Valentines Day gift for my mom!

The Graham Family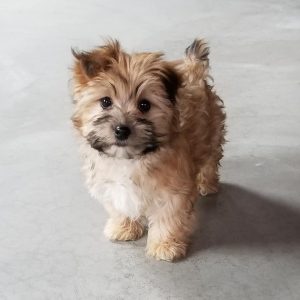 After looking for a Morkie for months I found Willow with Greenfield Puppies. Ivan Miller her breeder was so pleasant to talk to. He has the sire and stud that was important to me. He lives in beautiful Sugar Creek, Ohio and I live in Richmond, Va. It was over an 8 hour drive. She is a happy and healthy 3 month old now. House breaking is slow, she chews but is getting better with NO! I am so glad that Greenfield Puppies led me to Ivan Miller ❤️

Beverley Hockaday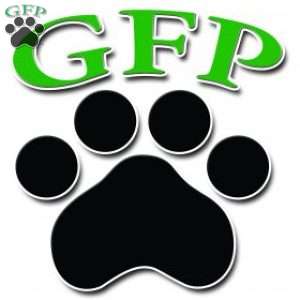 My name is Dr. Toye Latimore and I worked with Jake Stoltzfus to acquire a puppy. Jake was very responsive, provided a lot of information and I checked the Better Business Bureau about acquiring from his website. I must say that we are thoroughly pleased with "Rhonda" new name is Priya. We drove to PA to pick up Priya on March 11, 2019 and his wife was so hospitable and made us feel welcome. I would recommend Jack Stoltzfus for services when looking for a puppy. Priya is 3 months old and we are already spoiling her.

Dr. Toye Latimore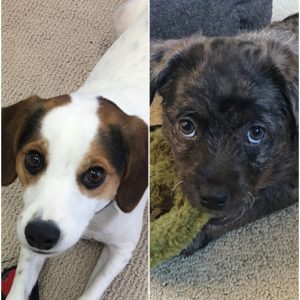 So we brought home our second Greenfield puppy last week.
I cannot say enough about these puppies!
Our first one – Quincy- is close to 2 yrs old now and the love of our lives! He is a Jack Russell mixed with Cavalier
Spaniel and he could not be a better dog! We decided he needed company so we got our second puppy -Ansel- from a farm about 1 mile from the farm we got Quincy.
Both pups were raised in barns with lots of other animals – and large families with kids to play with.
Both of them have very well adjusted temperaments – they are both curious and friendly dogs.
Both of them are healthy and happy and they are getting along great.
If you want pups that have been raised in a loving natural environment – not in a cage – I would suggest looking in the Lancaster PA area. We are very very happy with our dogs!!

Karla Adams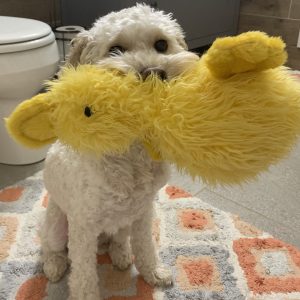 I adopted a 20 week old Cockapoo puppy from GFP back in May of 2018, I've been skeptical of writing this review, but it's time to share my piece. I am honestly so happy I adopted him, he is the best thing that has come into my life. As I write this he is laying in his spot on my bed, spoiled little puppy he is. He's now 15 months old, and healthier than I could imagine. Upon adopting him, I brought him to a vet for a new client check/wellness exam, they discovered he had Giardia (he's all better now!) and that has PICA (habitual chewing disorder essentially), we have accommodated him with the chewing habit which is nice. He is living a very happy and spoiled life. He has many toys, and many places to sleep; he runs this house for sure. Although when I adopted him, he looked as if he had never been brushed, bathed, or groomed in his life; unfortunately I haven't seen much of his breeders name show up in testimonials; but Elliott is doing better now. He loves his "new" family. I would definitely recommend GFP to others looking to adopt, but I would suggest to look at the puppies first and get a feel for the breeder, other than that, I am completely satisfied with how everything came to be. This is a recent picture of Elliott.

Courtnie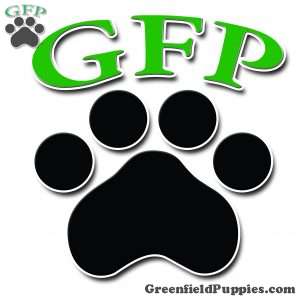 So I have been researching several different dogs, and I was very undecided about purchasing a dog from the site. However I decided to take a chance. And I'm so glad that I did. Homer is very laid back and soooo cute he is the best little Yorkie and my 3 year old son loves him. The breeder was very pleasant and sooo very polite! She was very welcoming and patient. And for that thank you!! Greenfield Puppies is the best!

NORIECE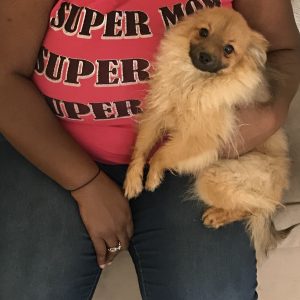 I love my lil baby he just got home to me his name was Ralph but I decided to rename him Zy'kauri

Jewel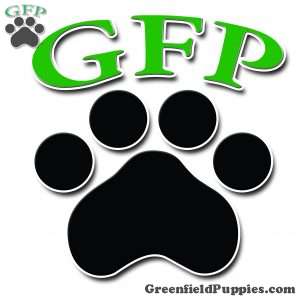 After getting disappointed from someone scamming me (not from this site), I was very nervous. There were mixed comments about the breeders on this site which also had me nervous. My daughter and I chose a dog and went to our friend to check out the site and ask the breeder the questions needed before our purchase. Our breeder was Kathryn Stoltzfus. She was truly amazing. We called several times to ask questions. She returned our calls quickly. She was very knowledgeable. She was accommodating so we were able to pick her up within days. She communicated with us about a change due to a family emergency. During pick up she was so kind, organized. She kept the pups in the house which was beautiful and clean. We were pleased with our experience with Kathryn. The puppy we got is Cookie. So far we are keeping her name. She is beautiful and amazing. Kathryn's children were playing with the pups and so Cookie was great with my daughter. Cookie has a great personality and Kathryn seemed to know her well. She was right on point with her personality. Thank you Kathryn. We will take good care of Cookie

Patricia/Deena